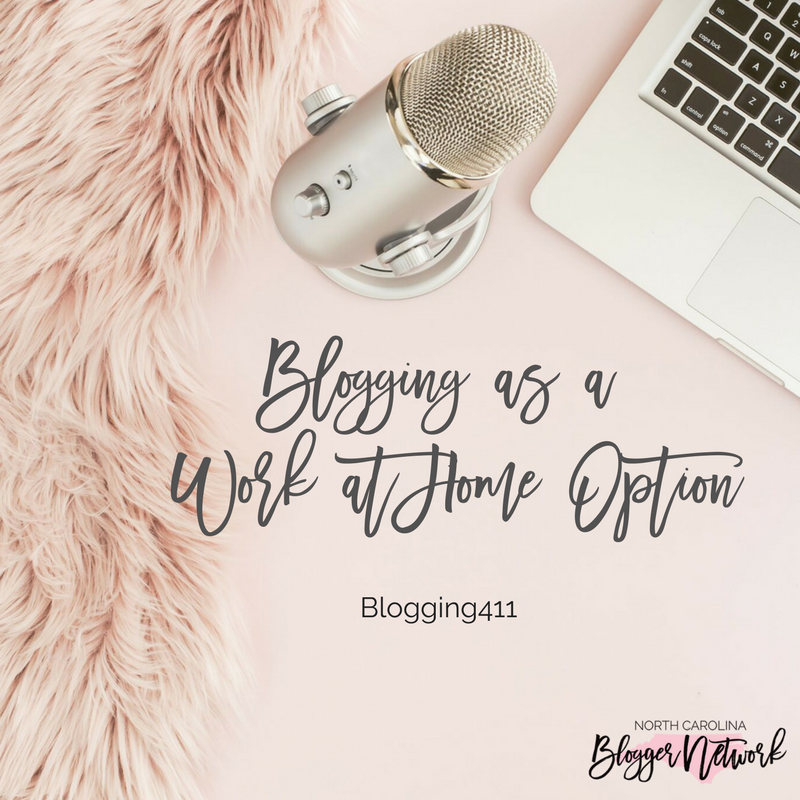 Before Nikol and I started this glorious project, the NC Blogger Network, we started as blogging friends. Right away, she interviewed me on Mom Complicated. What did she want to talk about and share? Can blogging be a viable source of revenue and be a good "Work-at-Home Mom" option?
Blogging411: Blogging as a Work-at-Home Mom Option?
You don't have to be a mom blogger to get some great takeaways from this Blogging411 episode.
Some Topics Covered in this Episode:
Blogging as a business
Guidelines and Goals
Finding your Voice
Consistency in Blogging
Writing Styles
About Pages
Monetizing your Blog
Affiliate Sales, Ad Space, Sponsored Posts
And more…
Because I'm new to blogging I'm still learning and Allison is an incredible source of information!  When deciding to start your own blog there are many things to take into account and already have a good handle on… Thank God for my sister because I'd never be able to blog without her!  There is a lot more to blogging than writing your posts and finding your voice as a blogger isn't as easy as it sounds!  Like any new profession, there is terminology to learn and technical aspects that are behind the scenes of the blog you might not even know about.  Allison answers the key question to blogs:  How and when do you begin making money off a blog?  If you would like to blog as a WAHM option this is definitely important.

~ Vanessa
You can watch the 31-minute video here:
I have two main pieces of advice when people ask for advice on starting a blog –
1. You must look for the opportunities and be intentional.
The common thought on blogs is that you will not make a significant amount of money. Yet, I see people thriving in this environment every day. The difference between them and everybody else is that they are willing to hustle. They are looking for the opportunities that other people are not. They are consistent with contacting people and following up. They are also intentional about their direction. I saw the very same thing occur when I was a waitress in my early 20s. There was one couple that was a regular among all of us youngins. They had been waiting tables for over 20 years. They looked ancient to us! People made comments about how they "wasted" their life.
Here was the main difference between us. They were intentional and had a plan. We went to work in order to make spending money. They went to work to earn a living. They were willing to pick up an extra shift if needed and they always left the bar after one drink. I had a talk with them one evening and it turns out they owned their house outright, bought both cars cash, owned a boat and were about 5 years away from retirement. They were 47 & 48 years old respectively.  They were going to retire by 52! The opinion on the street is that "you will never make a living waiting tables". I believe that blogging is the modern version of waiting tables. It's how ambitious and intentional you are about what you are doing and what you do with the money once you have it.
2. The blog must go on.
I was BIG into performing arts when I was younger. The motto is "The Show Must Go On". The audience doesn't need to know that your costume is about to fall off, go out on stage deliver your lines and fix it when you are done. It's the same with a blog. Many people that have never worked from home get caught up in the difficulty of planning your work time. Take a look at your availability, choose how many times a week you would like to post and make a calendar. Then stick to that posting schedule for at least 3 months. This period is a great time to learn the basics of how to post your posts and pictures. It will give you an opportunity to find your voice, you will learn what you enjoy to write about. What posts are most popular and it will help you navigate how to work your new job into your daily life. Life will happen, but the blog must go on.
But tell us, what do you think? Do you make a living out of blogging as a mom?