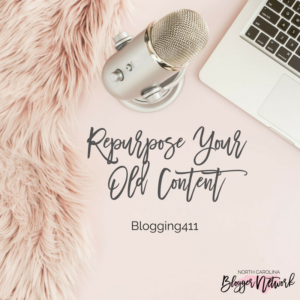 You have a lot of content; you've worked hard to create all this great content! So put that awesome content to work! Repurpose it! Learn about repurposing your content and how you can use it over, and over again in different formats.
Repurpose Your Old Content
In this Blogging411 episode, the team is joined by Jason T. Wiser of On Track Tips. Jason cracks the concept of how to "repurpose content" wide open.
Think beyond hitting republish on an old post or using "Revive Old Posts" plugin! Sure, those are useful, but, really, you can do better.
Jason walks us through some detailed steps to make sure that your website content is working in all ways and in many ways towards your ultimate goal.
In This Episode, We Also Discuss
– How to repurpose old content on your blog (republish? edit it? simply change the date?)?
– Should you change it at all, and, if so, when and all the time?
– What about SEO?
– How can you use old content through your social media channels?
– What should you NOT use again?
– What about outstanding links that might point to your old content, will those be hurt?
And much more…all in under 30 minutes!

Be sure to subscribe to our YouTube channel and check out our Blogging411 page for all episodes. We cover a variety of topics from SEO, to Blogging Myths, to Google+, to Pinterest, to Effective Networking, and more.