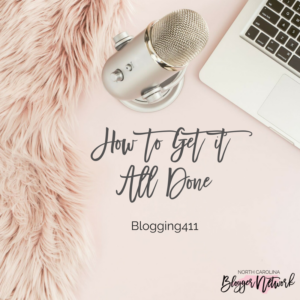 You are a blogger and a person who probably (like us) has a lot of demands on your time. So how do you get it all done?
How to Get it All Done (and can you?)
Blogging411 is our weekly podcast where we tackle the biggest topics and questions bloggers think about.
In this Blogging411 episode, Allison and Tiffany give real tips on how (or how NOT to) get it all done.
In This Episode, We Discuss:
What apps can help
How to stop the social media time suck
When to take a break
How to stay energized
How to create a schedule
How to STICK to a schedule
And some hard truths you probably need to hear.  All in under 30 minutes!
Watch the Video –
Be sure to subscribe to our YouTube channel and check out our Blogging411 page for all episodes. We cover a variety of topics from SEO, to Blogging Myths, to Google+, to Pinterest, to Effective Networking, and more.