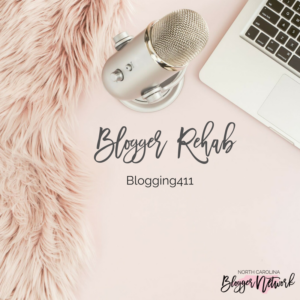 Sometimes as bloggers, we need to take a great big time out. We call that time "Blogger Rehab", and we all need it at one point or another. It is a time to address the blogger behind the blog which will, actually, make your blog stronger.
Blogger Rehab
Blogging411 is our weekly podcast where we tackle the biggest topics and questions bloggers think about.
In this Blogging411 episode, we are joined by the fabulous NJ Rongner of A Cookie Before Dinner and it feels a bit like Blogger Church – this one is for your heart and soul.
In this episode of Blogging411: Blogger Rehab, we discuss:
How do you know when to take a break?
How do you know when you need blogger rehab?
What should you do with your rehab?
How can you make sure you don't lose visitors while you are off?
You also might be weakening yourself by doing some things very wrong.
So what do we need to rehab, bloggers!? Watch as we walk you through our Blogger Rehab Clinic. It won't hurt, we promise! In fact, you will feel refreshed, energized, and more focused than ever before. Believe us, it is worth it.
Watch Blogger Rehab Clinic
Visit NJ's Blog and read her Blogger Rehab articles at http://www.acookiebeforedinner.com.
Feel free to leave us comments below or on the videos, we'll be sure to answer anything we didn't get to in the 30 minutes.  Don't forget to subscribe to our YouTube channel and check out our Blogging411 page for all episodes. We cover a variety of topics from SEO, to Blogging Myths, to Google+, to Pinterest, to Effective Networking, and so much more.
---
About the NC Blogger Network
NC Blogger Network is North Carolina's premier community for bloggers. We bring bloggers together for events, education, networking and paid opportunities working with relevant brands. Join today!