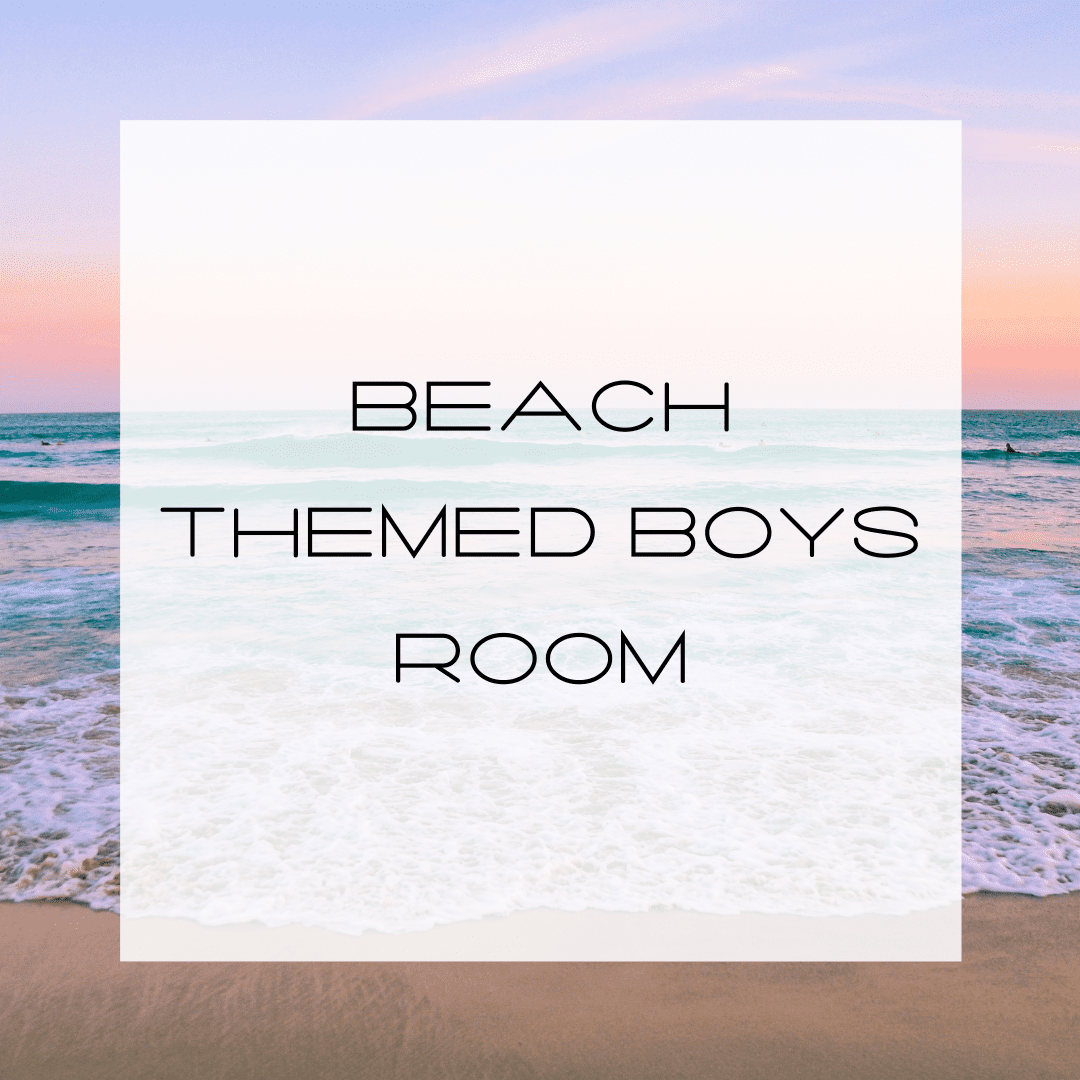 It's been great fun decorating our new home. For Rex, he decided to go with a beach theme since we're living here along the Crystal Coast. He went with surfboards and the vehicles that tote them to and from the beach. It's a sweet beach themed boy's room.
Beach Themed Boy's Room
As you can see, I found the perfect piece of art to hang on the wall as well. Now all I have to do is hang it. These cute vehicles were just what I needed to put the finishing touches on the decor. Some pieces we found on Emerald Isle, NC, and others we found in Cedar Point, NC at Coastal Outlet. There are plenty of places to shop here! Aren't they perfect?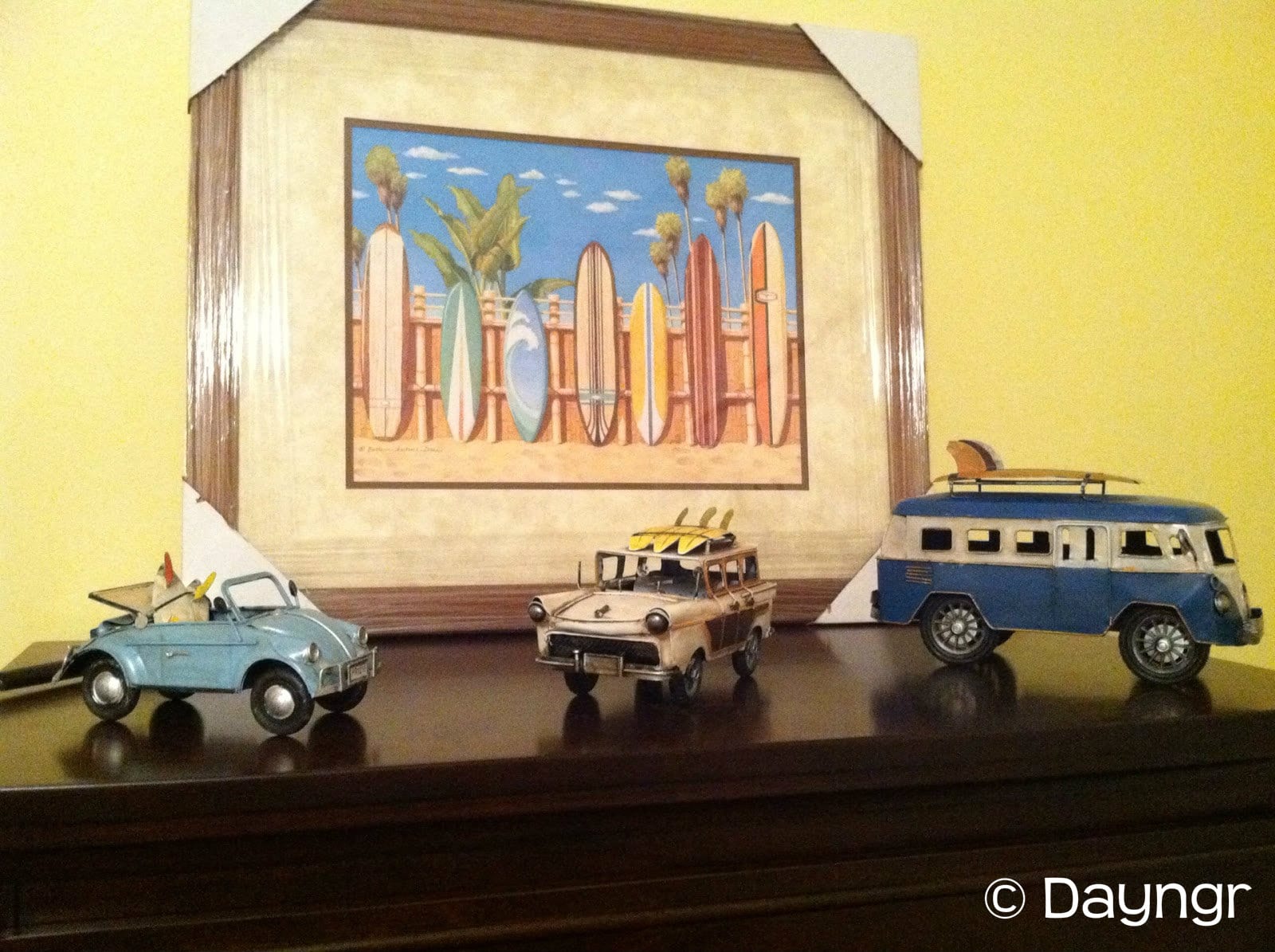 I wanted a bed that Rex could grow into even though he's a little guy right now. So, I got him a great big full-size bed, fit for a prince. Having his own room is a big move from sharing a room, and a trundle bed with his little sister. His room is happy, sunshiney yellow and I love the amount of light that comes into the room and all the big windows. He's also got plenty of pillows for lounging now, too. I still need to find a few more items to make the room complete but I think we're headed in the right direction.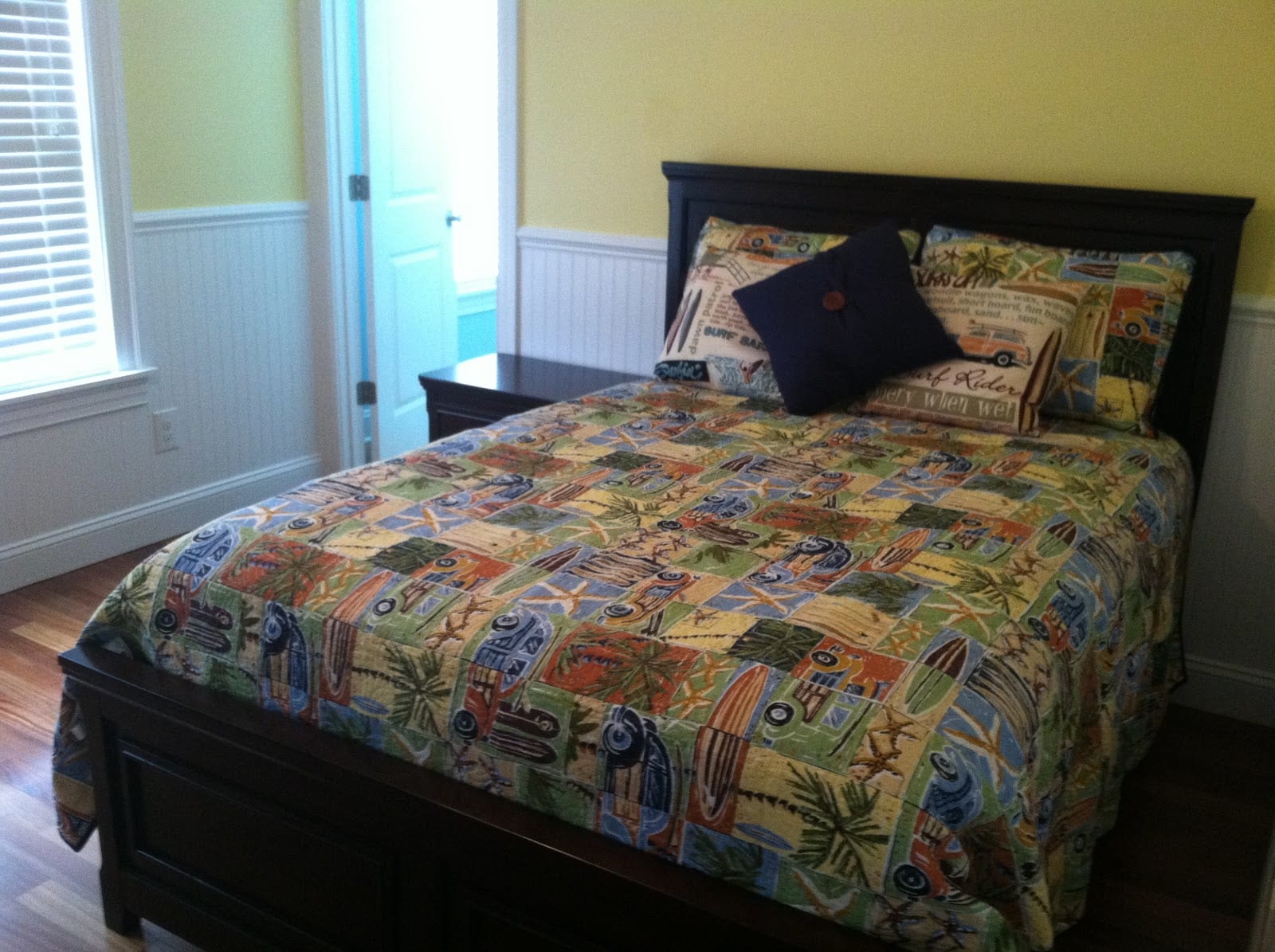 This comforter is perfect. It incorporates the browns that match the wood floor, the yellows that go with the walls, and the blues that tie in perfectly with his bathroom. I really like how there's a combination of surfboards, starfish, palm trees, and those classic woodie cars. Check out those awesome pillows. Perfect for a boy and cool enough to last well into the teen years. He loves it, and I love that.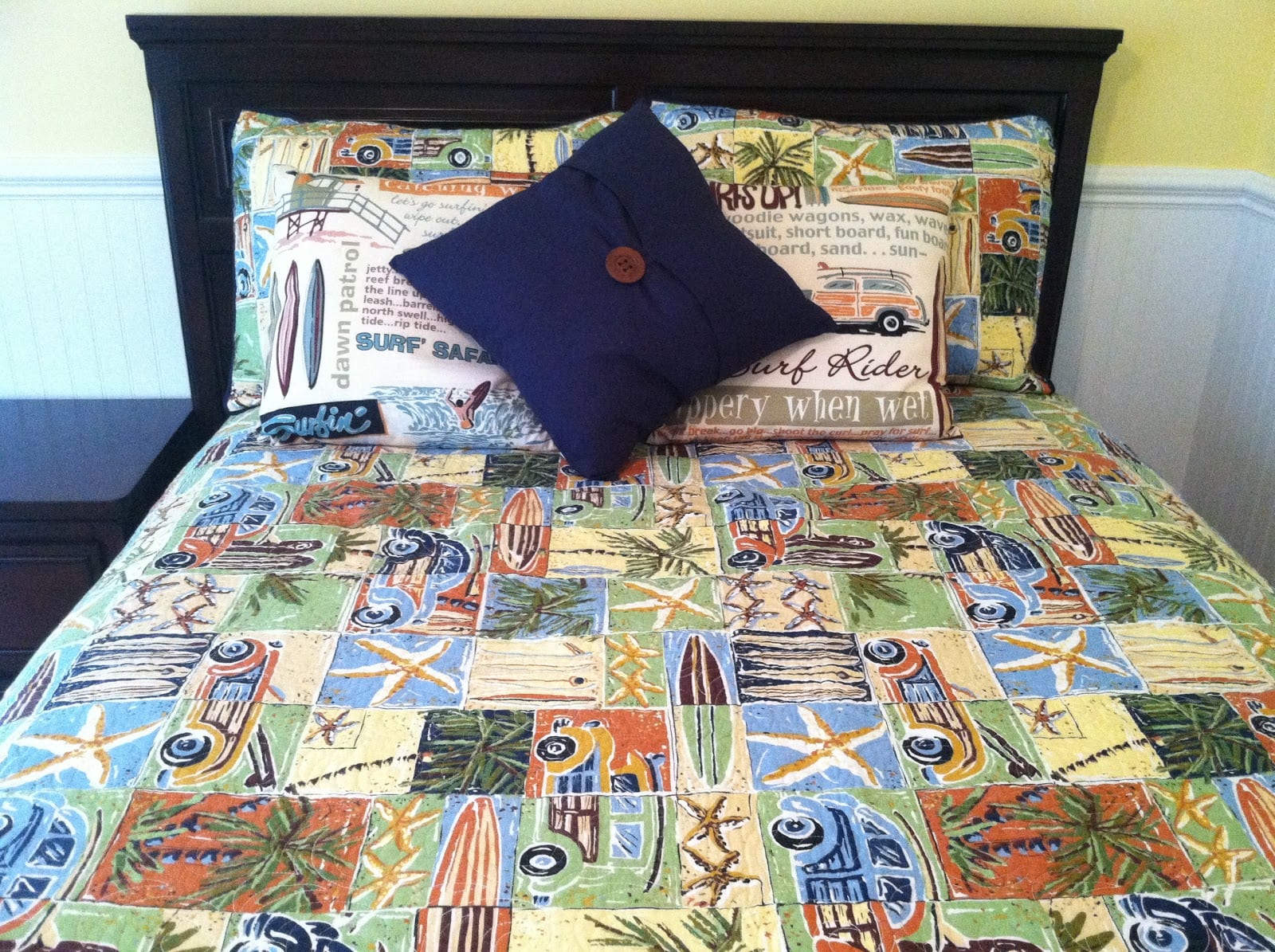 Rex has always been crazy about monkeys, so I was thrilled to find a really cute matching bathroom set at Target. It's definitely a great choice for a little one who really loves monkeys. I also like that it works well with the soft shade of blue on the walls. I never had my own bathroom as a kid so I might be a little jealous. What a lucky little guy. Do you think he knows it?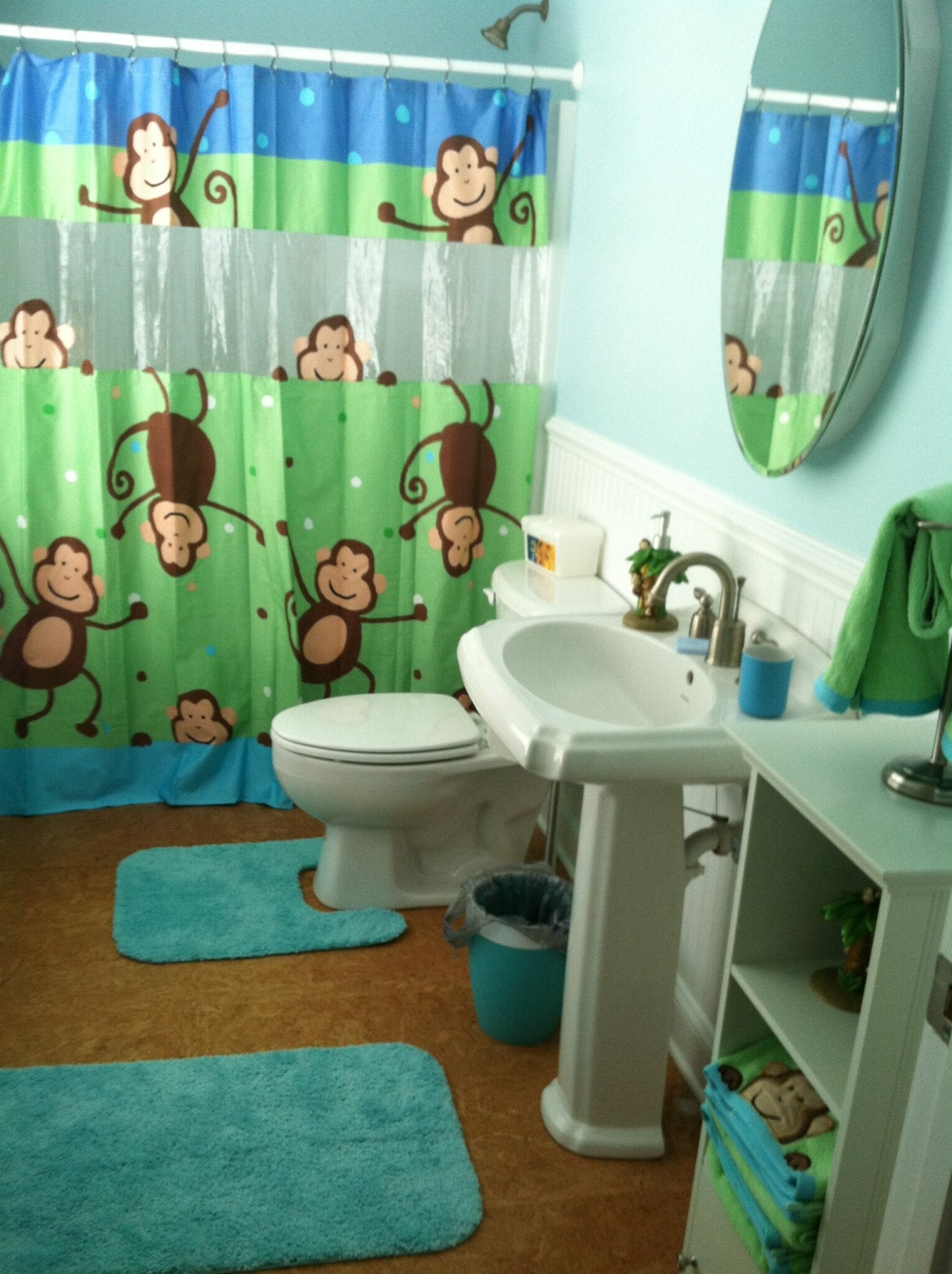 I don't think he can appreciate it now but I am sure he will as soon as his sister hits the pre-teen years. What do you think?
If you enjoyed this post, you'll probably like these, too: