Join Us for These Social Marketing Conferences
Next week I'm heading back to sunny Florida for Social Fresh East, a Social Marketing conference featuring speakers like Jay Baer, Jason Keath, and Sarah Evans. I love that it's a single-track event with all the speakers in one room, no rushing around, no picking which panels I want to attend, and missing out on some due to time conflicts. I can't wait!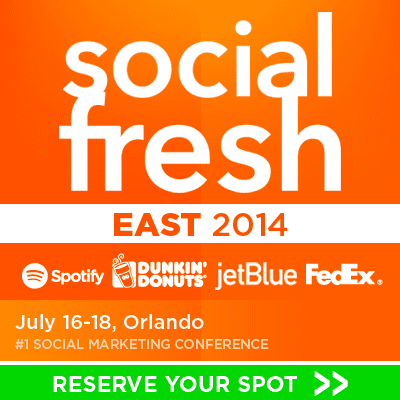 Here are a few of the topics that I'm looking forward to –
#LogitechLive – A Case Study on How Logitech Became The Most Mentioned Brand CES 2014
Smarter Social Engagement, The Secrets To JetBlue's Social Response and Customer Service
Is Your Brand Visually Chic? The Power of SlideShare and Infographics
We Don't Own Our Channels, Our Fans Do – Dunkin' Donuts' Tips For Putting Fans First on Social Media
How Social Marketers Are Gaining Real Business Results From Social Ads
Your Community Is Your Bottom Line, Learning How Communities, Start, Thrive, And Die
Wake Up Your Social Demographic, Lessons On Leveraging Your Audience's Passions from Spotify
Social Toolkit Refresh, Learn About The Tools, Software, and Services That Advanced Social Marketers Love
Normally, I'd blog some session recaps each night after the conference, but we'll be in Orlando so I'll be spending my evenings having a little fun. Once I'm back in the office, I'll be sharing some great insights from the Social Fresh conference with you. won't want to miss out so be sure to subscribe to our newsletter.
It's not too late if you want to go to Social Fresh East. Just click here and book your tickets using my affiliate link. Hope to see you there!
Social Media Success Summit 2014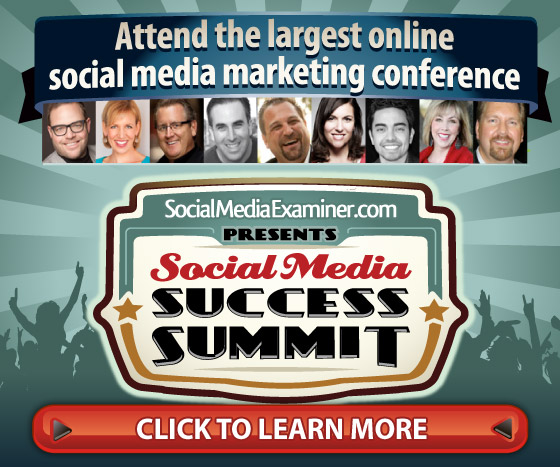 After Social Fresh, I'll be looking forward to Social Media Success Summit 2014!
Even though I'm a digital marketing strategist, I learned so much from Social Media Success Summit, last year. This special online conference is designed to help you master social media marketing – no matter your experience level. This year, 45 of the world's leading social media pros will show you how. Instructors include:
Plus, Pat Flynn, Martin Shervington, Kim Garst, Cliff Ravenscraft, John Lee Dumas, Gideon Shalwick and experts from Whole Foods Market, Humana, Dunkin' Donuts and Tyson Foods – just to mention a few! The conference is 100% online and sessions will be recorded, if you have to step out. No more excuses! Click here to learn more! [Affiliate Link]
Naturally, I'll be sharing what I've learned and giving you some real world examples you can use, right here our site.
Which social marketing conferences are you headed to this year? Which ones would you recommend? I'd love to know!