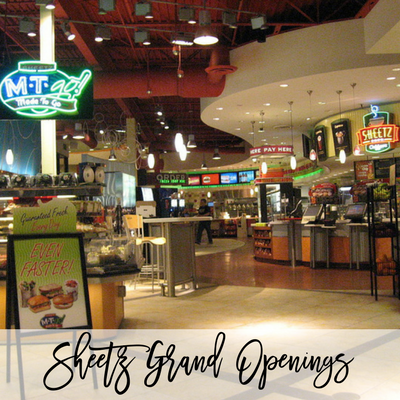 Join us for this fun Sheetz Grand Opening in Hickory, NC. let's have some fun!
The NC Blogger Network is thrilled to partner with Sheetz gas stations and convenience stores to bring our readers an exciting opportunity to attend some fun events AND get paid! Sheetz is an American company that focuses on "kicked-up convenience". Their stores offer made-to-order food, specialty coffee bars, gasoline at low prices, and more!
We're looking for a select number of bloggers to participate in this grand opening in Hickory, NC.  Hickory is about an hour from, Charlotte – and Sheetz will be compensating bloggers for travel time. (Score!)
There will be several grand opening coming up and each grand opening will host a week's worth of fun events (Monday-Friday), with a different focus for each day. Each of the three locations will host this same theme of events throughout the week. Their first grand opening, in Hickory, is happening on the week of March 28, so  APPLY TODAY! Deadline to apply for this event is  Wednesday, March 23rd. 
Weekly Themes –
Monday's theme: Family Day – Sheetz invites families to bring the kidz for an afternoon jam-packed with family-fun activities including make-your-own-sundaes, face paintings, caricatures and prize giveaways. Kidz ages 12 and below eat free, ends at 8pm.   
Tuesday's theme: Community Connect Day – Sheetz will host an MTO sandwich fundraiser benefiting [TBD local high school], a ribbon cutting ceremony with Sheetz family members and a check presentation to the Special Olympics. 
Wednesday's theme: Eat Shmart with Chef Dan – Sheetz's Head Chef, Dan Coffin, turns up the heat with tasty, customizable healthy breakfast demonstrations throughout the morning.  Guests will enjoy eat shmart samples, MTGo offerings and $2 off salads throughout the day.  
Thursday's theme: Get a Kick in the Beanz – Fuel up all day with Sheetz Bros. Coffeez®.  Guest will indulge in free specialty beverage samples from Sheetz baristas, free self-serve coffee and $1 off any full serve drink throughout the day.
Friday's theme: MTO 24/7 – Sheetz thanks local first responders with free MTO sandwiches all day from 12:00 am (Friday morning) to 12:00 am (Saturday) because just like first responders, they are here for you 24/7—365.  And there's something for everyone with free fryz for all guests with every MTO purchase. 
---
Grand Opening Dates and Locations –
The anticipated dates for these opening events are: 
March 28 – April 1 at a Hickory location

April 11 – April 15 at a Conover location (Stay Tuned for Paid Opps!)

June 6 – June 10 at a Hickory location (Stay Tuned for Paid Opps!)
Note: Bloggers would only be required to attend one day of the weekly events. 
Blogger Requirements –
They are specifically looking for the following bloggers (You only need to fit one of the criteria, not all):
Bloggers who write about food, family, or lifestyle topics
And/or Bloggers local to the Hickory or Conover community
And/or Millennial Bloggers or Coffee Lovers
Compensation –
Bloggers selected will be compensated and will also be given Sheetz gift cards to compensate their travel time.
Payment per Event Attended: $80
Other Perks: Sheetz Gift Card to be used on food/gas at any Sheetz location
Apply for This Paid Opportunity Today!
To apply for this opportunity, please contact us. We love being able to bring our readers and members new and exciting opportunities, so don't miss your chance to be a part of these events! Deadline to apply is Wednesday, March 23rd, 2016.