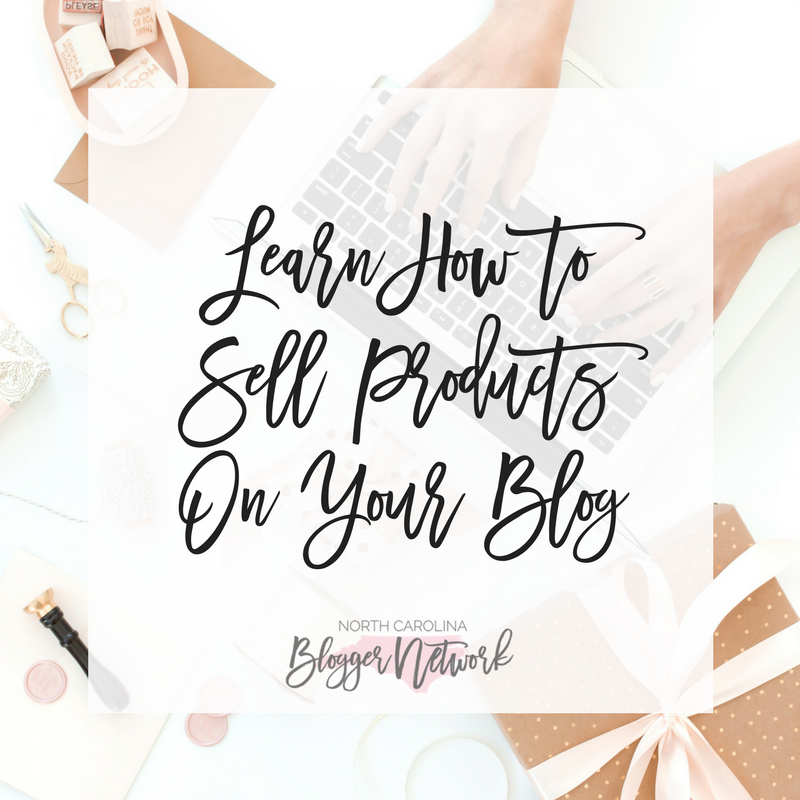 If you'd like to learn how to sell products on your blog, or even sell your services, we've got some great tips for you in this post.
Conference organizer Melissa Llado ended an incredible Day 1 of the conference and graced us with her insight as she inspired mompreneurs to think outside the box on her training site MelissaLlado.com and she shares her job of cooking with kids and sharing home hacks and parenting advice on her blog Serendipity and Spice.
As bloggers, we know we need to diversify our income. We can't rely on ad revenue or affiliate marketing alone. We need more and if you don't have a lot of extra time (I know I don't), Melissa offers up a profitable revenue stream I didn't really think of… adding a shop to sell products our blogs.
Disclaimer: I received a free virtual ticket to the Blog Life University 2017 Conference as a member of the NC Blogger Network in return for sharing my conference notes and key takeaways. This post contains affiliate links.
Why Add a Shop to Sell Products on your Blog?
There are a few reasons for adding a shop to your blog could be profitable:
You need another income stream to diversify your income
You don't have time to develop your own products
You need another avenue for your direct sales
You have loyal readers who trust your opinion and recommendations
How Do You Decide What to Sell?
Take these into consideration:
What niche(s) do you blog about?
What products are you passionate about? (ex. "what if you wrote a post on Disney and had Disney products to sell?")
What does your audience need?
What does your audience want?
Do you already do direct sales (ex. Pampered Chef, BeautyCounter, Essential oils)?
Are there local vendors you want to support?
How Do You Setup A Shop to Sell Products on your Blog?
Melissa recommends Shopify, an e-commerce site that works well for selling products on your blog and works well with multiple email marketing providers. Check out Melissa's Serendipity & Spice Boutique to see Shopify in action.
If your blog has a local audience, Melissa recommends reaching out to local vendors where you love to shop and see if they are interested in an affiliate relationship where you help sell their product for a percentage commission. Win-win!
Think Outside the box
Melissa had me really thinking outside the box. I've been designing a FREE blog planner for my readers over the past 3 years that I've gotten such great feedback on. I love helping bloggers like me achieve their goals.
But all the praise also inspired me to take the plunge, do it even though I was scared and create my FREE YOUR MIND blog planner which will be available for sale in the Genius Bloggers Toolkit for one week only in October! I know how long that first product took me to design and make available for sale and I haven't really started promoting it yet.
In the meantime, Melissa's session got me thinking of how I can expand my revenue stream with other products until I make more of my own printables to sell. If you know me or my blog, I'm obsessed with blogging, planning and books. Could I sell my favorite planner goodies or open my own little bookstore with my favorite selections and bookish gifts? That gets me so excited to think about. What gets you excited to think about?
Want to Learn How to Create Your Own Products You Can Sell?
Grab the "How to Create Your Own Product that Sells" Starter Guide. It includes the following:
The 5 point checklist for creating a sales funnel that keeps on converting.
The Sales Funnel Worksheet, so you don't build and just expect people to come.
Invitation to my private Facebook Group (free!) so you can get even more help growing your influence and increasing your income!
Ready to Sell Products on your Blog? Want to Learn how to Launch your Product or Service?
If you're ready to – 
Attract an audience that is looking for your products or services
Create an audience that knows, likes and trusts you enough to repeatedly buy from you
Sell your service or product without feeling like a salesperson
Make a difference in the lives of your audience by solving their problem with your product or service
Have income consistently created from the same product or service
Then you're ready for Launch Pro! This course will give you a STEP-BY-STEP process on how to build a relationship with your audience. We know you've got GREAT IDEAS – take the course and learn how to capitalize on them.
Are you ready to sell products online? What would you sell? What do your readers want and need that you are also passionate about? Let's discuss in the comments!