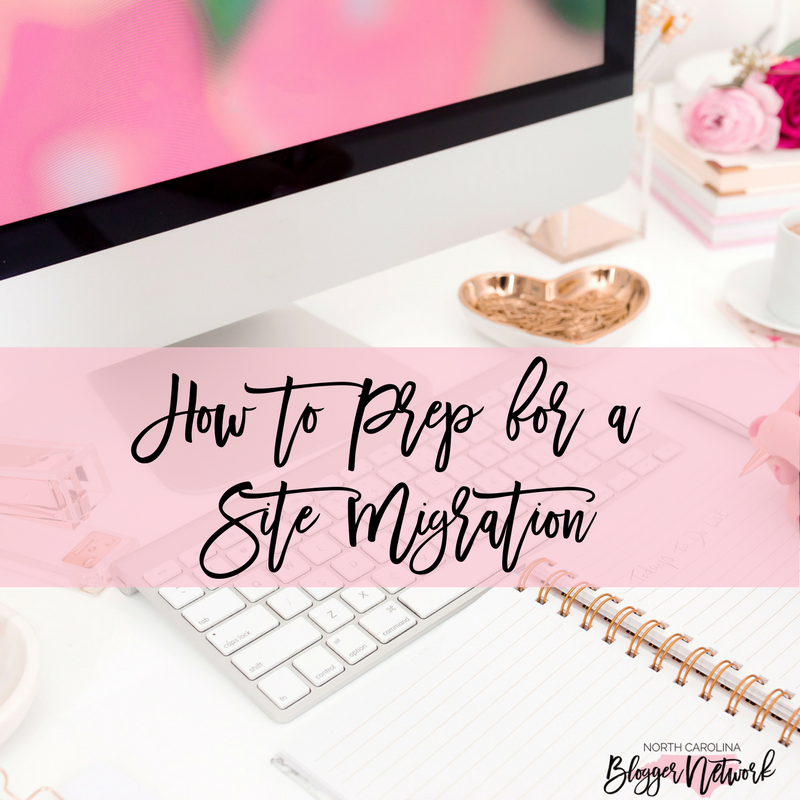 So, you've decided to migrate your website to a new platform. Congrats!
Whether you're moving from Blogger to WordPress or from Wix to Squarespace, a site migration can be scary. If done incorrectly, links can get broken, files can get lost, images can disappear, and SEO rankings can tank. But more often than not, migrations go just fine and serve as a milestone for improvement for your website.
Here are 5 things you can do to ensure your website migration goes smoothly.
Site Migration: 101 – Find Someone Who Has Done It Before
You may be doing your website migration yourself, and that's ok! (Make sure to watch a YouTube tutorial or two if you can!)
If you aren't intending on flying solo, make sure to find someone who is experienced in this kind of migration. The person should preferably be:
An experienced web developer
Someone who has worked on both platforms you will be working with
Someone who can be available to help you troubleshoot afterward
Someone you can communicate well with
Migrating to and from each platform has its differences and quirks. It's best to find someone is totally familiar with both platforms so that if anything goes wrong, they know the best solution right away.
Backup All Files Before Your Site Migration
Most hosting accounts offer this as a service. Taking a backup of your site means that you can download all the files and databases that make up your website directly to your computer. If the migration fails for any reason, you have a copy of the site and can easily start over. If you're working with a developer, ask them to take a backup for you.
Taking a backup also means that if for some reason you lose some images or a blog post along the way, you still have that information and can recreate it as best as you can later on down the road.
(I also recommend taking screenshots of a few site pages, just to make sure you have a reference for how everything looked.)
Examine Link Structure
Be aware of your link structure, before and after the process. If you are working toward SEO goals (the reason for many migrations), there are certain things you don't want to change, mainly your links. Google absolutely hates broken links!
If your current link structure is something like website.com/name-of-post you will want to do your best to keep the link structure the same. If your current link structure is something like website.com/08-06-2010/name-of-post, you will want to make sure the link structure maintains that format. Whatever it is now is what it should stay.
If you'd like to change your link structure, make sure to set up redirects on your new platform. This tells browsers that if someone clicks a link that goes to website.com/name-of-post but that page is now at website.com/08-06-2010/name-of-post, the user will be seamlessly and automatically redirected. If you don't do this, all the links you have out on the web will break. This is disastrous for SEO and your website traffic as a whole.
Figure Out the Best Time to Move
Expect, with any site migration, that there will be some downtime. It may only be a few minutes. It may be a few hours. If you're dealing with migrating domains and A Records, it could be days. If this ends up being the case, here's what you can do to help minimize your losses.
Figure out the best time to move by figuring out when you get the least amount of website traffic. Use Google Analytics or a similar tool to monitor traffic over the course of about three or four weeks. You can easily find a pattern to determine which days of the week generated the least traffic and which times of day generate the least traffic. This will be the ideal time to do your move since fewer people will visit the site during potential downtime.
If you're concerned about SEO, try to time your move around Google's crawls. While no one knows exactly how often or when Google will crawl and index their site, you can do some guesswork. Most people estimate there is a crawl every 3-4 weeks or so. Try to monitor when new content appears in searches to determine when your last crawl was. If you can determine when you've been indexed, you'll want to migrate very close after that day. Chances are, you will be done migrating by the time Google circles back around to you. If your site is down and Google indexes you, you could lose a lot of rankings.
Set Up a Coming Soon Page
Lastly, prepare for downtime by setting up a Coming Soon page if you can. When people come to your site, they should be able to arrive at a branded page that simply communicates that you're undergoing maintenance and will be back soon. Including some contact information here is helpful as well; if someone desperately wants to get in touch, you don't want to lose that business! WordPress has tons of plugins that allow you to create a simple Coming Soon or Maintenance Page for free.
Are you getting ready for a site migration? Have you moved your site in the past? What tips would you offer in addition to what we've shared? Get the conversation started in the comments section.
This article was guest posted by Allie