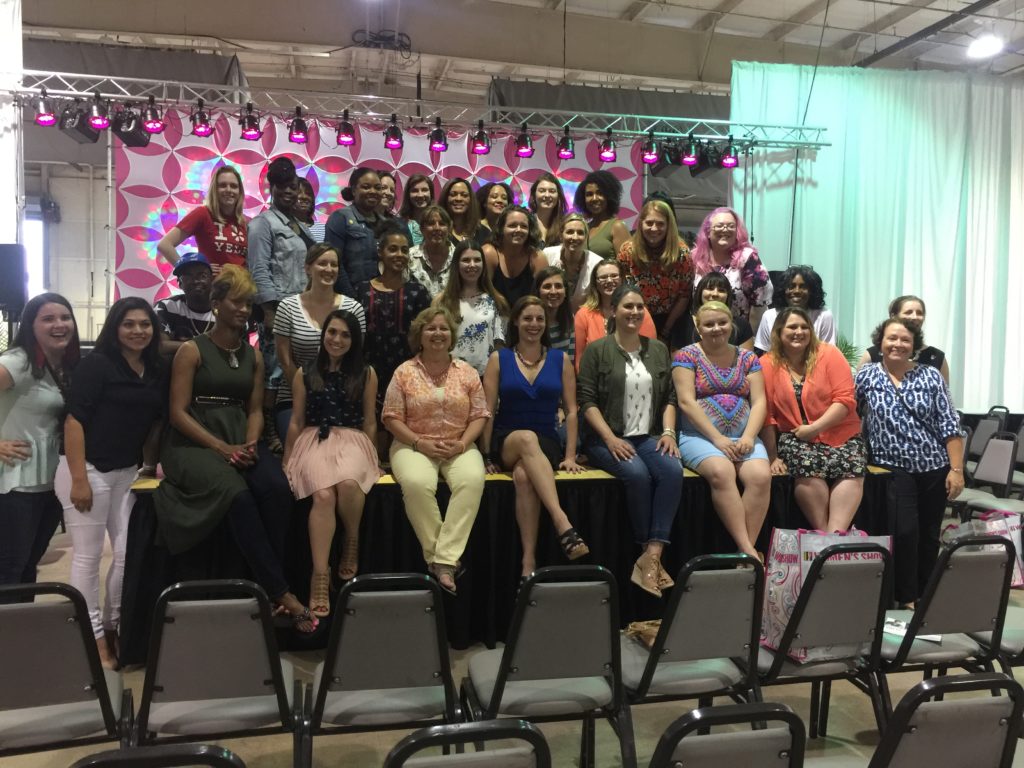 We had a wonderful time last night at the Southern Women's Show sneak peek preview event and NC Blogger meetup! NC Blogger Network members along with our blogger friends from triFabb got together to enjoy the third annual NC Blogger Meetup!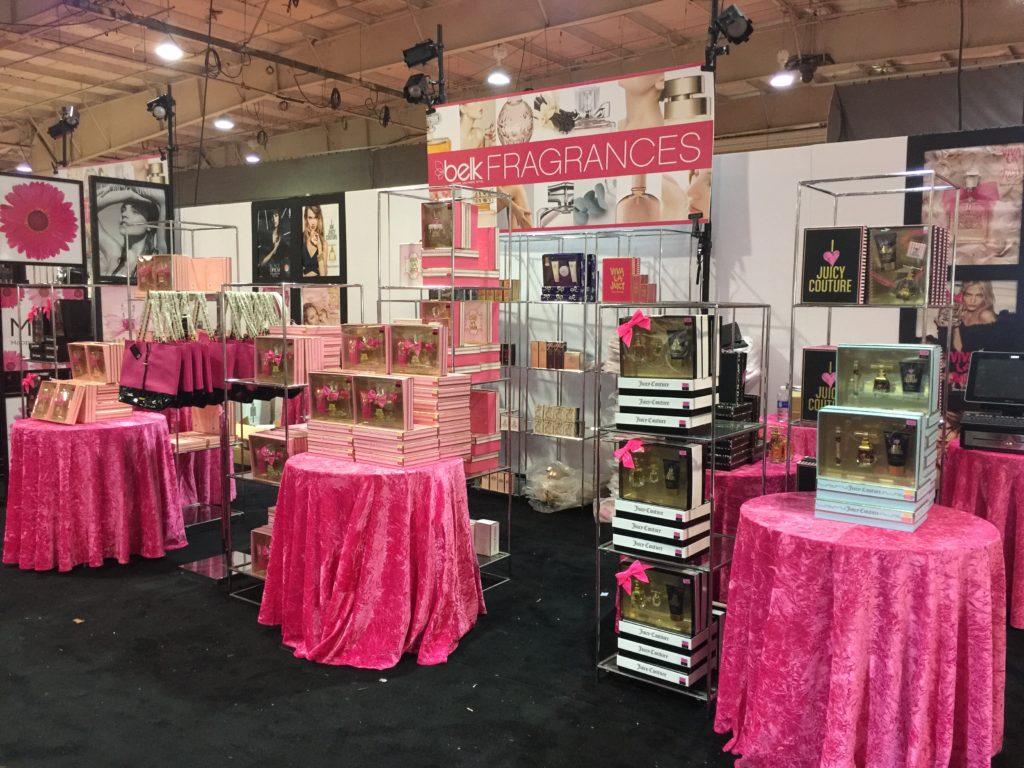 NC Blogger Network members along with our blogger friends from triFabb got together to enjoy the third annual NC Blogger Meetup! This meetup, like the ones before, gave NC Bloggers a preview of what they can expect at this weekend's Southern Women's Show. And let me just say, we mixed, mingled, networked, previewed and had a ball!
Southern Women's Show Food, Wine and Swag Preview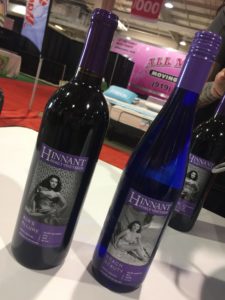 For starters, we had the pleasure of enjoying food from PDQ, (oh my goodness those apples and caramel!) Carolina Kettle Chips in wild flavors like The Mama Gin Dill Pickle, Bee Sting Honey Sriracha, and Southern Twang Salt and Vinegar.  We also had the delicious pleasure of sampling two Ava Gardner, inspired wines, one red and one white, from Hinnant Family Vineyards. Definitely worth checking out!
Then after a few intros and learning about this year's featured charity, InterAct, we went on a mad dash scavenger hunt for swag! That's right, instead of the typical swag bag filled with goodies from some of the featured vendors and brands, we had a thrilling hunt for goodies to plump up our pretty pink and white swag bags.
Southern Women's Show Brands Preview
There were tasty treats like NC chocolate peanut butter fudge, delicious biscotti, drinks like Ovi Hydration Beverage in Mandarin Lemon and plenty of lush makeup and fragrant perfumes!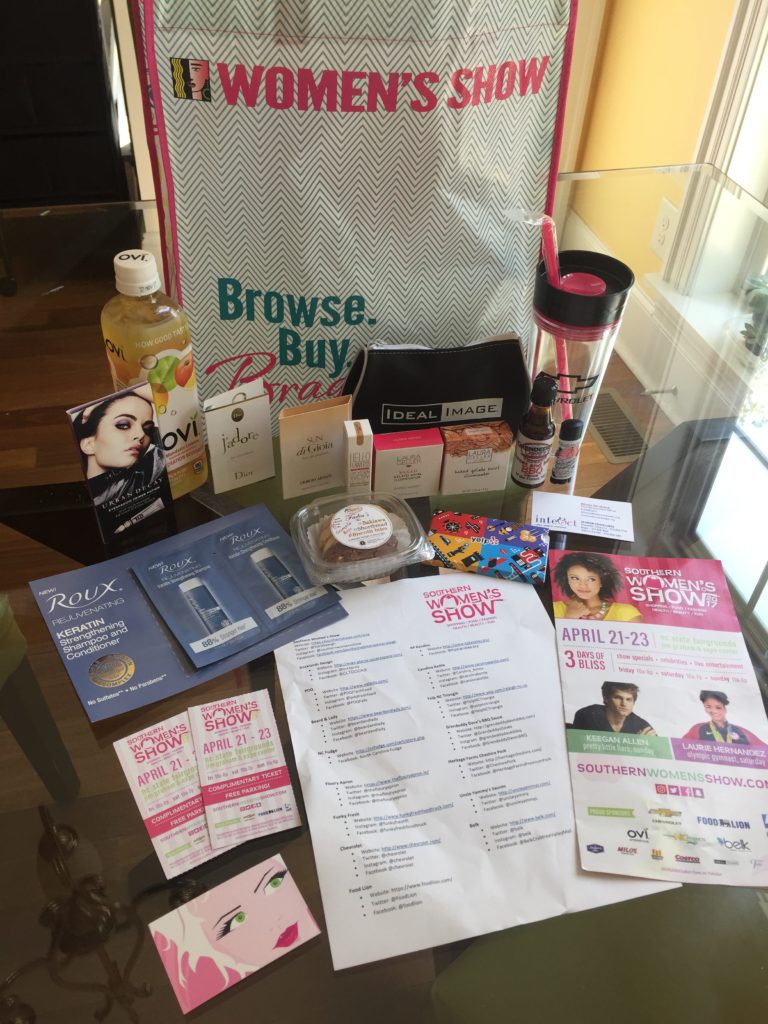 Here are just a few of the brands we hunted down and below you can see some of the awesome goodies many bloggers were lucky enough to take home with them –
You'll see all these brands and so much more at the actual show. But, I highly recommend that you swing by and check out these brands out in particular while you're enjoying the Southern Women's Show this weekend. You won't regret it!
More NC Blogger Fun with the Southern Women's Show
After the scavenger hunt, there was a blogger contest and our bloggers won items like Belk Gift Cards and Show Bucks to spend at the show. Additionally, we received two tickets to come back to the show and bring a guest so we could keep the fun going all weekend long.
Your Turn to Have Fun
There will be celebrity guests at the show like Pretty Little Liars, actor, Keegan Allen and Olympic Gymnast, Laurie Hernandez, and more! Plus meet all of your favorite WRAL-TV personalities, too.
If you'd like to come on out to the Southern Women's Show yourself and get the full experience, here's how you can make that happen. The show runs Friday the 21st from 10 am to 8 pm, Saturday from 10 am to 7 pm, and Sunday from 11 am to 6 pm.
The show takes place at the North Carolina State Fairgrounds in Raleigh at:
North Carolina State Fairgrounds
1025 Blue Ridge Rd
Raleigh, NC 27607
You can get directions to the show on their website.  See you at the show!
---
About the NC Blogger Network
NC Blogger Network is North Carolina's premier community for bloggers. We bring bloggers together for events, education, networking and paid opportunities working with relevant brands. Join today!