My Very First Blueberry Cobbler
I made Blueberry Cobbler! This is my very first Blueberry Cobbler ever and the first of many, I hope, in my new kitchen. I was happily guided through it step by step by my cousin, a North Carolina native and cobbler expert.
Blueberry cobbler is a classic dessert that is perfect for summertime. It's a delicious way to use up your fresh blueberries, and the warm, juicy filling and crunchy topping make it a crowd-pleaser at any gathering. Here's a simple recipe for blueberry cobbler that you can make at home.
If I could make this, so can you! Here's all you need to know to make a super simple blueberry cobbler you and your guests will devour.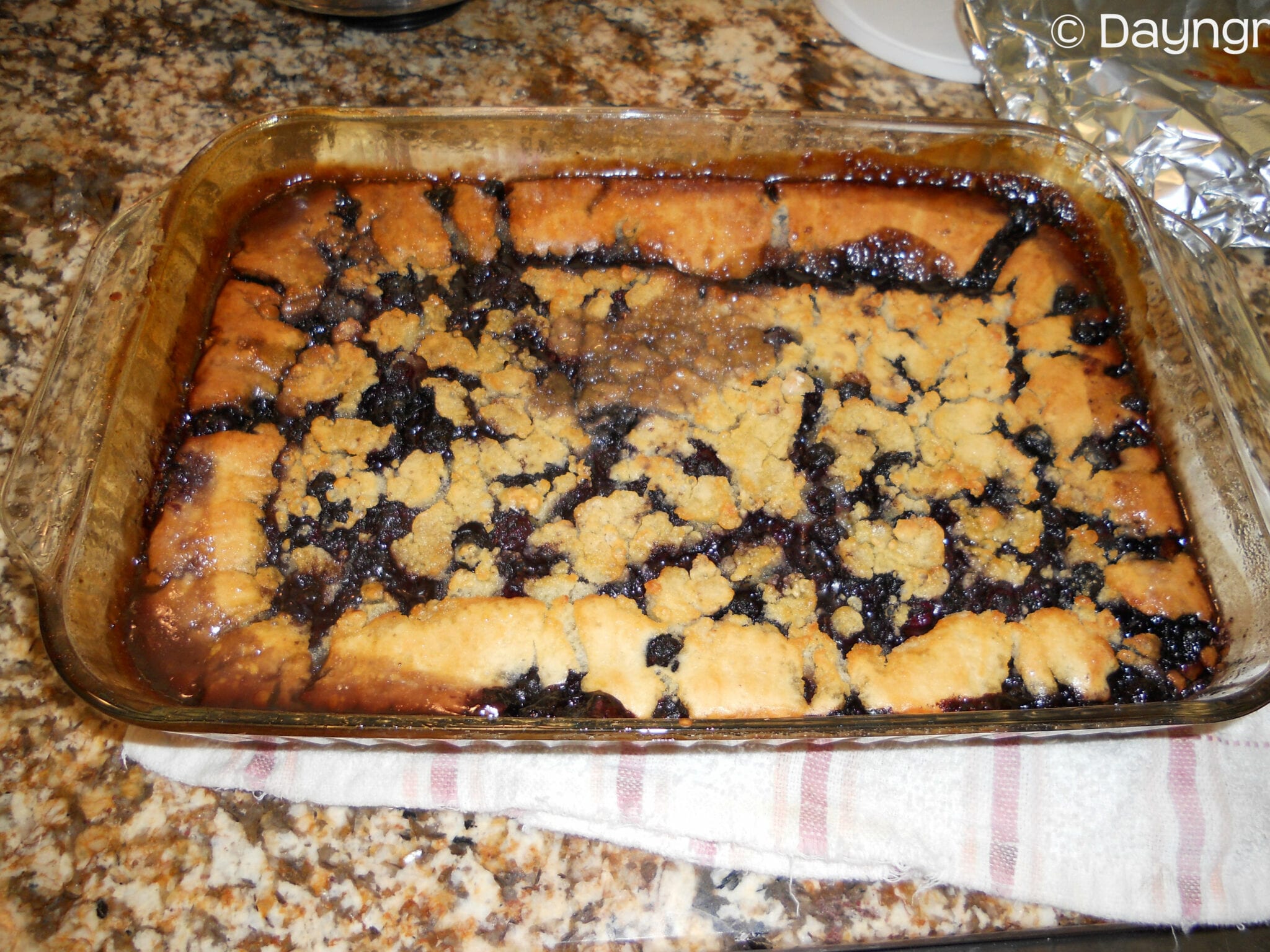 My Super Simple First Blueberry Cobbler
Ingredients:
1/2 cup butter
1 cup self-rising flour
1 cup white sugar
1 cup milk
4 cups fresh blueberries
Directions:
Preheat your oven to 350 degrees F (175 degrees C). Place butter in an 8-inch square baking dish.

Melt the butter in the preheating oven for about 5 minutes. Remove from oven.

Mix flour, sugar, and milk in a bowl until combined; pour batter over melted butter. Scatter blueberries over the batter.

Bake in your preheated oven until a toothpick inserted into the center comes out clean; it takes about 1 hour.
Extra Special Blueberry Cobbler Recipe
Ready to make an extra special recipe that's a bit more extravagant than my first Blueberry Cobbler recipe? Try taking on this twist on the classic Blueberry Cobbler –
Ingredients:
4 cups fresh blueberries
1/2 cup white sugar
2 tablespoons cornstarch
1/2 teaspoon ground cinnamon
1/4 teaspoon salt
1 cup all-purpose flour
1/4 cup white sugar
1 teaspoon baking powder
1/4 teaspoon salt
1/4 cup unsalted butter, chilled and cut into small pieces
1/4 cup milk
Directions:
Preheat the oven to 375°F (190°C). Grease a 9-inch square baking dish.
In a large bowl, combine the blueberries, 1/2 cup of white sugar, cornstarch, cinnamon, and salt. Toss to coat the blueberries evenly.
Pour the blueberry mixture into the greased baking dish, spreading it out evenly.
In a separate bowl, combine 1 cup of flour, 1/4 cup of white sugar, baking powder, and 1/4 teaspoon of salt. Mix well.
Cut the chilled unsalted butter into small pieces and add it to the flour mixture. Using a pastry cutter or your hands, mix the butter into the flour mixture until it resembles coarse crumbs.
Add the milk to the flour mixture and stir until a thick batter forms.
Spoon the batter evenly over the top of the blueberry mixture in the baking dish.
Bake for 45-50 minutes or until the topping is golden brown and the blueberries are tender and juicy.
Remove the blueberry cobbler from the oven and let it cool for 10-15 minutes before serving.
Serve the blueberry cobbler warm with a dollop of whipped cream or a scoop of vanilla ice cream on top, if desired.
Blueberry cobbler is a delicious dessert perfect for summer barbecues, picnics, or just a sweet treat after dinner. It's easy to make, and the juicy, sweet blueberries and crunchy topping will surely please everyone at the table. Try making this recipe for your next gathering, and watch as it disappears quickly!
Enjoyed these recipes? Take a look at the other recipe articles included on this site.
Do you have a good cobbler recipe? If so, drop it in the comments or link me to your post. I can't wait to try yours!