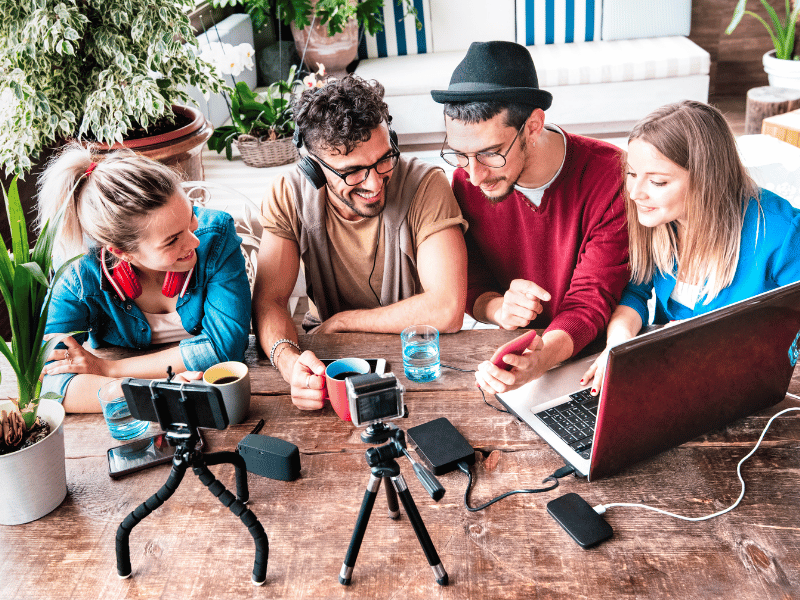 Google+ for Bloggers
In the ever-evolving landscape of social media, a new player has emerged, poised to challenge the status quo and redefine how we connect and interact online. Say hello to Google+, the revolutionary social network brought to you by tech giant Google. Freshly launched in [current year], Google+ comes armed with a unique set of features and a vision to transform the way we share, communicate, and build communities in the digital world.
In this blog post, we embark on an exciting journey to uncover the promises and potentials of Google+, exploring its distinctive attributes, user-friendly interface, and the ways it aims to stand out from the crowd. Whether you're a social media enthusiast seeking the latest digital trend or a curious individual eager to explore the next big thing, let's dive into the world of Google+ and discover how it plans to leave a lasting impact on the social media landscape.
Google+ for Bloggers: Why it Matters and How to Use It
Ahhhh, Google+ … is it a Facebook killer, a Twitter killer, a Pinterest killer, a ghost town, some combination, or perhaps none of the above? Often ridiculed by those who have never learned to use it, praised to the heavens by its fans, exaggerated in its SEO importance by those wishing to fool others into paying them, underutilized for SEO even by most of those who do use it, and almost certainly for all who try it – HIGHLY confusing!
So as a "Plusser" since the late beta stage, someone who got a Business Page in the first round and survived to tell the tale of multiple duplicates, horrendous (actually, more like non-existent) Google customer support, and now a founding member of the Plus Your Business Academy Level 3 program, let me see if I can get you started and a little less confused.
Just What Is Google+?
When Google+ was launched in the summer 2011, it was described as the "social layer of Search." IOW, Google intended it to become an integral part of its Search results, commonly called the SERPs (search engine results pages).
So yes, G+ is a social network with both similarities and differences to the others, so there are the obvious goals of networking and connecting people across the globe and across a wide range of topics. As such, you will find both individuals and brands there, serious writers, trolls, silly memes, and everything associated with being social on the web.
And yet, because Google worked hard to integrate Google+ into every aspect of its services, including YouTube commenting, Search, Google Apps, Google Maps, it was clearly intended to be something more than "just" social. What that is, however, is still evolving and beyond this article's scope.
Key Takeaway: Google+ is a social network for connecting people and companies that are deeply integrated into Google's entire suite of services and products, including Search, so don't ignore it.
What Google+ Isn't.
Where many people get confused, though, is when they start thinking that Google+ is, or was ever intended to be, competing with other social networks. If you remember nothing else from this article, it should be this: Google+ has never been intended to "beat" other networks. It is both a stand-alone product and part of everything Google.
So if someone tells you, as a blogger, that you don't need Google+ "..because there aren't as many people as Facebook, or it's too confusing, or whatever…" they're simply missing the point, and you can ignore them.
Google+ is for Conversations & Communities
If there is one thing I like most about Google+, the overall format is better suited for honest conversations than any other SM (social media) platform.
In particular, the simple fact that you can format your text for Bold, Italicized, and Strikethrough makes for far more readable long posts than Twitter (obviously!) or Facebook. I mean…have you ever tried to read through (and then reply to) a long post or comment on Facebook? It's a nightmare because, besides paragraphs, there's no way to make any text distinct. So for in-depth content and discussion, G+ is simply the best, which allows it to act more like a mini-blog.
Communities are another wonderful feature of Google+. While you can certainly build Lists on Twitter and Groups on Facebook, G+ Communities allow for greater organization of content via Categories within the Communities.
Google+ is Different, So You Need to Act Differently
Certainly, when you first log in to Google+ and check your Stream, as it's called, you'll see nothing there, because you have to get started Circling people before anything they post will show up. This is why people often make the mistake of believing that G+ is a "ghost town." Not only that, quite possibly none of your friends and family are on it, so you don't even have them as a starting point, but that's ok!
It's often said, "Facebook is for people you already know, but Google+ is for finding people you want to know." This can change simply by searching for topics in which you're interested, and as you do, you'll quickly find some amazing conversations going on about almost any topic you can imagine.
And remarkably, the G+ community tends to be very welcoming of newcomers, so if you start leaving thoughtful comments, you'll quickly find that people do respond and will start Circling you back, but be patient. Don't expect to suddenly have hundreds or thousands of people Circle you; it takes time. Be persistent and consistent.
Some common errors people make when they start on the Plus are:
"Link-dropping" refers to the practice of simply posting a link to an article without adding any commentary about why you think it's useful. While this is common on FB and Twitter, it's generally considered "poor form" on G+, and rarely will you get anywhere by doing so. People will just ignore it. This is one of the most common mistakes the bloggers, in particular, make. Don't do it!
Only sharing other people's content without any commentary about why you like it. Same as with link-dropping. If you like something enough to share it – tell people why, or again, it will simply be ignored, although you might get a "thanks!" from the original poster.
Sharing photos without any commentary about it (starting to get the trend here?)
Only clicking the +1 and never leaving any commentary/question
If you enjoyed this article, you'll enjoy all the other blogging tips on this site!
About Charles
Smiles by Payet Family Dentistry has been providing state-of-the-art care in the Queen City for more than 14 years. With an experienced and compassionate team, Dr. Payet has created a Hi-Tech, Soft-Touch, Family-Friendly dental office that can provide almost everything your family needs.