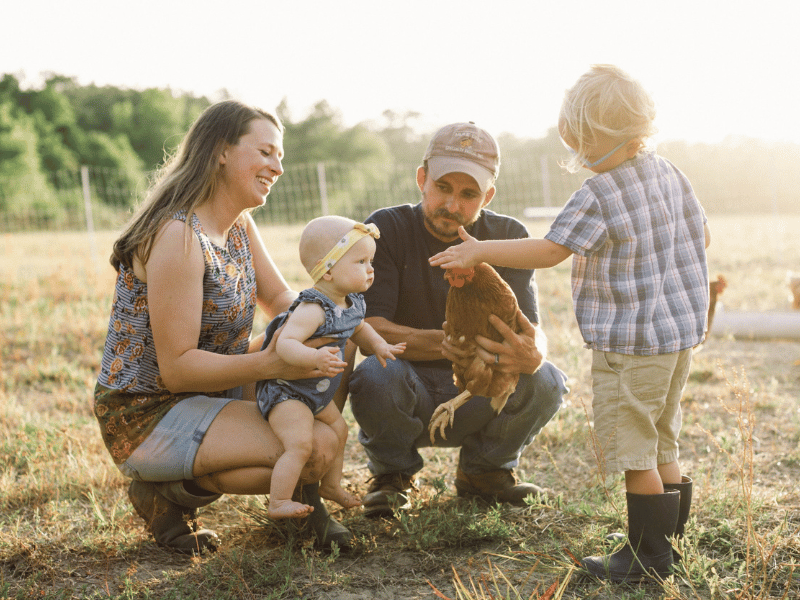 Get Farm-to-Table Fresh Deliveries
Do you get excited about fresh fruit on hot summer days? Delicious baked goods like apple pie and peach cobbler just waiting to be made and gobbled up. Living on the Crystal Coast, I'm fortunate to enjoy the abundant farm-fresh food here year-round. If you're vacationing on the Crystal Coast this summer, you'll have the opportunity to do the same. Now you can get farm-to-table, fresh deliveries straight to your door this summer while you vacation on the Crystal Coast! Over the past few years, Emerald Isle and Atlantic Beach vacationers have been participating in the Vacationer Supported Agriculture program I've helped to facilitate.
This year, I'm happy to announce that the Vacationer Supported Agriculture program is back and being handled locally through Shenk Family Farm. Shenk Family Farm offers weekly deliveries straight to your door every Sunday evening this summer from Memorial Day through Labor Day.
Shenk Family Farm provides pasture-raised meats, eggs, produce bundles, flowers, and more from local farmers. Place your order by Wednesday, before your arrival, for Sunday delivery straight to your door. Deliveries are available to Atlantic Beach, Pine Knoll Shores, Indian Beach, and Emerald Isle.
Items Available Weekly by Shenk Family Farm and Other Local Farmers:
Pasture-Raised Meats
Eggs
Produce
Flowers
Sea Salt
And more…
Pasture-Raised Meat and Eggs
Joe and Rachel Shenk are first-generation farmers in Newport, NC. Their farms offer farm-to-table, fresh chicken, pork, grass-fed beef from Piney Woods Farm, eggs, bone broth, and more. Their passion is to manage their farm in a way that promotes happy and healthy animals, land, community, and farmers. They want to know their customers and for their customers to know them. They also value equipping people to prepare their products in a way that brings them joy and creates delicious meals to share with the people they love. Your meat will come vacuum sealed and frozen.


Carteret Local Food Network Produce Bundles
The farm-to-table fresh produce bundles from the Carteret Local Food Network typically consist of fresh, seasonal fruits and vegetables grown and harvested by local small-scale farmers. Each bundle will contain approximately 12-16 servings of local, seasonal veggies, so be sure to snag as many as you need depending on how many people you're feeding. Check out the item description in our online store to see what produce to expect during the summer season.


Two Bee Farm Freshly-Cut Flower Bouquets
Two Bees Farm is a flower farm in Carteret County, specializing in responsibly grown, unique, fresh flowers. Tanya and Travis Watson take pride in growing heirloom, cottage-style blooms, unlike anything from a box store or traditional florist shop. Your seasonal bouquet will be filled with a variety of colorful blooms and greenery hand-picked from our fields to your vase. Each bouquet will be cut and prepared by hand, assembled in a jar, and hand-delivered to your doorstep.


Atlantic Beach Sea Salt
Atlantic Beach Sea Salt Company's seawater is drawn from the beautiful nutrient-rich Blue Water miles off Atlantic Beach, North Carolina. There are no chemicals or outside agents in their salt. It is 100% natural. They use the wind, sun, and love of the sea to produce the finest salt on the east coast. Their sea salt is packaged right on the island in its purest form. You will love the beautiful white crystals and crunchy texture. Their salt is easily served in larger crystals or pinched into finer finishing salt.


Logan Farms Lard Goat Milk Soap
Kristi at Logan Farms uses Shenk Family Farm rendered pork lard, their goat milk, and recipes inspired by them and their customers to create old-fashioned lard soap. Kristi has handcrafted several varieties in small batches, including only simple, natural ingredients such as essential oils, oats, dried florals, and more. These soaps clean and lather well while moisturizing, gentle on the skin, and long-lasting. I love their bars, and you will, too. Try these bars at home, on vacation, or to give as a gift!


How Your Farm-to-Table Fresh Summer Deliveries Work
Order your farm-to-table fresh items from up to two weeks before your arrival until
Add your desired products to your cart
Choose the delivery option
Use your delivery address zip code
Choose your delivery date
At checkout, input your delivery address with special instructions (if necessary)
Your order will be delivered on the requested Sunday between 4-7 pm
Order Your Farm-to-Table Fresh Summer Deliveries
To place your order, select your farm-to-table fresh summer items here.
I think you'll love all these farm-to-table fresh options and supporting our local farmers. If you have questions, you can contact Rachel with Shenk Family Farm via text at (252) 622-6803.
Have you enjoyed this article? You can read all my posts sharing life on the Crystal Coast.