This story was written in partnership with the Asheville Bed and Breakfast Association. One of our NC Blogger Network Members will get to experience one of these beautiful Inns as a special NC Blogger Network assignment.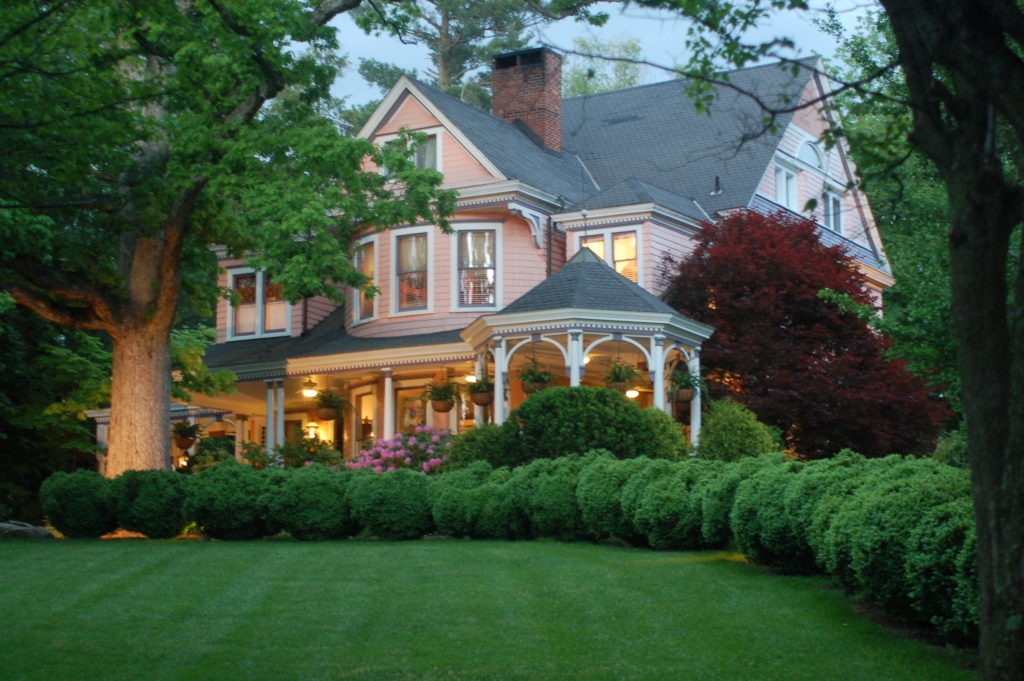 Cupid is always in full swing in February, but the great thing about Asheville, N.C. is that romance can be found 365 days a year.  The Asheville Bed and Breakfast Association shared with us the best Inns to steal a kiss in 2016. Here are Asheville's most romantic Inns – 
Beaufort House Inn: A Victorian Bed and Breakfast with Casual Style
At the Beaufort House Inn, there's a "kissing nook" on the landing of the winding, wooden staircase, original to the 1894 home where Charlton Heston lived for a short time. We find the front porch gazebo pretty charming, too. Innkeepers Christina and John Muth recommend a romantic stroll on the front lawn of the Biltmore House & Gardens. (Tip: The new "Fashionable Romance" exhibition featuring wedding gowns in film and Vanderbilt wedding heirlooms opens at American's largest privately owned home opens Feb. 12 through July 4, 2016.) They also suggest wrapping up your day with a toast your beloved at the Battery Park Book Exchange & Champagne Bar. Christina enjoys suggesting this used bookstore and wine bar with its "glowing atmosphere with intimate seating corners" to guests.
Crooked Oak Mountain Inn: A Mountaintop Retreat
Crooked Oak Mountain Inn is nestled on a mountaintop, wrapped in trees and rhododendrons with a fire pit for storytelling, guitar playing and more. Innkeepers Michael (most people call him Bear) and Patti are former caterers, and they are constantly up to date on the Asheville culinary scene.
Their top romantic recommendation for dinner is Zambra. The restaurant serves an eclectic tapas menu with Spanish, Portuguese and North African accents and local North Carolina ingredients–and you'll likely encounter a belly dancer, too!
If a view of the Asheville skyline is on your romantic wish list. Patti and Bear recommend the Sky Bar at Asheville's historic Flatiron Building for a drink or coffee. It's gorgeous at sunset, but it's also one of the bar's busiest times, too.
A Bed of Roses Bed and Breakfast: A Queen Anne Historic Delight
Emily and Bill, Innkeepers at A Bed of Roses Bed and Breakfast, worked together in the medical profession as a medical illustrator and photographer in Boston before focusing their artistic passions on working together at the Inn. With roses in their Inn's name, they are fond of leisurely strolls in gardens.
They recommend wandering the sculpture garden at The Grovewood Gallery, off the beaten track on the grounds of The Omni Grove Park Inn.
Emily says you can find a lovely bench or intriguing sculpture hidden away here… and enjoy a few intimate moments.
Carolina Bed and Breakfast: An Arts and Crafts Home that Exudes Warmth
If the weather is nice, Susan and James from Carolina Bed and Breakfast encourage guests to grab a picnic from the nearby Greenlife Grocery and take the five-mile hike to the top of John Rock in the Pisgah National Forest. To raise your heart rate closer to their Inn, they recommend the Asheville Drum Circle at Pritchard Park, a free community event occurring every Friday evening. (The drum circles move indoors during the winter and will be at Blue Ridge Tap Room til April 1). They send guests to cap off the evening with one of the unique desserts at James Beard-nominated Katie Button's second restaurant, Nightbell Restaurant and Lounge. Finally, Susan says the swing on the front porch of their 1901 American Craftsman-style home is a favorite place for an evening kiss, too.
This story was written in partnership with the Asheville Bed and Breakfast Association. Book some romance into the year ahead on the Asheville Bed and Breakfast Association website.