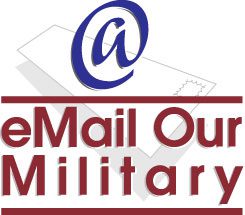 Learn About eMail Our Military
Honor, Duty, eMail is the official blog of eMailOurMilitary.com, and we appreciate that you've taken the time to read a little more about us. There we'll blog about everything eMOM is doing to support our troops.
We strive to make it easy for people to get involved in supporting our troops, so we've got troop support projects and campaigns that you can do right from the comfort of your computer chair. We'll always have tons of good stuff for you to read too.
About The Organization
eMail Our Military (eMOM) is a charitable organization supporting U.S. military service members through morale-boosting email, letters, cards, and care packages. Troop supporters can take part in several support projects ranging from sending eMail to a service member on a one-on-one basis to year-round support projects. eMail Our Military was created in 2001 as a response to the DoD's cancellation of the "Any Service Member" and "Operation Dear Abby" mail programs. As a safe alternative, eMOM picked up where these programs left off.
I'm a military wife, the daughter of a veteran, an avid troop supporter, and the founder of eMail Our Military. Our organization comprises volunteers from all walks of life who understand that regardless of our political views, our military service members deserve our respect, support & encouragement.
How eMail Our Military Works
Using eMail, eMOM provides a safe way for people to continue the tradition of "Any Service Member" mail with a much more personal touch. Service Members register with us for support and are matched with civilians who have registered to send and show their support to our troops.
Why Choose eMail Our Military
eMOM is original! eMail Our Military was the first organization to step in after 9/11 when force protection concerns threatened to keep the support from getting to our troops. Our Code of Ethics and the security measures we have in place help us to support our troops safely. We require all of our participants to register with us, we work directly with many military commands, and we never publicize the names and addresses of our service members, ships, or units on the web.
Many of our military service members overseas have limited or no web access. Therefore they may never see messages posted on internet websites. They do, however, have eMail and look forward to hearing news from home.
A Leader in New Media/Social Media
eMail Our Military is a leader in the new media arena. Using social media to support America's military servicemembers is one of our specialties. We use services and sites like Twitter, Facebook, FriendFeed, MySpace, Utterli, etc., to keep our troop supporters and servicemembers connected and up-to-date with what's happening at eMOM. Additionally, we use new media/social media for strategic partnerships to bring great deals, discounts, and services to our military and their families.