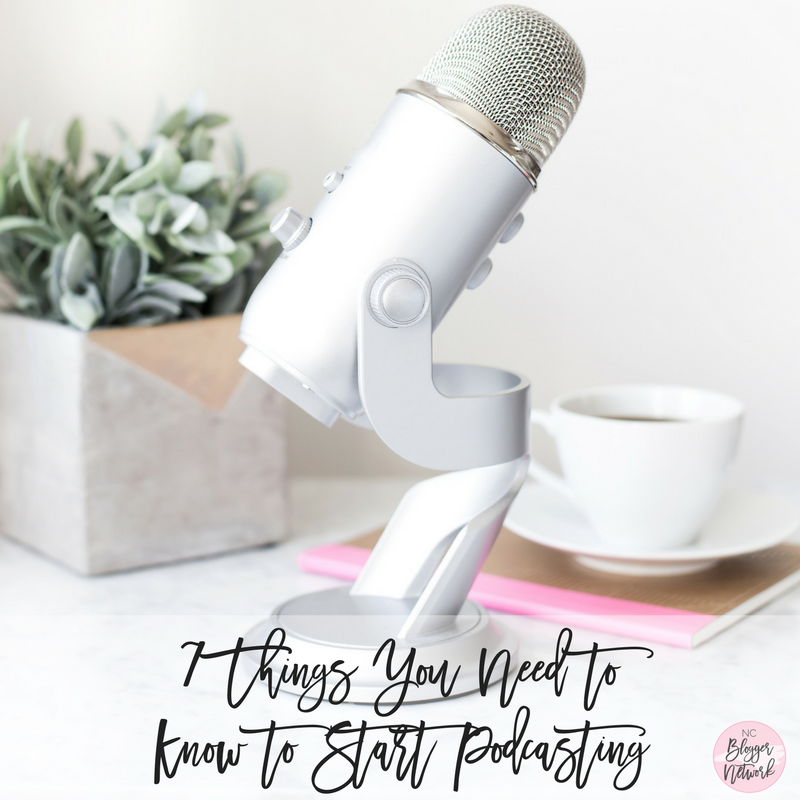 If you've wanted to start podcasting but didn't know where to begin. This post will help you get started with tips and suggested tools, platforms and apps to become a podcast pro in no time.
I am an introvert that likes to be behind the screen, so live podcasting and videography would totally take me out of my blogging comfort zone. This is foreign territory for me. But reaching beyond your comfort zone is exactly what you need to do to grow your blog and business to the next level.
Of course, I love listening to other bloggers' on podcasts and video, our very own NCBN has a great podcast series on iTunes and a live radio show. But I know I'd be excitedly terrified to try podcasting. Maybe podcasting would be a good stepping stone between hiding behind the laptop screen and doing live video which is the premier way to grow your reach now.
Kim Anderson who runs the Just Keep Blogging and Thrifty Little Mom podcast series' was the speaker for this session and she made podcasting seem fun and easy, like grabbing coffee with a friend and chatting for a little while. I may just try it yet, how about you? Here are the gems Kim taught us about getting started with podcasting.
Disclaimer: I received a free virtual ticket to the Blog Life University 2017 Conference as a member of the NC Blogger Network in return for sharing my conference notes and key takeaways.
Benefits of Podcasting
Kim says there are many benefits to podcasting, like expanding your reach, so you can determine if it is the right choice for you:
Use podcasting to expand your reach
Some people learn better by listening
Readers feel like they know you because they'll hear your voice and words on a regular basis
You can reach a larger audience, people have more opportunities to listen than to read
You can reach a different audience (like the people who prefer podcasts to social media)
7 Things You Need to Know to Start Podcasting
1. Who Is Your Target Audience?
Who is your target audience? What do they want? What questions do they have? Why do they come to your blog? When you know your community and ideal reader, you can go in deep, get to know them better, speak to their specific pain points and help solve their problems.
She shared a quote from Seth Godin:
2. What Tools Do You Need?
Kim recommends:
a USB microphone with a stand
and a computer to connect it to
Side note: NC Blogger Network uses the Anchor App and if you use it too, all you need is a mobile phone or tablet.
Nice to have extras:
Headphones or earbuds
A memory card (because audio files are large) or libsyn podcast hosting (plans begin at $5/month)
Audacity (for mac or pc) or garage band (on mac)
Ecamm app records Skype calls
Hands-free recorder if you are doing live interviews/need portability
A pop filter to lessen the harshness of "p" in the audio
Music. There are plenty of free resources but be careful and read licensing agreements just like you do with using free photos.
Side note: The Anchor App includes music, allows you to record interviews, stores your audio files for free, and has a hands-free feature.
3. What Is Your Goal?
This will help you focus your podcast series. Take time to figure out:
What is your objective? To inform, educate or entertain?
What will you name your show?
What will your cover art look like? (Hint: go on iTunes and check out most popular channels to figure out what stands out)
How will your podcast add value to your readers' lives?
Do you want to monetize it? (Have sponsors, run ads)
4. When Will You Podcast?
Will you record daily, weekly or on some other regular schedule? Will your topics be part of a series or standalone session depending on what mood strikes? Having an editorial calendar is helpful when planning out your podcasts. What time of day will you record?
5. Where Will You Record?
Believe it or not, you don't need a fancy studio. In your kitchen works just fine.
6. Where Will You Host Your Podcast?
Stitcher
iTunes
YouTube
Google Play Store
Don't forget to share them on your blog, too
Side note: Anchor hosts your content and pushes your podcast out to locations like iTunes and Google Play for you!
7. How Do You Create the Content for Your Podcast?
Much in the same way you create content for your blog…
Create a show outline so you can estimate how long your podcast will be

Intro – who you are and who's joining you
What will your listeners get out of the episode
Consider including 3 logical points you'll touch on
Strong conclusion
Outro – Call to action on what you've done that day

Keep your tone conversational and relatable (not formal) so your reader connects to you and wants to listen again
Ready to Start Podcasting?
So what do you think? Ready to start your own podcast? I love how easy and fun Kim makes podcasting sound. The best thing to do is try it out and see if a podcast can help you reach a deeper connection to your current readers or grow your audience to reach a new segment of loyal fans.
Your Turn, Let's Discuss
What podcasts do you enjoy? What do you love about them? Do you think you are ready to tackle your own podcast series/channel? Let's discuss in the comments!
---
ABOUT THE NC BLOGGER NETWORK
NC Blogger Network is North Carolina's premier community for bloggers. We bring bloggers together for events, education, networking and paid opportunities working with relevant brands. Join today!