Ready to Organize Your Day for Maximum Productivity?
Note: I received a free virtual ticket to the Blog Life University 2017 Conference as a member of the NC Blogger Network in return for sharing my conference notes and key takeaways. This post contains affiliate links indicated with an asterisk.
As if Jenny Melrose's first session at Blog Life University 2017 conference on *Mastering Working with Brands wasn't worth the price of the virtual ticket, we have more in store with one of my favorite topics, maximizing productivity. If you're like me, our blog planners are overflowing with tasks to do, courses to take and ideas to grow our blogs and businesses. It can be overwhelming, to say the least.
So how do you organize your day, maximize productivity, prioritize tasks and get more done in less time? Well, Aaronica Cole from The Crunchy Mommy gives us her tips in her Organizing Your Day for Maximum Productivity session at Blog Life University.
Now I consider myself somewhat of a productivity addict/aspiring expert/Wonder Woman wannabe. I blog about productivity, read about productivity, and overshare planner pictures on Instagram to help people with their productivity. I do love hearing what works for other people though I feel like I've seen everything.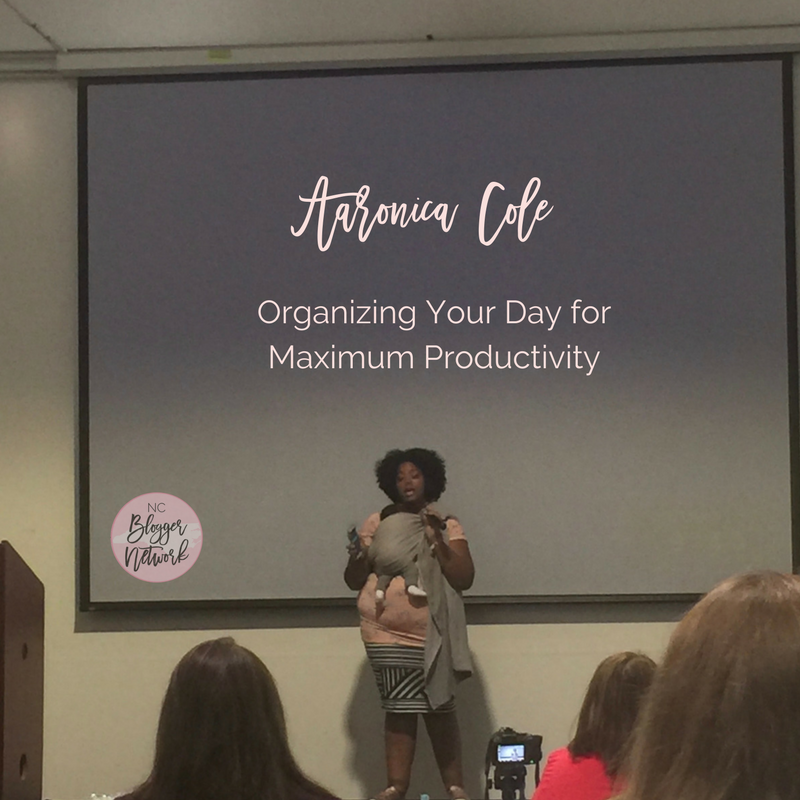 Until Aaronica… she walked out onto the stage like this…
Yes, in case you can't tell from the picture, she was wearing her 1-month-old sleeping baby boy (and her other two kids were there) while giving this presentation! I don't know about you, but by the time my 3rd son was 1 month old, I was still sleep deprived. I didn't venture out in public, let alone give a presentation to a room full of people. I was impressed, an everyday Wonder Woman right there. So let's just say, she had my attention…
Organize Your Day – The Key to Success
Aaronica started off by saying she started off as a single mom and it quickly taught her how to be a multitasker. Some productivity experts say you have to single task, focus wholly on one task at a time to give it your best effort and get it done right.
Aaronica said that as a single mom, you don't have the luxury to single task.
She said her key to success is figuring out when and what you can multitask vs. single task.
It won't be the same for everyone, but look at your tasks and see what you can reasonably manage to do at the same time. For example, she writes blog posts and takes pictures on her phone while she's on the go.
I have to agree with Aaronica. I couldn't possibly get everything done if I didn't multitask at least some of the time. I know that I must write blog posts as a single task, preferably when my kids are at school. I need to do that in a quiet space so I don't get distracted.
But I love to multitask by listening to blogging course videos while I fold laundry or mop the floors (it sure makes those tedious tasks more fun), or schedule pins in Tailwind while my I'm watching my boys at soccer practice or update my blog planner or check emails on my phone when I'm standing in line at the store.
When and what can you multitask vs. single task?
Quick Blogging Tips for Efficiency
1. Editorial Calendars Can Help Organize Your Day
Your editorial calendar can be your master plan for the year. Don't worry about specific blog post titles but it should help you get focused on topics/ideas you'd like to write about. Aaronica recommends *CoSchedule because it puts your editorial calendar and social media sharing streamlined into one site.
2. Blog Post Templates and Mind Maps
She creates an outline for certain type of blog posts. For example, for her recipes:
Her title contains an SEO keyword
The first paragraph of her post has a story/narrative using the SEO keyword
She puts in pictures as she tells the story
Then she includes the recipe itself
She uses the same basic outline for all posts of that type. Sometimes, she'll use a mind map to help create a visual for her outline to identify main ideas and key points for each.
3. Take Advantage of Tools and Apps
Use blogging apps on the go…
WordPress
CoSchedule
Facebook Pages Manager (for your blog facebook page)
Pinterest
Buffer
Twitter
Instagram
I'm sure you know others…I use the WordPress a lot, to check stats and write up outlines of blog posts on the go too, especially if I have to wait in the carpool line picking up kids from school!
How to Fit it All Into Your Schedule
Aaronica suggests a time blocking sort of method, where you batch similar groups of tasks together. Here's what she does:
1 hour a week to schedule the week's pins (25 per day)
1 day dedicated to writing all her blog posts. She does them in one sitting and schedules the blog posts and social media using CoSchedule
1 day dedicated to taking all her photos for IG (the staged ones anyway) and uses Grum to schedule them for Instagram.
Most importantly, execute your week's plan. Set SMART Goals for the week (that's Specific, Measurable, Actionable, Relevant, Timely goals).
Need Help Setting Your Goals or Creating Your Ideal Routine for a Balanced Life?
Subscribe to my blogging newsletter and receive the following free gifts plus my weekly tips and monthly income and traffic reports:
My FREE 2017 Blog Planner (and first notice when 2018's is ready)
8 Things You Need to Know to Crush Your Goals Workbook
Craft Your Ideal Routine workbook and tracker
I hope this helps you organize your day and maximize your productivity. Aaronica was an inspiring lady, her no-nonsense attitude and drive to get things done has helped her develop her beautiful Crunchy Mommy site while raising and homeschooling 3 kids. Aaronica says "Time is money when you're an entrepreneur" so making the most of the time you have will help you achieve your blogging and business goals.
Your Turn! Let's Discuss –
How do you maximize your productivity? Do you batch your tasks together? Do you have an established routine to get it all done? Let's discuss in the comments below!
---
About the North Carolina Blogger Network
NC Blogger Network is North Carolina's premier community for bloggers. We bring bloggers together for events, education, networking and paid opportunities working with relevant brands. Join today!