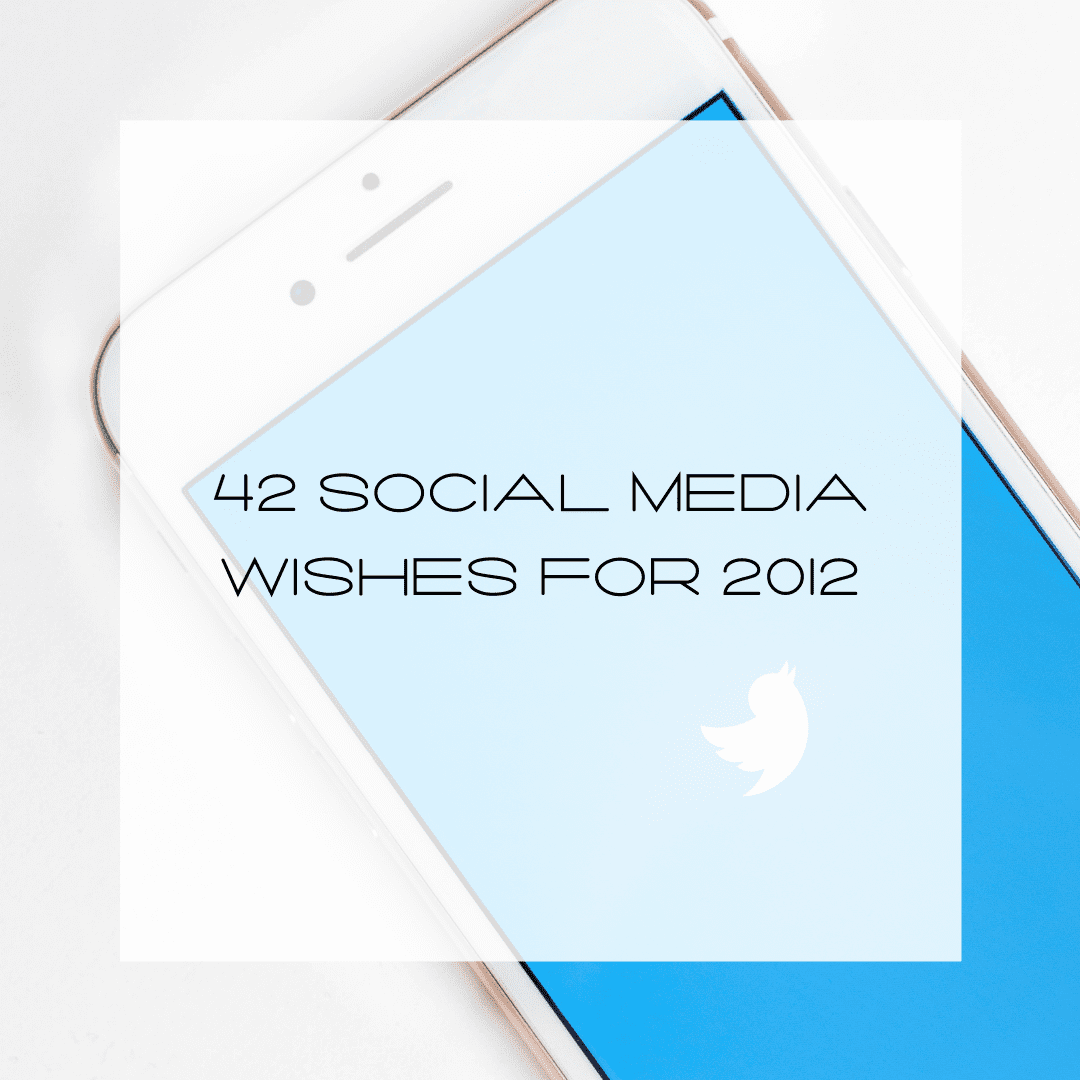 As 2011 comes to a close, I look toward the future and ask my friends, followers, and colleagues about their #SocialMediaWish for 2012. Their responses were eclectic; a virtual mixed bag of social media requests, covering everything from personal goals to pleas for more engagement from businesses and each in 140 characters or less. Take a look at these 44 social media wishes for 2012 and see if any resonate with you.
44 Social Media Wishes for 2012
@MikeFraietta Avatars with human faces.
@MartijnLinssen For less dynamics in existing Twitter clients and the API offered by Twitter, and more in new Twitter clients and new API service providers.
@rhappe A better UX for controlling your privacy on Facebook (#TooEasy)
@LinkedMedia #SocialMediaWish mine is 4 Facebook to step up to plate and put a real team of ppl in place for cust/serv for parents. #gnarly
@phillymac Google+ integration into Tweetdeck.
@joshhinds I wish Twitter would let us more easily delete DM's (i.e. in bulk) so I could actually use DM's rather than avoid it because of all the spam.
@celivingston One tool to rule them all. Especially from a CM perspective.
@kirstenwright I wish for an end to spammers and link hackers.
@AdamLeithP I have one wish, an "anonymous 'like' button for Facebook. No one can see who has liked it. An "upvote" if you will. #facebook
@MeganCynaumon An answer for #socialmedia ROI!
@paulswansen that somehow it will all make sense.
@ChrisFHFX Voice to tweet, please.
@AgustinaP To win my boss a Webby.
@dimensionmedia To use my network to sell out #wcmia in Feb.
@MelanieAThomp To have time to blog daily.
@vargasl My 2012 #SocialMediaWish is that every organization has a social media policy that makes sense to workforce and cmty.
@DollarVersity I wish these companies would bring something dramatically new/different to the table rather than a few subtle changes to old product
@KGoetterman My 2012 #SM wish would be that companies approach it's #SM with caution, thought, and purpose as they do with all media they choose.
@evanhamilton Less focus on the next shiny thing and more on stepping up our game on existing networks.
@PRntheCity

RT's for all!

@christinelarade Continued engagement by large companies.
@jo_cheevers for brands I follow to actually respond when I ask them something through #SM #SocialMediaWish
@jasonkonopinski An end to performing. More being real.
@Tojosan a social network w/more actual networking.
@TheTinyJEWELBox I wish for folks NOT to forget that social media is SOCIAL!! Engage and interact.
@imgarysmith for people to interact with me.
@zodot Since it's almost my 1 yr twitterversary, my wish is to make more amazing connections. I've "met" so many fantastic ppl this year.
@PeggyDolane More great conversations!
@raveonstudio I wish more people would use it.
@Julie_Meredith Yes! I'd love for more #Finserv companies to get on the ball with #SM! No excuses!
@chrisgalton More CEO's to support Social Media monitoring & engagement activity within their businesses. It's #2012 not #1912
@jimmiebjr A social media job.
@SkiGarmisch Yes! Me too, please. RT @jimmiebjr: A social media job.
@Sean_OHanlon I plan to be the Analyst/Commentator the media turns to for all things. #Algae #Biomass & #Biofuels
@brodigan A job doing social media.
@shashib 2012 is crucial for the country's future. Hope people will use social to find the right candidates and causes to support
@Ponderful my #socialmediawish is that through #webcitygirls platform, I can continue spreading positive, educational & kind msgs
@ctiedje To help a non-profit grow.
@NataschaOS To be able to create real communities based on social media communities for the Hispanic population! #latism #WHenFL#parranda
@vicequeenmaria I want #heartcamp to be a great thing for the community.
And finally, my #SocialMediaWish: More people helping each other through social and using it for good.
Did any of the social media wishes shared strike a nerve with you? Did you find any like-minded individuals to connect with within our post? What's your social media wish for 2012? Please share it with me in the comments below.