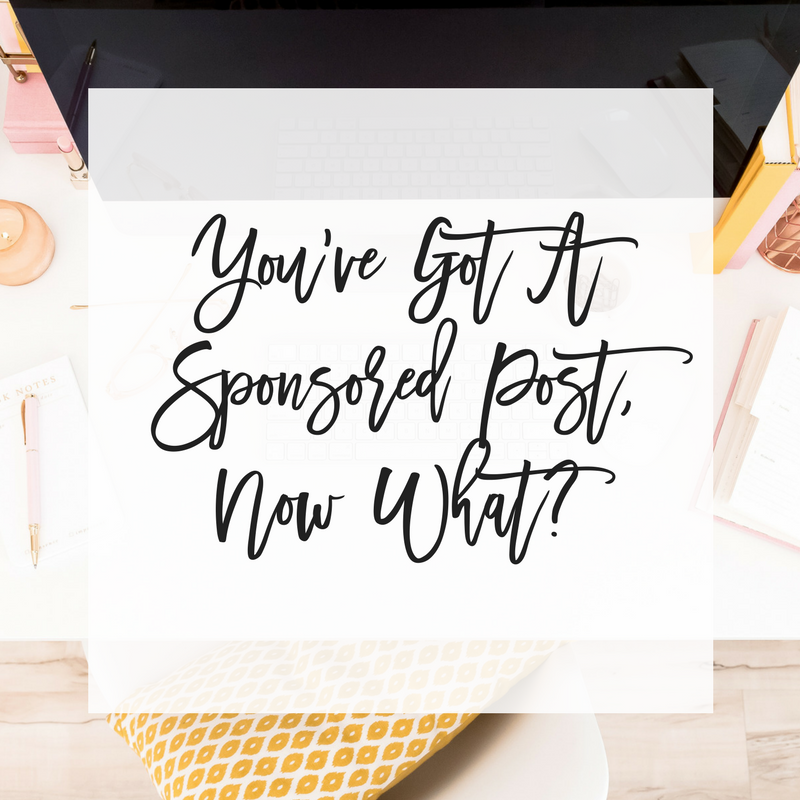 If you've been blogging for any amount of time and you've started to enter into the waters of trying to monetize your blog, you may have dreamt of the moment you'd get those sponsored posts. Whether it's through a media company, a blogging network, or working directly with a brand, you finally got your opportunity for a sponsored post! First of all, congrats! You've worked hard for this.
You've got a sponsored post, now what? There are many types of sponsored posts out there. Some are a flat rate post for promoting the product or brand and others are the pay-per-click style where a brand pays you based on how many clicks their link gets.
Either way, here are some great ways to make sure your post excels –
Disclose your sponsored post
Whenever you are compensated for a post, whether you've received product as compensation or received payment, you have to disclose it. Disclosure simply means letting your readers know that you were compensated to write a post. But that doesn't mean you were told what to say and your opinions are still your own. This is something you should include obviously in your post. It shouldn't be in some tiny print to try to hide it from your readers.
Ask about specifications for your sponsored post
Every brand and media company is different. Each one that I have worked with and others have worked with have slightly different rules or references for how things are done in sponsored posts. No matter what company you're working with, make sure to find out their rules and guidelines.
Use high-quality images in your sponsored post
Whenever possible, take your own high-quality images for sponsored posts. Your readers are likely to skip over a post filled with generic stock images of products versus photos of the products used in your own home. Get creative with these shots, they don't just have to be boring images of the product on a white background. Take photos of the product in your home and being used!
Promote, promote, promote your sponsored post
After you've published your post, it's time to promote! This is another time that disclosure comes into play and there are a few things to remember. Even for social media promotions, you must disclose your relationship with the brand. Because you are normally limited in your characters on social media, the brand will normally allow you to use a shortened disclosure, but be sure to ask!
Be sure to promote your posts often to get them seen. It's important to promote all of your awesome posts, but even more so when it comes to sponsored posts because you want to really make an impression with the brand!
Network
Ask other bloggers within your network to help promote your posts, too! But make sure to not to solicit for clicks on your links. Many pay-per-click companies specifically forbid this in their code of ethics because it allows you to be compensated for a service you didn't provide. When a company pays for clicks, they are wanting your genuine readership to drive traffic to their content. If you are getting all of your clicks from clicking your own links or asking someone else to, it's essentially stealing from that company. In the eyes of the brand you're working with, it's a dishonest way to promote their product.
Working with brands is really exciting, but there can definitely be some hoops to jump through as you get used to the protocols of working with a brand. The most important takeaways are doing a great job, being honest in your disclosures and promotions and enjoy getting paid to do what you love!
How have you made your sponsored posts your best posts? We'd love to know! 
---
About Madison
Sometimes her friends call her Mad, which she really loves. Some things that are super important to her: her sweet husband and investing in their marriage, her relationship with Jesus, and building a space that is encouraging and builds community. She lives in High Point, North Carolina after graduating from High Point University with her degree in Graphic Design and Spanish. You can find her on Twitter, Instagram, and Facebook.