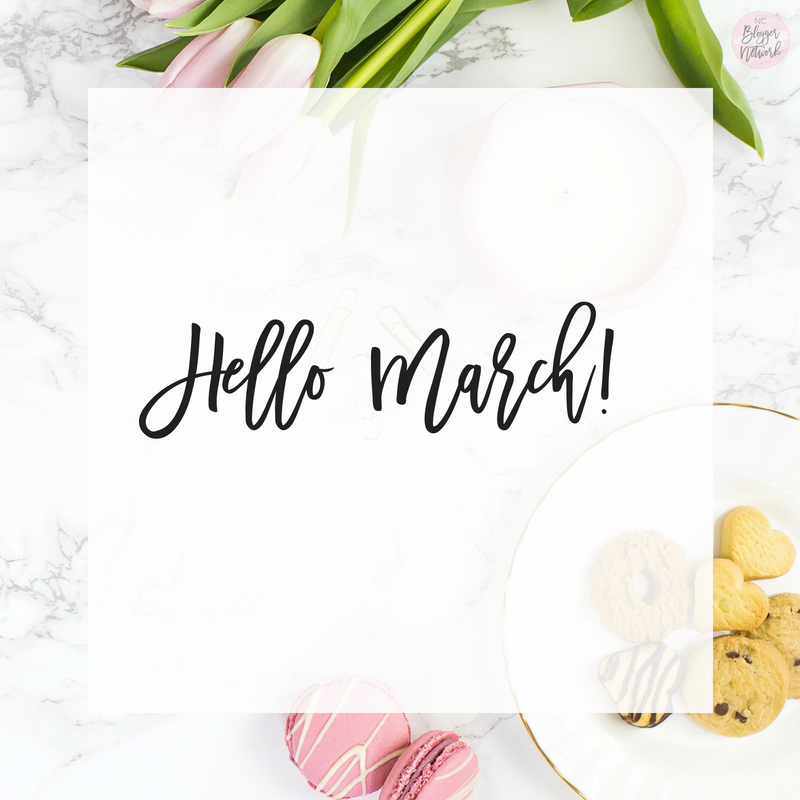 Hello March!
Welcome to March, lovelies. We've got your March Blog Prep Kit filled with writing prompts, national holidays and a few other goodies in this blog post to help you get motivated for March.
As a blogger, you know how hard it can be to find the time to write and often, the topic to write about. We know content is incredibly important so each month we're giving you a blog prep kit with blog post ideas, social media prompts (aka hashtag holidays), and some noteworthy dates to add to your planner. We'll also toss in a few fun, wacky and wild holidays just to liven things up a bit, as well.
I hope March finds you well and right on track with all those New Year's resolutions you made. Keep pushing forward. March has 5 weeks (and weekends! Woohoo!) so there's plenty of time to be uber-productive. Keep a smile on your face and a song in your heart and if you need a little extra motivation. Check in with us on Monday's for our Motivational Monday posts.
Is it feeling like Spring where you are? It's feeling more Spring-like here along the coast. Today was quite breezy and the sun was shining. March has, no doubt, come in like a lion!
This month, there's plenty to celebrate with several religious holidays, and St. Patrick's Day. If you plan to blog about any of these holidays, let us know and we may just add them to our post with an update and a link back to you.
March Holidays:
Mar 01: Thursday – Purim
Mar 01: Thursday – St. David's Day Observance
Mar 02: Friday – Holi
Mar 02: Friday – Texas Independence Day
Mar 02: Friday – Read Across America Day
Mar 02: Friday – Employee Appreciation Day
Mar 05: Monday – Casimir Pulaski Day s
Mar 06: Tuesday – Town Meeting Day
Mar 11: Sunday – Daylight Saving Time starts
Mar 16: Friday – Evacuation Day (Observed) Massachusetts
Mar 17: Saturday – St. Patrick's Day
Mar 17: Saturday – Evacuation Day (State Holiday) Massachusetts
Mar 20: Tuesday – March Equinox Season
Mar 25: Sunday – Palm Sunday
Mar 25: Sunday – Maryland Day
Mar 26: Monday – Prince Jonah Kuhio Kalanianaole Day (Hawaii)
Mar 26: Monday – Seward's Day State (Alaska)
Mar 29: Thursday – Maundy Thursday
Mar 30: Friday – Good Friday
Mar 31: Saturday – Holy Saturday
Mar 31: Saturday – Passover (first day)
Mar 31: Saturday – César Chávez Day
March Fun and Wacky Holidays:
If you're ever at a loss for what to write about on your blog, some of these fun holidays might be the creative writing prompts you need!
Mar 01: Thursday – World Compliment Day
Mar 01: Thursday – Plan a Solo Vacation Day
Mar 02: Friday – Old Stuff Day
Mar 03: Saturday – I Want You to be Happy Day
Mar 04: Sunday – March Forth and Do Something Day
Mar 05: Monday – Learn What Your Name Means Day
Mar 05: Monday – Cinco de Marcho
Mar 06: Tuesday – Dentist's Day
Mar 07: Wednesday – Alexander Graham Bell Day
Mar 08: Thursday – Proofreading Day
Mar 10: Saturday – Mario Day
Mar 11: Sunday – Oatmeal Nut Waffle Day
Mar 12: Monday – Napping Day
Mar 12: Monday – Alfred Hitchcock Day
Mar 13: Tuesday – Jewel Day
Mar 14: Wednesday – Pi Day
Mar 15: Thursday – Everything You Think is Wrong Day
Mar 15: Thursday – Absolutely Incredible Kid Day
Mar 16: Friday – Every Thing You Do is Right Day
Mar 17: Saturday – Submarine Day
Mar 18: Sunday – Awkward Moments Day
Mar 19: Monday – Let's Laugh Day
Mar 20: Tuesday – World Storytelling Day
Mar 20: Tuesday – Proposal Day
Mar 21: Wednesday – Common Courtesy Day
Mar 22: Thursday – International Goof Off Day
Mar 23: Friday – OK Day
Mar 23: Friday – Puppy Day
Mar 23: Friday – Near Miss Day
Mar 24: Saturday – Chocolate Covered Raisins Day
Mar 25: Sunday – Waffle Day
Mar 25: Sunday – Tolkien Reading Day
Mar 26: Monday – Make Up Your Own Holiday Day
Mar 27: Tuesday – Spanish Paella Day
Mar 28: Wednesday – Something on a Stick Day
Mar 29: Thursday – Smoke and Mirrors Day
Mar 30: Friday – Take a Walk in the Park Day
Mar 31: Saturday – Bunsen Burner Day
Movies We Recommend This March
God's Not Dead 3
If you missed God's Not Dead (2014) and God's Not Dead 2 (2016) you'll want to catch up on those before heading out to watch God's Not Dead 3 – A Light in Darkness coming to theatres March 30th.
The film features a star-studded cast, including David A.R. White, John Corbett, Ted McGinley, Shane Harper, Jennifer Taylor, Benjamin Onyango, with special appearances by Dr. Cissy Houston and Tatum O'Neal.
A church destroyed. A congregation silenced. A relationship shattered. Yet even in life's darkest valleys, a small flame can light the way toward healing and hope.
A deadly fire rips through St. James Church, devastating the congregation and Pastor Dave. Adjoining Hadleigh University uses the tragedy to kick the congregation off campus. The escalating controversy creates a dilemma for the small church—can Christians fight for their rights and be the light for Christ at the same time?
Facing a court case and his own struggle to see Christ's light in heartbreak, Dave asks for help from Pearce, his estranged brother—a big-city lawyer and an atheist—to fight for the church's right to exist. The family reunion opens old wounds, as the brothers wrestle with the questions that pulled them apart years ago: Is God really good all the time? Where is God when bad things happen? Can Christ really heal the brokenhearted?
A Wrinkle in Time
Another great film to add to your list this month is A Wrinkle in Time, scheduled to be released by Walt Disney Pictures March 9th. This movie is sure to be visually stunning. A Wrinkle in Time is a sci-fi fantasy adventure based on the 1962 novel of the same name by Madeleine L'Engle. This film packs a powerful cast of big names like Oprah Winfrey, David Oyelowo, Reese Witherspoon, Mindy Kaling, Zach Galifianakis, and Chris Pine, along with some lesser known actors and actresses, Gugu Mbatha-Raw, Michael Peña, Storm Reid. The movie follows a young girl who sets off on a quest, with the help of three astral travelers, to find her father, who went missing after discovering a new planet.
Two very different films, both dealing with light and darkness.
March Happenings
Tune in to the Eat, Sleep, Blog, Repeat podcast this month for more great topics on blogging and social media and be sure to join in on the fun. Are you a member with something hot and happening this month? Be sure to add it to our calendar and share it with the world.
We'd Love to Hear from You
What holidays are you celebrating this month? Will you be blogging about any of the holidays this month? What movies or music would you recommend we check out? We'd love to know. Kick off the conversation in the comments below.