YOU'LL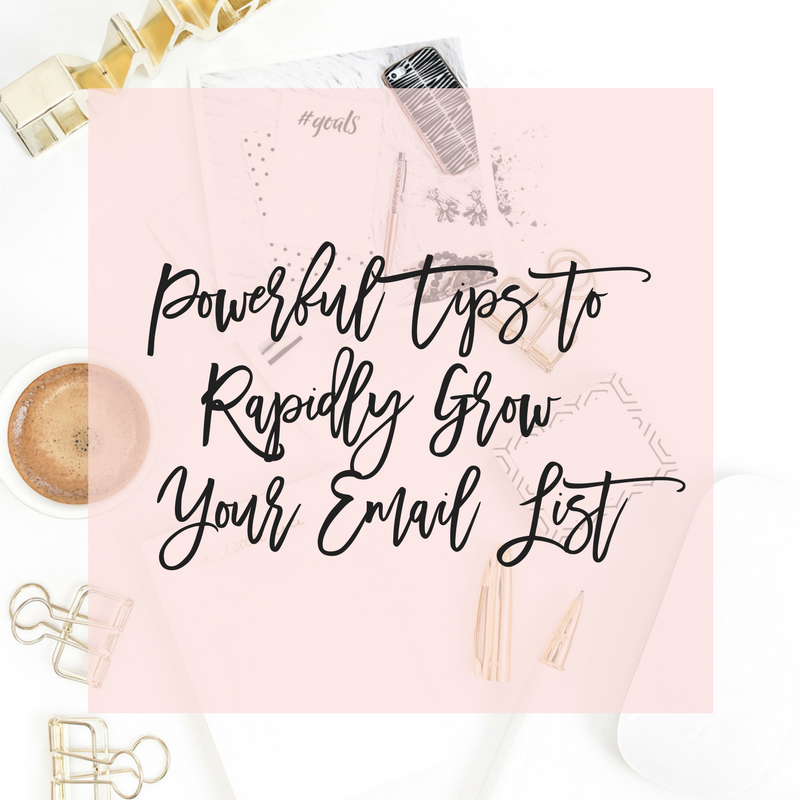 As bloggers, we hear from many different sources about the importance of our email list subscribers. In this blog post, you'll learn powerful tips to rapidly grow your email list.
Email subscribers can be someone just taking advantage of a freebie you provide but it is also the perfect opportunity to turn that person into a raving fan of your blog and what you have to offer.
When you are starting out with email marketing, it can be a challenge to know what to offer to get people to sign up for your email list. Business and Blogging Coach Jenny Melrose taught us just how to attract readers to your blog so they sign up for your list and turn them into potential customers.
Disclaimer: I received a free virtual ticket to the Blog Life University 2017 Conference as a member of the NC Blogger Network in return for sharing my conference notes and key takeaways. This post contains affiliate links as indicated by an asterisk. Purchases from these links provide a small commission to me at no extra cost to you.
The Most Important Thing to Grow Your Email List
And this lesson is not new. Besides the importance of email marketing for your blog growth strategy, you must know your audience! Create a very specific person (your avatar) that you are writing too in both your blog posts and your emails. Get to know what your audience wants, needs and buys with these helpful tips. [See: How to Master the Art of Affiliate Marketing]
Create a Lead Magnet to Grow Your Email List
Lead magnets are freebies that attract readers to your site and encourage them to give their email address to you in exchange for the freebie. What topics do you blog about? What sorts of things would your readers find useful? Readers love checklists, printables, planners, ebooks and challenges that they can reference when they need it. The freebies don't have to be fancy or long, they just have to provide a quick solution to your reader's biggest problems.
Here are some quick ideas to help you brainstorm ideas of your own.
a travel blogger might offer a packing list checklist
a food blogger might offer a pantry staples checklist
a productivity blogger might offer a set of monthly calendars
a health and fitness blogger might offer an exclusive workout routine ebook
an organization blogger might offer a decluttering room by room guide
a mom blogger might offer a menu planning challenge
Why Challenges are Effective Lead Magnets to Grow Your Email List
A challenge is a series of daily emails you send to your readers to help them solve their problem in a step-by-step, encouraging way. So, in my menu planning challenge example, I might do a 5-day challenge whereon:
Day 1 – I ask people to identify what their biggest struggle is with getting dinner on the table each night
Day 2 – We look at different reasons why menu planning is important (it saves a ton of money)
Day 3 – I give suggestions on quick and easy recipes my family loves and encourage people to find their own,
Day 4 – I offer tips on getting dinner on the table fast even when I don't feel like cooking,
Day 5 – I offer a menu planning tool I'm an affiliate for or a menu planning product I created for sale.
Challenges are effective because they turn cold subscribers (who don't open your emails) to warm subscribers (who open and click on your emails). Because they receive an email every day with the next step in their process to improve, it teaches them to OPEN their email and see what you have to say. Jenny says open rates are 40%+ whereas, without a challenge, email open rates are only 20-30%.
Grow Your Email List by Deciding on a Challenge
Jenny offers some tips to help us figure out what kind of challenge to offer our readers.
Look at Google Analytics to see what posts are bringing people to your blog
Look at your blog comments and social media posts to see what people are engaging with
What do you feel like you are an expert in, what are you confident about, what do people ask you for help with in real life or on your blog
What products are you totally excited about and changed your life, what can you do to encourage people to buy the product you are an affiliate for or that you've created yourself.
Elements of a Challenge
Jenny gives us the essentials of running a successful challenge that your readers will sign up for and find valuable.
Emails should be sent on sequential days, in a row…no skipping days in between!
Email subjects should be identifiable, ex. [Challenge Day 1], [Challenge Day 2], etc.
Email content should be kept in a friendly tone
Email content should contain a mini-lesson with a call to action (give them homework to do with an easy, actionable step they can finish in 10 minutes but will help transform their lives)
Set up a Facebook group for the challenge where readers can share their struggles and wins and you can provide encouragement and advice to a bigger group.
Have a clickable button with a picture to help promote the challenge
Do Facebook lives in the Facebook group, the smaller group might help you get more comfortable in front of the camera.
Create a pinnable image that leads straight to the challenge signup
Growing your email list does not have to be complicated. You can create something as simple as a checklist or tip sheet or something more substantial like an ebook or a daily challenge to attract readers to give you their email addresses. Challenges are particularly fun ways to go deep into a topic that will help your reader solve a problem in their lives. By providing daily encouragement and advice, you become an authority on the topic earn your reader's trust, and turn them from readers into loyal fans.
Interested in learning more from Jenny? Check out the following courses:
Launch Pro – Learn to launch your product or service, easily!*
Pitch Perfect Pro – Learn how to master working with brands*
Are you ready to grow your email list? What are some quick freebies you can offer your readers? What topics do you want to go deep with and offer a challenge for? Let's collaborate and discuss in the comments!