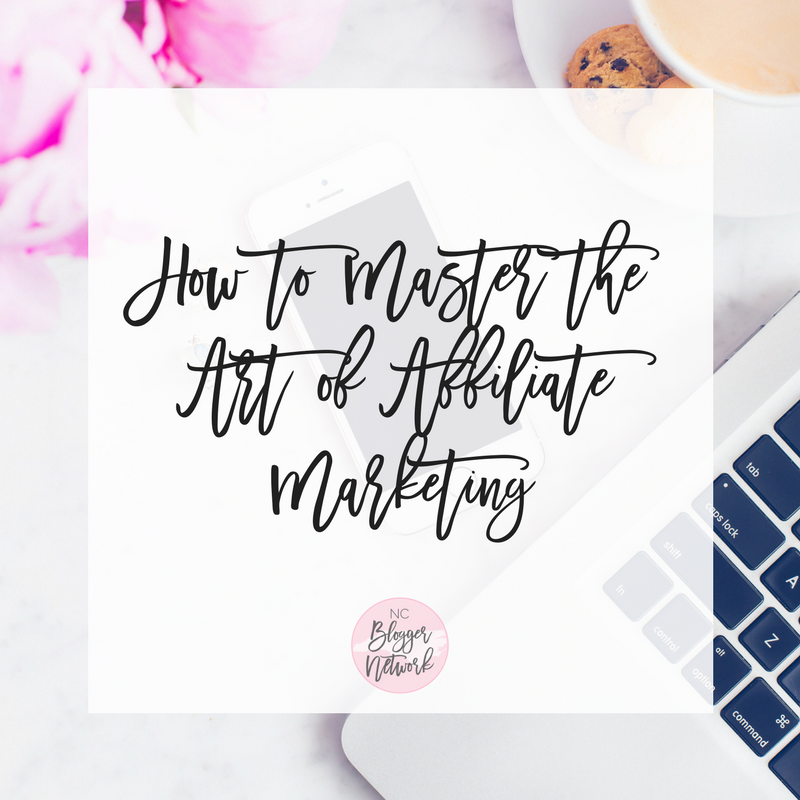 Want to learn how to master the art of affiliate marketing? You are covered with this session recap post from Blog Life University.
Affiliate marketing is an effective way to earn income from your blogging efforts. Dollie Freeman, the blogger behind Joy in the Home and the founder of the Focused Blogging Conference, gives us great tips on incorporating affiliate links into your posts that fulfill your readers' needs and help you earn extra income.
Disclaimer: I received a free virtual ticket to the Blog Life University 2017 Conference as a member of the NC Blogger Network in return for sharing my conference notes and key takeaways. This post contains affiliate links as indicated by an asterisk. Purchases from these links provide a small commission to me at no extra cost to you.
3 Keys to Getting Started with Affiliate Marketing
How do we know where to start? With so many affiliate programs out there, it can be overwhelming. You don't want to add affiliate links just to add them. You want to add links that are useful to your readers, and you want to do it in a non-spammy way.
So here are the 3 Keys Dollie gives us when getting started with how to master the art of affiliate marketing –
1. Know What Your Audience Wants
Conduct a reader survey in Google Forms or Survey Monkey to get a better idea of what they want. Ask what topics you write about that your readers love and what topics they want you to write about.
2. Know What Your Audience Needs
Ask what your audience struggles with, what they need help with, and what problems they are trying to solve.
3. Know What Your Audience Buys
Strike up conversations to get an idea of what they like to buy and where they like to shop. Take a look at your most popular posts and see what kind of products you could incorporate affiliate links for that would be helpful to your reader.
Identify what emotions you want to trigger that will encourage them to buy the affiliate product you are promoting. Tell them how the product will:
Fill a need
Tell a story that resonates with them
Satisfy a curiosity
Grab a deal
Help your friends
Fit their lifestyle
Be a clever, fun, or useful gift
How to Incorporate Affiliate Links into Your Blog Posts
There are several ways you can incorporate affiliate links into your blog posts. Here are some that Dollie recommends:
Product tutorial and review – explain how to use the product + how does it solve a problem
Create a list of options/roundup – book lists are powerful regardless of the niche
Add affiliate links to your landing pages which have better SEO than regular blog posts
Use a plugin – add the graphic code one time, and the plugin will put the graphic on all pages, which is especially good for getting traffic to sponsored posts.
Make evergreen gift guides – ex. "gifts for boys" that could be used during holidays but also when anyone is searching for a birthday gift.
How to Incorporate Affiliate MARKETING Links Into an Email Series
Your email subscribers are your biggest supporters. They are the ones who gave you a spot in their inbox so don't be afraid to connect with them. They are most likely to trust your opinion and therefore, they are more likely to buy products you recommend to them.
Here's an outline for an email series to get your subscribers primed to buy an affiliate product you recommend. The trick is staying focused on one concept at a time so that your reader will be more likely to click on the next email to learn more so by the end, and they are ready to buy it.
Introduce the product and why you love it
Identify product benefits
Respond to frequently asked questions
Invite them with a personal Q&A
Illustrate why this product will work for them
How to Incorporate Affiliate Links Into Social Media
Social media can be great for attracting new readers to your blog and starting conversations that help you identify what your audience wants, needs and buys like we talked about above. So here are a couple tidbits to help you get affiliate links into your social media:
Share a resonating story from your blog
Share a "can't miss this deal" when the product goes on sale
Do a Facebook live, Instagram story or YouTube video Q&A about the product
Do a Facebook live, Instagram story or YouTube video product review
Pin product image that takes the reader directly to your affiliate link, type short review of the product in the pin description
Share product pictures and the blog post or affiliate links on Instagram and Twitter
Incorporating affiliate links into your blog doesn't have to be spammy, the best thing is to try and work it into a natural conversation you are having with your reader. If you were having coffee with your best friend, what would you be talking about? What would you be recommending to them? Affiliate marketing can be a great way to supplement your blog income and provide product recommendations to your readers they will find helpful.
Are you ready to add affiliate marketing to your blog's strategic plan? What do you find are the best ways to add affiliate links to your blog, email or social media? What do your readers like? What do your readers not like? Let's collaborate and discuss in the comments!