If you've never visit Shackleford Banks, you're missing out on seeing one of the last undeveloped barrier islands in the world.
If you're ever down along the gorgeous Crystal Coast of North Carolina, you have to make some time to enjoy a round trip ferry to Shackleford Banks where you'll visit the island's secret shelling spots and find conchs, whelks, queen's helmets, scotch bonnets (North Carolina's state shell), sand dollars, olive shells and so many more varieties!
About Shackleford Banks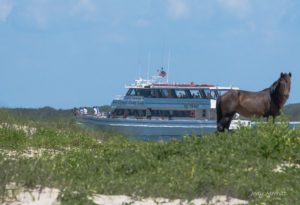 Shackleford Banks is a pristine, undeveloped, 9 mile-long island that is the Southern-most barrier island in the Cape Lookout National Seashore. It is most famous for the wild horses that roam the uninhabited island. These horses are descendants of Spanish shipwrecks from over 500 years ago, and one of the few remaining isolated groups in North America.
This ecological jewel is a unique place for a naturalist guided eco-tour that will introduce guests to the barrier islands' natural beauty, wind shaped sand dunes and maritime forests, and make them aware of the importance of these habitats on the plants and wildlife which inhabit the island. Seashell seekers can also build their shell collections on this guided tour, enjoying some of the best shelling in the area. On your trip, you will visit remote areas of the island, and secret shelling spots known only to their knowledgeable and experienced captains and naturalists to find Conchs, Whelks, Queen's Helmets, Scotch Bonnets, Olive Shells, Sand Dollars, and more.
This Crystal Coast Lady tour leaves at 8:30 AM, and returns at approximately 11:00 AM, although guests can board a later ferry if they would like to spend more time on the island. Trip minimums apply.
Beautiful Beaufort, NC
Have you ever traveled to beautiful Beaufort, NC or visited Shackleford Banks to see the wild horses? We're lucky enough to live so close to Beaufort that we can visit daily. Have you sailed onboard the Crystal Coast Lady? She's a beauty. Let us know in the comments below!
About The Crystal Coast Lady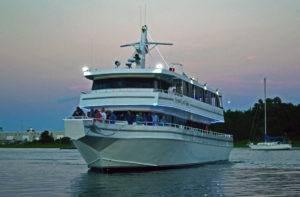 The Crystal Coast Lady is the largest and most comfortable cruise in the area, with a fully enclosed top deck, a galley on each deck, bathrooms on each level, climate controlled cab on main deck, state of the art sound system and dance floor on the top deck and on the main deck there is a giant bow viewing area for creating amazing photo opportunities.
---
NC Blogger Network is North Carolina's premier community for bloggers. We bring bloggers together for events, education, networking and paid opportunities working with relevant brands. Join today!