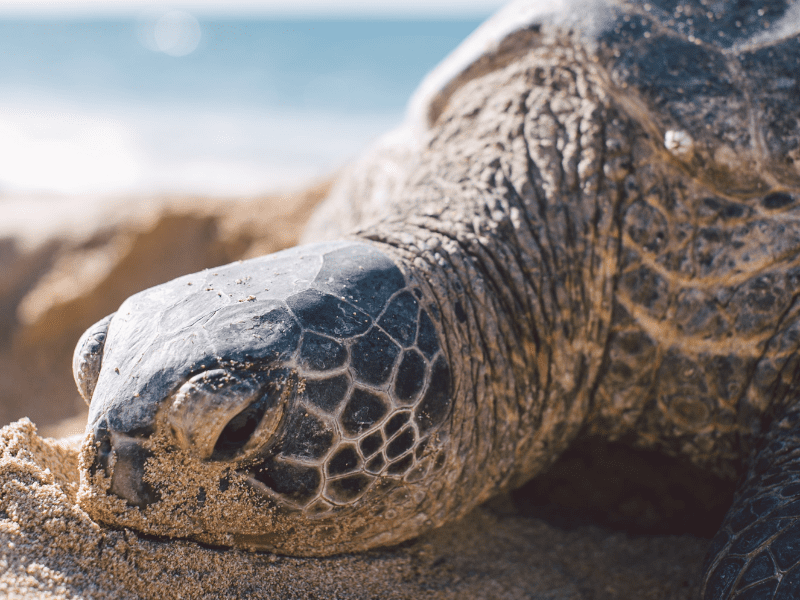 We love sea turtles! Have you ever seen sea turtles hatch in Emerald Isle? If you love the turtles too, you've probably thought "How can I help sea turtles in Emerald Isle?"
May 1st thru October 31st is Sea Turtle Nesting and Hatching Season in Emerald Isle. The Emerald Isle Sea Turtle Protection Program, with about 80 volunteers, tries to locate and protect the nest sites and help hatchlings return to the surf. If you ever have the opportunity to participate, it will be an experience you won't forget.
We had the pleasure of being present for a sea turtle excavation, to be exact, 39 baby loggerhead sea turtles excavated and carefully guided on their way into the deep, wide ocean.
The kids were thrilled. Each time a baby sea turtle passed them where they were standing, Bella would wave and say bye to it and Rex would name it and tell it that he would see it in 30 years. It was so heart-warming and adorable.
Did you know a female Loggerhead turtle may travel thousands of miles to build her nest on the same beach where she hatched as a baby?

7 Ways You Can Help Sea Turtles in Emerald Isle
Fill in holes: Fill in any holes your children dig while they're at the beach. Mama sea turtles can get stuck in them.
Pack it up at night: Be sure to pack up any tents, toys, and beach gear overnight.
Keep outside lights off: If you live on or near the beach, keep your outside lights off. They disturb nesting mama turtles and distract hatching babies by luring them toward the light and away from the moonlit ocean where they need to head.
Don't litter and pick up trash: Pick up any and all trash you find, especially plastic bags, which turtles can confuse for jellyfish, their food source.
No fireworks: Fireworks are illegal in North Carolina, and the noise keeps the mama sea turtles from coming onshore to nest. They also disturb hatching baby turtles.
Call the local police: If you see anyone disturbing a sea turtle nest, nesting turtles, or hatchlings, call the police immediately. In Emerald Isle, they can be reached at (252) 354-2021. Check your local info if you're outside the area.
No flashlights or flash photography: If you see a nesting sea turtle or hatchlings sea turtle, please be very quiet and do not disturb them. You might even want to sit down and watch in amazement.
For more information, check out Emerald Isle's General Sea Turtle PDF or contact the Turtle Protection Program Coordinators:
Jim Craig
354-4001
JCraig2@ec.rr.com
Pam Minnick 354-4288
PaMinn@aol.com
Looking for more coastal living posts? Check out all my article about coastal living.
This post contains affiliate links. When you make a purchase, I get a small percentage to help keep this blog going.