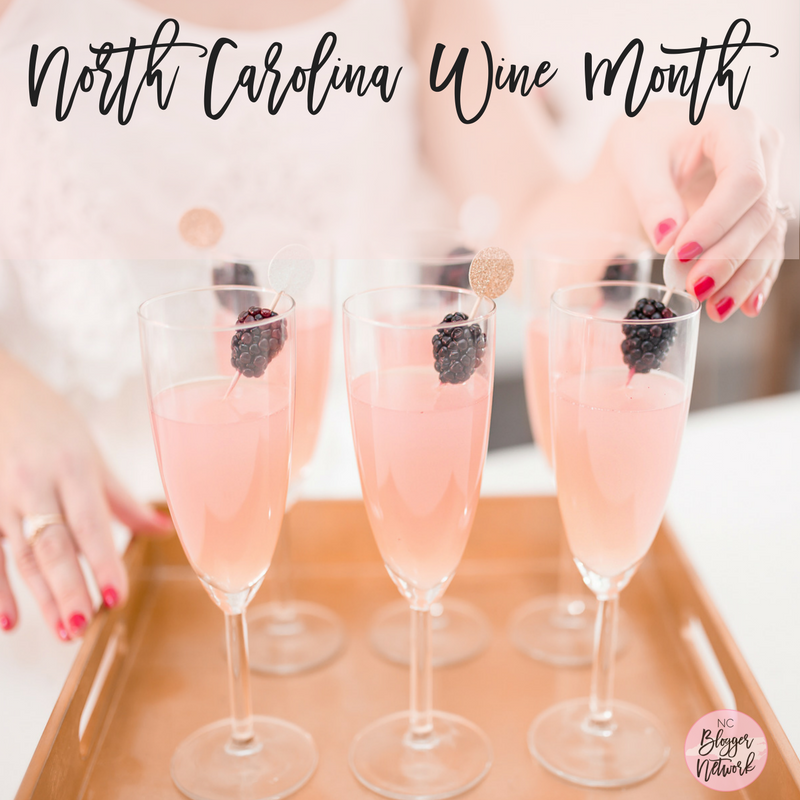 Did you know that there are over 180 wineries throughout the state of North Carolina?  Each year, the state of North Carolina recognizes September as North Carolina Wine and Grape Month.  It's a time for wineries and other businesses to host events recognizing their dedication and celebrating the wonderful variety of North Carolina Wine!
OFFICIAL NORTH CAROLINA WINE MONTH KICKOFF EVENT
This year marked the first year there was an official kickoff event to get the celebrations started.  Media guests from all around the state were invited to a wine tasting event to help spread the news and generate interest throughout the state. Even the Governor was in attendance!
WINE TASTING
The main tasting event was a speed tasting session. Over the course of the hour, attendees tasted wine from 12 of the featured wineries.  The 4 'S' method of tasting (Swirl, Smell, Sip & Spit) was highly recommended as since attendees were tasting several wines in a short time frame.
At the end of the event, attendees had the opportunity to meet the people representing the wineries and gather more information during an open session. The hope was that they'd be loaded (no pun intended) with enough details and ideas to feature North Carolina Wineries throughout the month of September and beyond.
FOR MORE INFORMATION ABOUT NORTH CAROLINA WINE
For more information about North Carolina wines, or North Carolina wine month in general, be sure to visit our friends, the NC Wine Guys, and the following NC Wine resources online!
About the NC Wine Guys – Two guys who love NC wine, mead, cider, local breweries, farm to fork, and all things local. We live in the Charlotte area of North Carolina and have fallen in love with the local wineries. Now I know what you're thinking, the only wines in the south come in either red or white and both are sweet. Well, you'd only be partially correct. North Carolina is actually home to the Yadkin Valley AVA. Some have said that the Yadkin Valley is the Napa of the east coast. We have actually had a 1999 Cabernet from the Yadkin Valley that could easily give any California Cabernet a run for its money. Their website is a great resource so be sure to check it out! 
NCwine.org – North Carolina's Department of Agriculture and Consumer Services keeps an expansive listing of wineries and vineyards throughout North Carolina.
NC Wine Country – This site has detailed information on many of the wine trails in North Carolina.  Also, don't forget to sign up for the NC Vine Card which will get you special offers and discounts at participating wineries.
NC Wine Growers Association – Open to anyone who is interested in the wine industry.  They hold a yearly conference where several of the participating wineries attend and pair their wines with local food offerings.
Visit Yadkin County – All things Yadkin County from wineries to other outdoor adventures, this site is a great resource for upcoming events.
Yadkin Valley Wine Country – A great resource site for wineries in the Yadkin Valley.
Visit NC – Wine – The official wine site of Visit NC.
Great articles, information, and resources on North Carolina Wine
Did You Attend the North Carolina Wine Month Event?
Did you attend the event? If so, we'd love to hear your thoughts in the comments below. What did you enjoy the most? Did you blog about the event? Do you have a blog post about NC Wine? We'd love to include it!