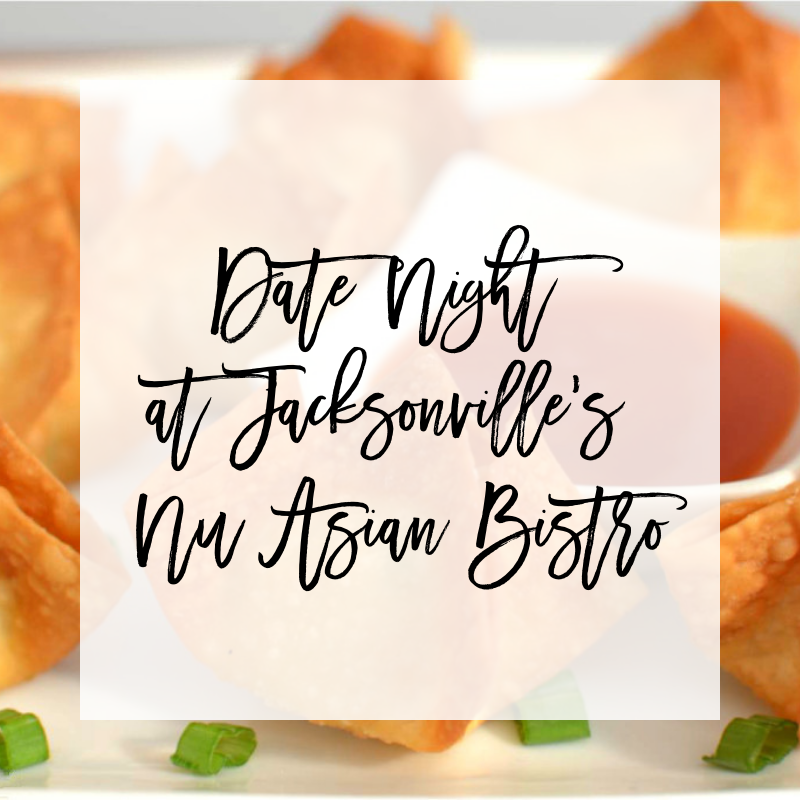 We all have these restaurants we never notice until we're on our way to somewhere else, right? Well, Nu Asian Bistro in Jacksonville, North Carolina, has been that place for me for quite a while now. From what I can tell, they've been open for almost 2 years now, but for some reason, they never come to mind when the hubby and I are fighting discussing where to go for dinner.
The stars finally aligned for me to try out Nu Asian Bistro when a good friend of mine invited us to a sushi dinner date. Turns out she had been there many times before, and it's one of her go-to places! It was fate. Fate for a sushi date. Fate for a sushi date with some of my mates. Feel free to stop me anytime here.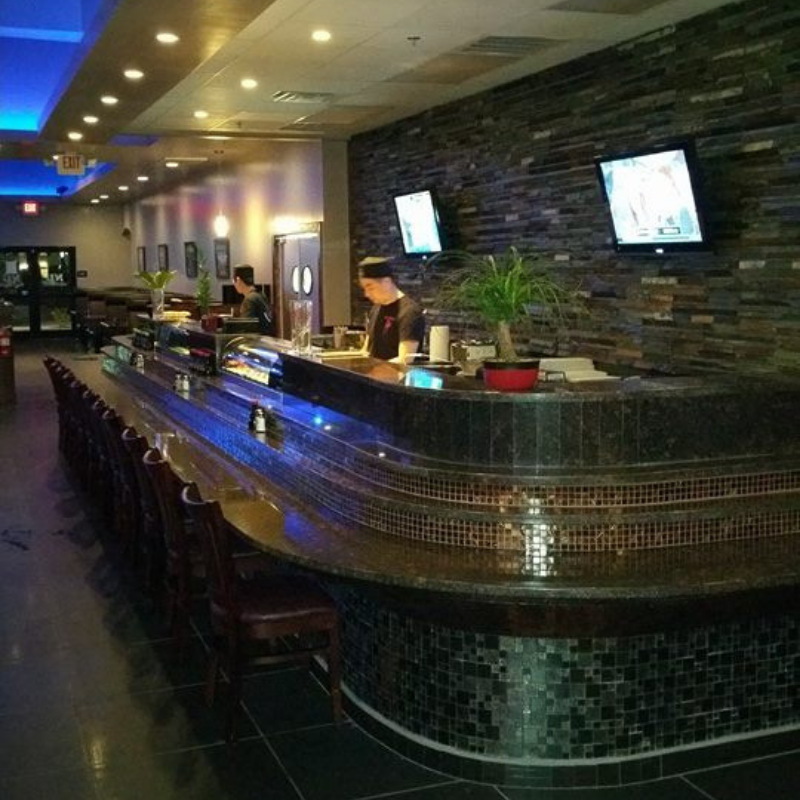 Great Food and Deals
Now on to the good stuff –  We happened to go on a Thursday night which also happens to be one of their BOGO sushi nights! Finally, I could try different kinds of sushi without it costing me an arm and a leg. I'm usually a Shrimp Tempura Roll kinda gal (which, of course, I got because it's my favorite), but I also got their Volcano Roll, which I was very excited to try. Both were AMAZING, and I almost couldn't finish them both (I said almost).
My Volcano Roll even looked like a volcano which I loved. I admired it for a total 5 seconds before I destroyed it with my fork (did I mention I can't use chopsticks?). Our friends got an undeniably large platter of sushi rolls that put my little plate to shame, and they loved their choices as well. If you don't like sushi, NU Asian Bistro also offers many other dishes, including a special Thai menu! I'll definitely be sampling that one soon. The hubs isn't a fan of sushi, but he was super pleased with his Teriyaki Beef. I almost regretted not getting it, but we're married so of course, I stole a bite or two or three.

As if the night wasn't perfect enough with our BOGO sushi rolls, the dinner gods continued to shine down on us with $5 martinis… need I say more? There were four of us in our group, so we asked the waitress to surprise us with four different martinis. We spent the evening sampling almost their entire menu of martinis – Death by Chocolate, Sour Apple, Washington Apple – you name it, we probably tried it.
My Favorites at Nu Asian Bistro
My personal favorite was the Lemon Drop Martini complete with sugar on the rim. The Sour Apple was a close second. This chocolate lover was sure the Death by Chocolate martini would rock my world, but I suppose I'm just not a big fan of chocolate with my alcohol. Martinis and sushi; this is my heaven, I'm sure of it! The service was great as was the atmosphere of this cute little restaurant. It's complete with some nice, low lighting to really set the mood before you chow down on some delicious food.
Plan Your Next Date Night at the Nu Asian Bistro in Jacksonville, NC
We had a great time for our first trip to Nu Asian Bistro! Yummy food, great friends, good atmosphere – it was the perfect date night. I may or may not have had one too many martinis… But hey, who I am kidding, it was totally worth it. Word on the street is they have BOGO sushi rolls Monday through Thursday, and different drink specials pretty often! We'll definitely be returning to NU Asian Bistro for my sushi fix, but also to try some of my other Asian favorites like Mongolian Beef or a Thai Stir Fry. YUM.
If you're new to the area or just haven't gotten around to visiting certain restaurants like me, Nu Asian Bistro should for sure be on your list of places to visit. You can find them the next time you visit Jacksonville, NC at:
Nu Asian Bistro
2100 N Marine Blvd, Jacksonville, NC 28546
What are your favorite local restaurants in North Carolina? Do you have any places you love or haven't gotten around to trying yet? I'd love to know what tickles your fancy so I can add some new places to my slew of places to visit. Help a sister out.
---
About Ragan – 
Originally from Millbrook, Alabama, Ragan now lives along North Carolina's Crystal Coast with her husband and adorable Mini Pinscher, Bammer. When she's not working on Brand Influencer Campaigns or planning events for the North Carolina Blogger Network, she loves practicing the art of calligraphy, exploring and kayaking the beaches of Emerald Isle, and hitting up the slopes in Beech Mountain with her husband.