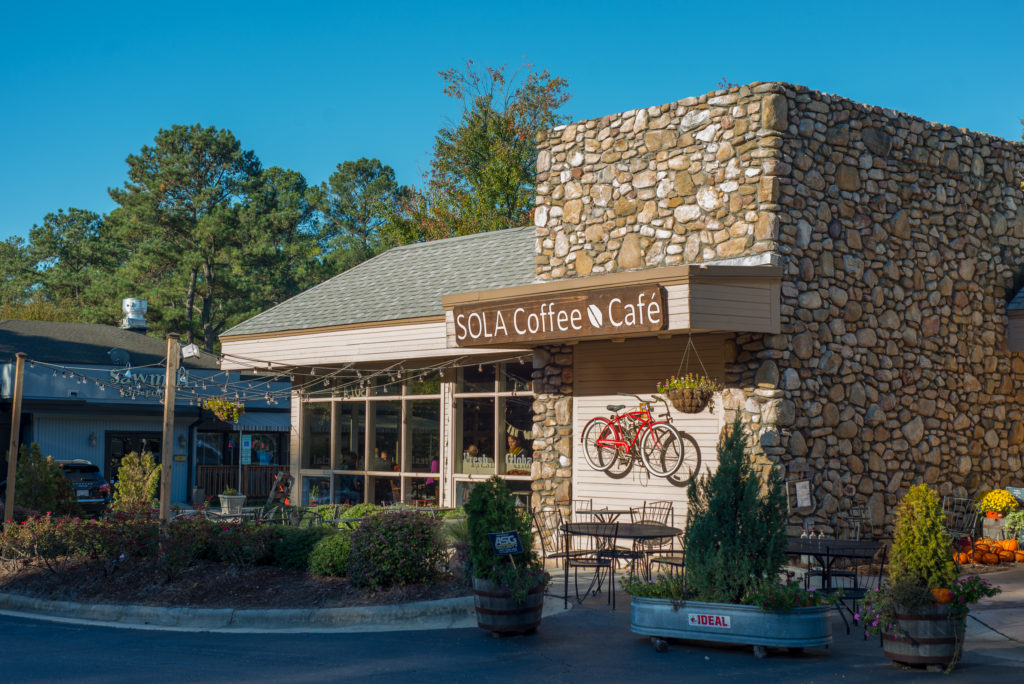 We had such a great time at Sola Coffee Cafe in Raleigh, last week for our eCourses workshop. Big thanks to owners, John and Jeanne Luther, who provided us with an amazing tasting buffet for our NCBN Blogger Event and to Melissa Culbertson, of Blog Clarity for providing the education.
You can look through our photo gallery below to see all the delicious goodies, but make some time to get out there and try these items yourself. We were all wowed by the selection and everything was mouth-watering and deliciously divine. Here's what was on the menu:
Sola is famous for their hot mini donuts and they provided us with quite a selection –
Hot Minis
Cinnamon Sugar
Powdered Sugar
Pumpkin Spice
Milk and Cookies
Gonza
Strawberry
Lemonade
Birthday Cake
I'd never heard of a toast bar before but now that I've experienced it, I want toast bars everywhere, all the time. But, I sincerely doubt any will be as good as what we experienced at Sola! The ingredients were so fresh, and the bread comes from, local bakery, Yellow Dog Bread Company.
Here's what we had during our event (I'm craving it, reading the menu) –
Toast Bar
Avocado Smash (by far one of my favorites!)
Avocado and Heirloom Tomato
Sola Granola
Cherry and Cream Cheese
Pimento Cheese and Muscadine Jelly (a must try)
Pear and Ricotta (beyond amazing)
Though our event was in the morning, Sola Coffee also provided us with a wonderful selection of salads and sandwiches (like the Prosciutto and Caprese). The special sandwich of the day was the Heirloom Tomato BLT. Yes, it was as good as you're imagining, and we couldn't stop Instagramming it all.
Blogging and Business
At NCBN we have so many wonderful and knowledgeable bloggers and business owners. We're very fortunate to have these people as a part of our community, so when Melissa agreed to teach us how to create our own amazing eCourses, we were thrilled. Having this event gave us the opportunity not just to learn, but also to connect with each other for a  few hours. Having an online community to support, encourage and inspire you is wonderful, and getting to spend time with those same people, over a meal is even more amazing.
If you made it out to our event or missed this go 'round, be sure to check out all that Melissa has to offer on her website. In addition to her blog posts, she has a wonderful array of online courses you can take so you can be at the top of your game. Check out her Blog Clarity eCourses (affiliate link), and take your blog or small business to the next level.
We thoroughly enjoyed our day, and we hope you'll enjoy some of these pictures from our event. The photos in this article are © Allie Miller Photography
Have you been to Sola Coffee Cafe? If so, what's your favorite menu item? We'd love to know, add your thoughts in the comments below.