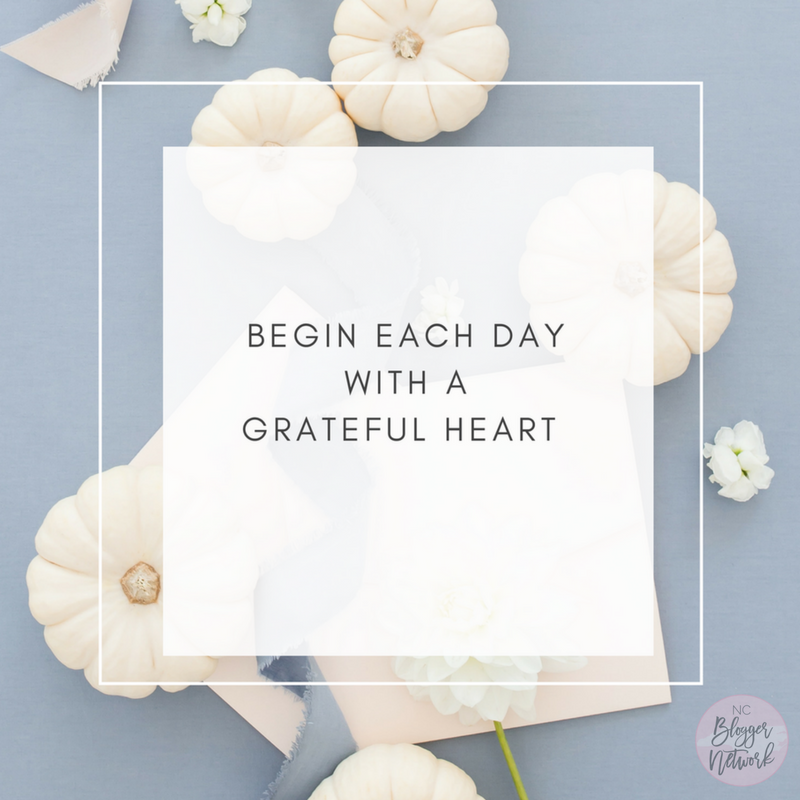 It's Thanksgiving week so it seems fitting that we'd kick it off with a Motivational Monday quote all about being grateful.
Gratitude and Being Grateful
As soon as November rolls around you begin to see all the posts about gratitude and being grateful. But we really should begin or end each day with a grateful heart.
I take 5 minutes every morning to start my day with gratitude. That typically beings with me opening up my First5 app, and taking some time to acknowledge all that I have to be grateful for and diving into a devotional. I've found that it helps put me in the right frame of mind for whatever the day may throw at me. I've also noticed that on the days I don't make gratitude a priority, I find myself getting frustrated and stressed a bit more easily.
Then, each night before I go to bed, I do the same making sure to always express how thankful I am to have another day with family and friends.
Do you practice gratitude on a daily basis? Do you find it makes a difference in how you face the day? Have you noticed any difference in the days you don't?
If you aren't currently practicing an attitude of gratitude, give it a try for 30 days. You can use an app of your choosing like I do, or you can speak your gratitude out loud, or keep a journal if you prefer. Do whatever works best for you, but do give it a try!
Thanksgiving Traditions – Grateful Hearts
One of my favorite Thanksgiving and November traditions as a family is to gather around the table each morning and write one thing for which we're thankful. Then, we fold our slips of paper and drop them into a jar. As the days go by, the jar fills up with all these sweet, little-folded notes. On Thanksgiving day, after dinner, we open the jar and go around the table reading the notes of gratitude. It's a great reminder of all the things we have to be thankful for and quite a wonderful way to celebrate the true meaning of the holiday.
This year, we decided to expand the tradition. We've picked up a wooden wreath at Target that we found in the dollar bin. It came with paper leaves of various colors that we could write on. We split the leaves among us equally and each wrote all the things we're thankful for on the leaves. This evening, we'll put all the leaves on the wreath, attach the ribbon and the banner that came with it that reads "Grateful Hearts Gather Here." I can't wait to see what it looks like once it's put together. It's going to be a great reminder of everything we had to be thankful for in 2017 and we can bring it out year after year or, create a new one each year.
In the past, we've decorated old mayonnaise jars, mason jars, and pickle jars but you can use whatever vessel you like for your notes.
Feel free to steal our ideas and make them your own and put your family twist on them. If you do, I'd love to see your photos and read your blog posts, so please do share them and feel free to tag us on social media.
If you enjoyed this post, be sure to check out all our other Motivational Monday posts as well. If you have a favorite quote, do share it with us. You may see it featured here!