1. How long have you been blogging?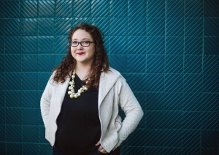 I began my blog in January 2014, but I was thinking about it and planning it for about six months before that. I even read a book about blogging before deciding if I wanted to do it. I can't believe it's already been a year!
2. What do you blog about?
Food, design and travel and the ways they intersect. For me, I can't have one without one or both of the others. I make a lot of recipes and cocktails that I share each week. I also love to feature designers, creators and small-batch products. Anything off the beaten path is my kind of thing!
3. Why did you start blogging?
I'm a freelance graphic designer, but I was in a place where I didn't have a personal project going. I had been looking to improve my writing and photography skills, so blogging seemed like a logical step to take. At the same time, I was discovering a passion for food, mixology and travel and realized I could kind of roll all my skills and interests into one.
4. What is your FAVORITE post you've ever written (you can pick 2)?
I share a lot of recipes on my blog so it's hard to pick just one. I am in love with this Sea Salt Caramel Popcorn, though! It makes such an awesome sweet-and-salty snack. One of my favorite cocktails is The Presbyterian, a bourbon and ginger drink.
5. What blog do you love?
I have always admired Design*Sponge and A Beautiful Mess. Both blogs cover a variety of topics so beautifully. I have been reading them both for a lot longer than I have been blogging and it has been a joy to watch them evolve into thriving businesses.
6. What is your biggest piece of advice for other bloggers?
Make friends. When I started blogging, I didn't know anyone else blogging. Because you blog online from home, blogging can feel so solitary sometimes. I wanted to give up because I thought no one was reading. Then I found a blogger I could collaborate with, and we became friends. I started joining blogger groups and attending events just to meet people. It's hard to put yourself out there, but it's worth it to find some people who will be in your corner.
7. What are you looking forward to for you as a blogger in the upcoming months (conferences, big blog release, book release, publishing, community, redesign, new content, etc)?
I am planning a new interview series and a potential redesign. I am also bringing in more contributors to my travel guide series. I am really excited to grow my blog more this year!
8. Where can we find you on the web?
Website: http://feastandwest.com
Facebook: http://facebook.com/feastandwest
Twitter: http://twitter.com/feastandwest
Instagram: http://instagram.com/feastandwest
Pinterest: http://pinterest.com/feastandwest