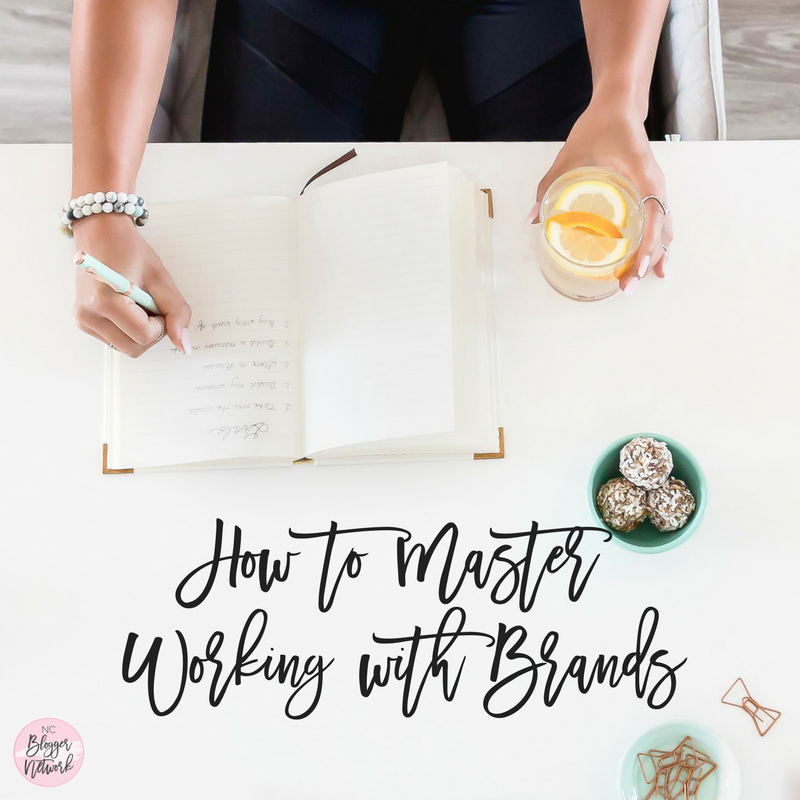 Hi, there fellow NC Bloggers!
Ready to learn how to master working with brands? Tanya here from Mom's Small Victories. I was sooo thrilled when Trish opened up the opportunity to attend the Blog Life University 2017 conference virtually, held on September 21 and 22, 2017 at Great Wolf Lodge in Charlotte. The kids were off school on Thursday so being able to soak up all this amazing information for our blogs and still be home with them was amazing!
So, I'll be sharing my key takeaways on each session from the 2017 Blog Life University conference. I'm an avid note taker and planner and productivity addict, so I write EVERYTHING down or I won't remember it. And this conference had a lot of information you'll want to implement on your blog now.
Disclaimer: I received a free virtual ticket to the Blog Life University 2017 Conference as a member of the NC Blogger Network in return for sharing my conference notes and key takeaways. This post contains affiliate links.
First up, I'm recapping Jenny Melrose's session on Mastering Working With Brands. In this session, she covered how to master working with brands. She makes a 5-figure income JUST from her work with brands, so this lady knows what she's talking about!
Working With Brands – Bloggers' Biggest Mistakes and How to Fix Them
1. Not Having a Concise Elevator Pitch
What do you say when someone asks you "what do you do?" or "what is your blog about"? Jenny says many bloggers don't have a concise elevator pitch that answers those questions effectively. You should have a couple sentences prepared for your elevator pitch that:
Asks a question about your avatar's struggle (ex. Are you a busy mom who has trouble managing your time?) and,
How you provide a solution (ex. I provide practical tips so you can get more done in less time)
Make sure you have your elevator pitch ready to go next time you are asked what your blog is about!
2. Lack of Confidence
Jenny suggests not talking yourself out of applying for brand or sponsored opportunities just because you don't think you have enough pageviews. Jenny says brands don't care as much about page-views as they do about how much influence you have with your readers and how well you know them.
Simple demographics you can learn about your reader from Google Analytics:
Age
Interests
Your most popular content
What posts are they engaging with
Where are you readers coming from
Knowing your reader is key to securing opportunities with brands, even if you don't have record-breaking pageviews.
3. Don't Give Away Everything Away on Your First Pitch
Don't give away everything up front. This means you don't need a specific blog post title when you pitch a brand. Because if they don't like your idea, they can easily say no.
Instead, pitch the brand with a broader topic and something you can work together on for content that could go live in a couple months. For example, right now you'd want to pitch ideas for upcoming months or holidays.
4. Lackluster Proposals
After your pitch is accepted, it is time to send your media kit and your "perfect proposal" for the brand to review. A perfect proposal tells the brand not only specifics you will deliver in terms of blog and social media posts but what your expertise are that makes you different from every other blogger. Really knowing your reader and coming up with fresh, authentic ideas will help you stand out. In particular, live broadcasting and videos are hot right now and automatically make you stand out from bloggers who just share written content.
5. Lack of Authenticity
If you're going to be working with brands, you MUST tell your story authentically. Don't just accept the sponsored post for the cash. If you can't make the product work for your reader's needs, then don't do it. Pitch back a different spin on the product so it will work with your readers.
For example, Glad Trash Bags wanted Jenny to write a post about a 4-day Trash Bag Challenge. They wanted her to say the trash lasted in her trash can for 4 days without stinking up the house.  Jenny knew that wouldn't work for her blog audience so she pitched them an approach it from a different angle.
Instead, she wrote a recipe for her Caribbean Fish Tacos with some drool-worthy photos and put an actual real-life story in the post. After she'd made the tacos for dinner, her daughter threw her unfinished fish taco in the trash can right before they left the house for a weekend getaway. When they came back, they realized the fish taco sat in the trash all weekend but didn't smell. The Glad Trash Bags worked!
It wasn't what the brand expected, but it completely worked. The recipe brought in so many more readers than she had expected. So much so that Glad offered to double her sponsored post rate so they could have the rights to her photos, as well. Score!
6. Doing Only What Is Asked
Let's say you agreed to give the brand one social media post and one blog post. Sure, you can do the minimum that was asked of you. But going the extra mile, sharing their post just like you would schedule one of your own blog posts will help boost the engagement on the post.
When you do your 30-day culmination/follow-up document after your post publishes, wouldn't it be more amazing to show the brand specific stats that exceeded their expectations and screenshots of comments to show how your work benefitted them?
Going the extra mile and wowing the brand will certainly make it irresistible when you tell the brand you'd like to continue to work with them and ask if you can send another proposal for future work (where you'll pitch 3 more posts to them).
How to Price Your Work When You're Working with Brands
If you are pitching the brand…
Need help figuring out what to charge for your work? Go to socialbluebook.com to help determine what price you should charge.
If the brand asks that you do work for free product…
Well, it depends on the value of the product and how bad you want it. If it's a high-priced item you would buy anyway, then you should do it. For example, Jenny did a post in exchange for 3 mattresses.
If the value of the free product is not worth your time, send a renegotiation email that suggests:
You only accept compensated posts
Here's what you are getting and why you are worth it
A proposal (don't lock yourself into a fixed rate sheet)
Offer to send a media kit
Jenny's session was incredibly valuable and down to earth. The most important takeaways are to learn about what your readers and audience want, work with brands that help to satisfy your readers' wants and needs and to be authentic, going the extra mile so you can show them exactly why you are worth the price.
Grab the Pitch Cheat Sheet
Do you want to master working with brands too? Grab Jenny's Pitch Cheat Sheet and get started!
Join the FREE Pitch Perfect Live Training
Skip the "middle-man" networks and work directly with brands for higher rates and results that won't want to make you tear your hair out!
Find the RIGHT person to send your pitch to…so your emails stop getting deleted and start getting answered.
Stand out from the crowd so your proposals are the ones that brands READ, RESPOND and ACCEPT!
Start making a full-time income now,

even if you don't

think

you have enough pageviews, followers or influence.
Grab the FREE training launching Oct 30th: Pitch Perfect Live (*If you miss the date, subscribe to be notified of the next)
Then Get the Master Course: Pitch Perfect Pro
Note* Jenny usually opens these up twice a year so if you miss one, save your seat for the next! You won't want to miss out!
Hope that helps! Are you interested in working with brands? Do you currently work with brands? What would you add to this post to help others who want to become brand influencers? What works for you? Share your comments below!
---
ABOUT THE NC BLOGGER NETWORK
NC Blogger Network is North Carolina's premier community for bloggers. We bring bloggers together for events, education, networking and paid opportunities working with relevant brands. Join today!