Hey fashionistas! We're highlighting a super trendy boutique located right here in North Carolina. If you love unique, one-of-a-kind pieces and one-of-a-kind service, look no further than Mainstream Boutique. Thanks to Scoop Charlotte for introducing us to this adorable boutique! We can't wait to visit.
Mainstream Boutique in Mooresville
By Chloe of Scoop Charlotte | @scoopcharlotte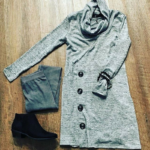 Mainstream is a multi-generational boutique with fashionable looks for everyone. Store owner Anitra Mitchell opened her first Mainstream Boutique in Winston-Salem in 2012, and the location drew so many shoppers from the Lake Norman and Charlotte area that she opened a second store to meet the demand.
Mainstream Boutique provides stylish clothing and unique accessories at an affordable price point so that women of all ages (and sizes) can enjoy shopping there. Anitra co-owns the boutique with her mother, Charlotte, and loves to see daughters, mothers, and even grandmothers shopping together.
You can read all about Mainstream Boutique and all the cuteness it has to offer on Meet Mainstream Boutique in Morrisville.
About Scoop
Scoop Charlotte and Scoop The Lake are advertorial websites that keep local women up to the minute on their local scene.
It's simple. Our tagline says it all.
 We're here to tell you ~ What A Girl Needs To Know This Week. The latest news in shopping, fashion, dining, decor, fitness, health, parenting & more.
If you're the kind of person who likes shopping in a boutique, with the local, personal touch and the quality you find there, then scoop is for you. We find the "boutique" style businesses around town, vet them, and present their news to you every week.