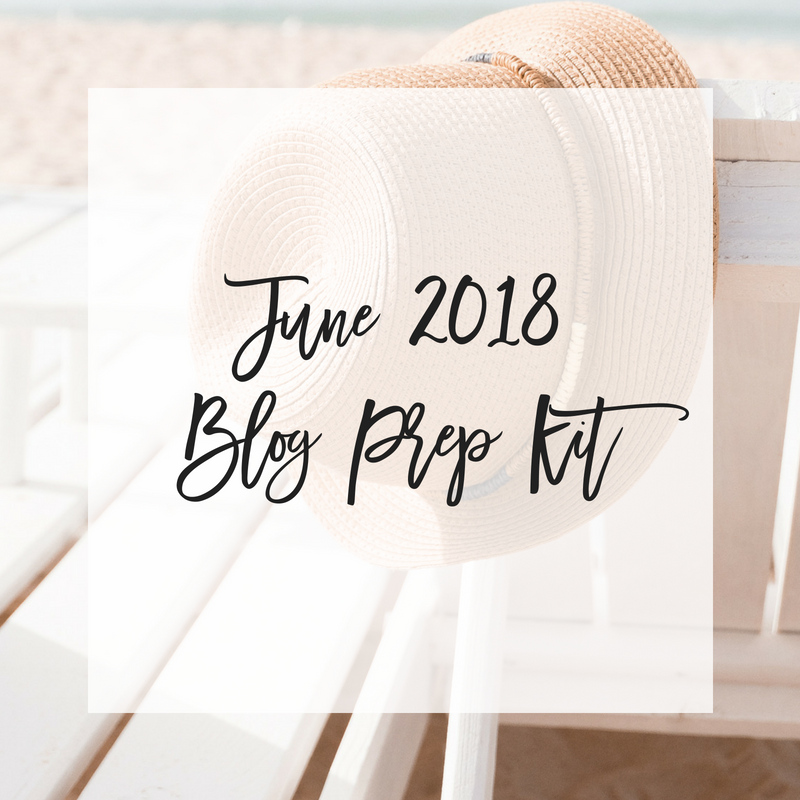 Welcome to June! Time to set your monthly goals and plan out this month's content with our June 2018 Blog Prep Kit.
Your Must-Have June 2018 Blog Prep Kit
As a blogger, you know how hard it can be to find the time to write and often, the topic to write about. We know content is incredibly important so each month we're giving you a blog prep kit with blog post ideas, social media prompts (aka hashtag holidays), and some noteworthy dates to add to your planner. We'll also toss in a few fun, wacky and wild holidays just to liven things up a bit, as well.
This month, we invite you to enjoy our Pinterest Boards and use them to inspire you. If you'd like to contribute to our boards, say hello! Be sure to check out what's new on the "Eat, Sleep, Blog, Repeat" podcast and take advantage of the blogging tips and resources we'll be sharing on our Facebook page.
June has 5 weeks (and weekends!) so there's plenty of time to be super-productive. And, if you need a little extra motivation, check in with us on Monday's for our Motivational Monday posts.
June Content Creation
If your content calendar isn't completely filled, here are a few ideas you can write about this month. But remember to look closely at your demographics, and what posts are getting the most traffic on your site and social channels. This will give you a good idea what your readers and followers care about, and allow you to keep creating the right content for your audience.
Gift Guides (Think Father's Day, Graduations, Weddings and Anniversaries)
Summer Trends, Summer Fashion, Summer Travel
Quick and Easy Summer Meal Preps or Summer Recipes
Martini Recipes (for National Martini Day on the 19th)
Your Favorite Summer Finds (Beauty and Fashion)
Something New You Learned (Think about what your readers would find helpful)
And don't forget, content creation isn't limited to blog posts. You can create videos, (YouTube, SnapChat, Instagram, Facebook), graphics and even a podcast episode.
June's Noteworthy Dates
June 08: World Ocean Day
June 14: Flag Day
June 14: World Blood Donor Day
June 17: Father's Day
June 18: Autistic Pride Day
June 19: Juneteenth
June 20: World Refugee Day
June 21: Summer Solstice (First Day of Summer)
June 22: World Rain Forest Day
June 30: #SMDay (Social Media Day)
June's Fun and Wacky Holidays
Feeling less than inspired? Some of these out-of-the-ordinary holidays might be the creative writing prompts you need! They also make great conversation starters on social media, too.
June 01: National Donut Day
June 04: Leave the Office Early Day and Hug Your Cat Day
June 06: Higher Education Day, and National Running Day
June 08: Best Friends Day, and World Oceans Day
June 09: Rosé Day and Donald Duck Day
June 10: Iced Tea Day
June 11: Corn on the Cob Day
June 14: Bourbon Day
June 15: Nature Photography Day, and Smile Power Day
June 16: World Juggling Day, and Bloomsday
June 17: Eat Your Vegetables Day
June 18: International Picnic Day
June 21: Selfie Day, and YogaDay
June 22: Take Your Dog To Work Day, and Onion Ring Day
June 23: Pink Day, and Typewriter Day
June 27: Sunglasses Day
This Month's Hashtag Holidays
Looking to get the conversation started on Instagram, Facebook, or Twitter? Try these hashtags on the corresponding holiday. It's a fun way to spark engagement!
June 01: #NationalDonutDay
June 02:#CancerSuvivorsDay, #NCSD2018, #NCSD
June 04: #LeavetheOfficeEarlyDay, and #HugYourCatDay
June 06: #HigherEducationDay, and #NationalRunningDay #RunningDay
June 08: #BestFriendsDay, and #WorldOceansDay, #SaveOurOceans
June 09: #NationalRoséDay, #RoséDay
June 10: #IcedTeaDay
June 14: #FlagDay, and #GiveBlood,
June 15: #SmilePowerDay
June 17: #FathersDay, #HappyFathersDay
June 18: #AutisticPrideDay
June 19: #Juneteenth
June 20: #WorldRefugeeDay, #RefugeeDay
June 21: #NationalSelfieDay, #SelfieDay, and #YogaDay
June 21: #FirstDayofSummer #SummerSolstice #HelloSummer
June 22: #TakeYourDogToWorkDay, and #WorldRainforestDay
June 23: #NationalPinkDay
June 27: #NationalSunglassesDay
June 30: #SMDay (Social Media Day)
Blog Prepping Takes Work! Plan Ahead
Remember, now's the time to be planning for the months ahead and upcoming holidays. If you're looking to work with brands on sponsored posts, you should be planning content for the next 3 months, now. Keep your content calendar filled.
June Resources
June Pinterest Trends – What to Pin in June
Share Your Thoughts
What did you think of the June 2018 Blog Prep Kit? What did we miss? What should we include in next month's edition? We value your opinion. Let us know in the comments below!
Until, next month's Blog Prep Kit…
Happy Blogging!