Have You Seen the Eastern Box Turtle
In the enchanting forests of the East, a tiny armored explorer roams with a mischievous gleam in its eye—the Eastern Box Turtle! With a shell that could shame even the sturdiest of suitcases, this lively reptile knows how to navigate life in style. The Eastern Box Turtle is a true fashion icon of the animal kingdom, sporting a dazzling palette of earthy hues, from vibrant oranges and yellows to mossy greens and deep browns. Don't be fooled by its slow gait; this little adventurer is always up for a thrill! Whether munching on a crunchy beetle or sniffing out hidden treasures beneath a pile of leaves, the Eastern box turtle adds excitement to every forest rendezvous.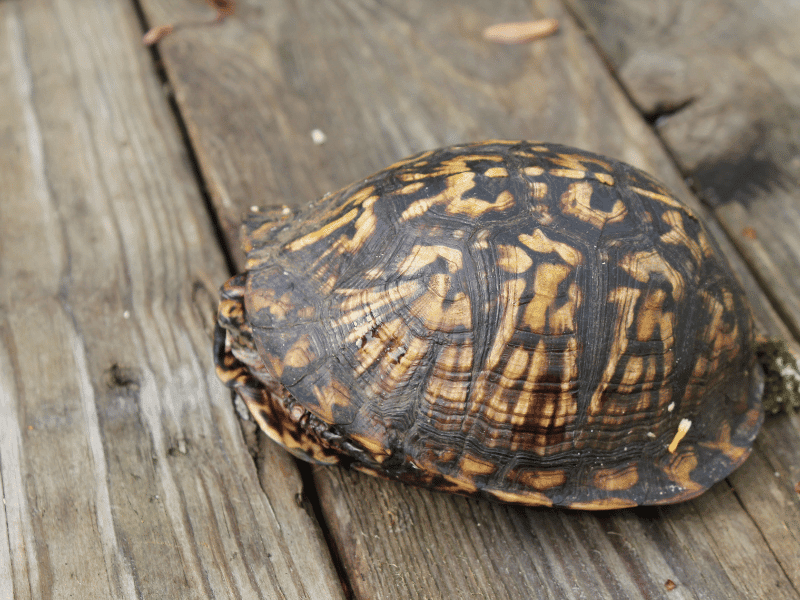 We found this Eastern Box Turtle scooting along one damp morning in our backyard on the Crystal Coast. He was quick and wasn't too keen on hanging around for photographs, so I didn't hold him up for too long and let him go about his business soon after snapping a few photos.
ABOUT The Eastern Box Turtle
The Eastern Box Turtle is a subspecies of one of two box turtles found in the United States. It is the only "land turtle" found in North Carolina, where it is the state reptile. Box turtles are slow crawlers, extremely long-lived, slow to mature, and have relatively few offspring per year. These characteristics and a propensity to get hit by cars and agricultural machinery make all box turtle species particularly susceptible to anthropogenic or human-induced mortality.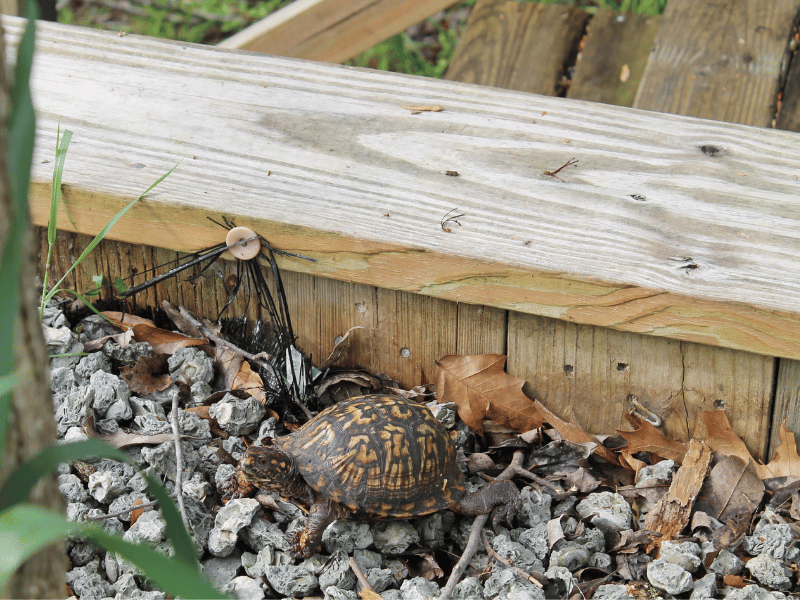 Eastern Box Turtles prefer deciduous or mixed forested regions with moderately wet forest floors with good drainage. Bottomland forest is preferred over hillsides and ridges. They can also be found in open grasslands, pastures, under fallen logs, or in moist ground, usually moist leaves or wet dirt. They have also been known to take "baths" in shallow streams and ponds or puddles and, during hot periods, may submerge in mud for days at a time. However, they may drown if placed in water that is too deep (completely submerged).
Known for its distinctive domed shell and vibrant markings, this captivating creature roams the woodlands of the eastern United States. This remarkable reptile carries its cozy home on its back, offering protection from predators and the changing seasons. With a lifespan of up to 100 years, it has plenty of time to explore its surroundings and leave a lasting impression. Its diverse diet ranges from juicy fruits and berries to succulent insects and earthworms, showcasing its adaptability and resourcefulness. While this turtle may not be the fastest creature in the forest, its deliberate pace and wise eyes reflect a creature deeply connected to its environment. This marvelous turtle serves as a gentle reminder of the beauty and resilience found in nature's intricate tapestry.
So next time you venture into the wild, keep an eye out for this spirited traveler; who knows, you might uncover the secrets of the forest with your new shelled friend!
Have you come across an Eastern Box Turtle in NC? If so, let me know in the comments. I'd love to hear from you.