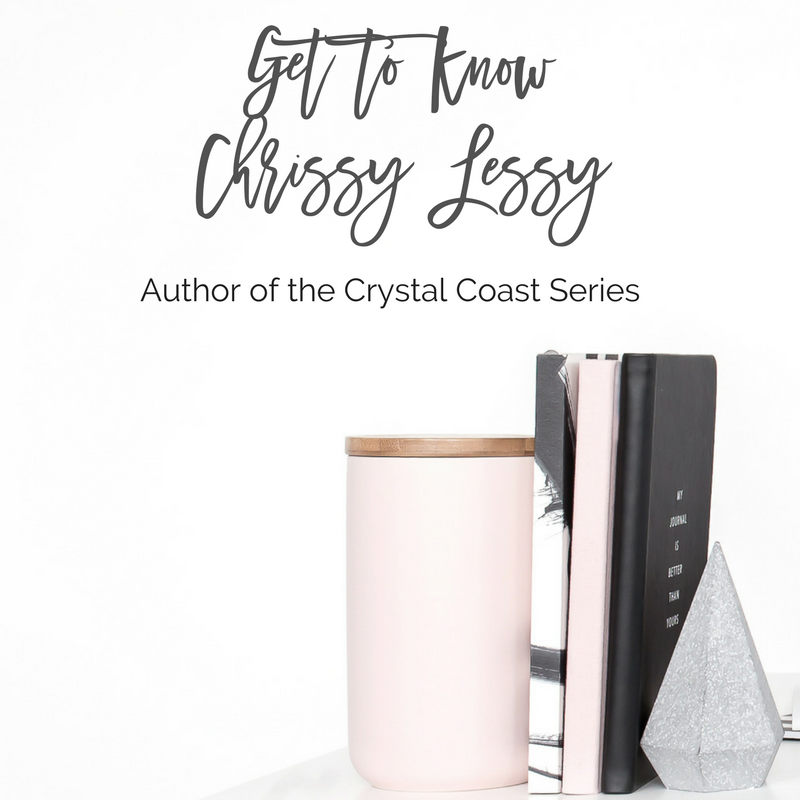 Calling all book lovers! Have you heard of this talented author residing right here on the beautiful Crystal Coast of North Carolina? Meet Chrissy Lessey; mother, author of The Crystal Coast Book Series, autism advocate, and coffee lover. The beautiful beaches of the Crystal Coast in North Carolina serve as the perfect backdrop for her series.
When I first moved to the East Coast, the only scenery I was accustomed to seeing was packs of Marines stumbling through Jacksonville, North Carolina. I hadn't the slightest clue that this "Crystal Coast" place even existed… until a potential job opportunity broadened my horizons. I'm telling you, the first time I drove over the small bridge heading into Swansboro, I knew this was a special place that I was going to love. And I've continued to fall in love with the Crystal Coast with each visit. Chrissy Lessey's book series will be the next on my list of things to read because they're set in one of my favorite places in North Carolina.
I was thrilled to gain some insight into Chrissy's life and career as a magical novel writer (since the Crystal Coast is quite magical in itself).
So without further ado, let's get to know Crystal Coast Series Author, Chrissy Lessey –
---
Q. Are you originally from North Carolina and, if not, where is your hometown?
A: I moved to Raleigh after spending most of my childhood in Virginia Beach. I enjoyed living in Raleigh, but I found myself missing 'beach life'. Eventually, I found my way to the Crystal Coast and made my home here.
Q. What inspired you to begin writing?
A. I have always been a voracious reader, and that led to a desire to write at an early age. It's probably safe to say that I was the only kid in school who got excited about research paper assignments.
Q. What topics/themes do you tend to write about in your books or your blog?
A. Both of my published novels are about a secret group of witches living in Beaufort, NC. Love, loyalty, and perseverance are reoccurring themes in my work.
Q. Of all the books you've written, which one would you say is your favorite? (Or which one did you have the most fun writing?)
A. I think I had the most fun writing my second book, "The Hunted". I knew how that story would play out from the moment I started working on it. It was fun to have such a clear vision from the beginning.
Q. In your bio, you mentioned that you love being involved in your community. Which charities or organizations are most dear to your heart? 
A. I am a founding member and past president of The Autism Society of NC-Crystal Coast Chapter. I'm proud to be a part of a dedicated group of parents and volunteers working to support individuals with autism and their families.
Q. Are there any hobbies or activities that you like to participate in during your free time? 
A. I have two energetic children, so free time is a rare luxury. These days, I'd say I get most excited about coffee and not having to cook dinner.
Q. If you weren't an author, what could you see yourself doing as your career?
A. I think I'd really enjoy a career as a historian. It would be fun to study a variety of cultures across many different time periods.
 Q. What are some of your professional goals you wish to accomplish this year?
A. My top priority this year is to finish The Crystal Coast series. I'm working on the last book now.
Q. Where can we find you on the web?
A.
Q. And last but not least, what can we expect to see from you in the near future? 
A. I have some guest appearances coming up later this year. As those dates are confirmed, I'll post the information on my website, Chrissy Lessey, and social media pages. I'm happy to announce that I'll be at ConCarolinas in June. I look forward to greeting fans there.