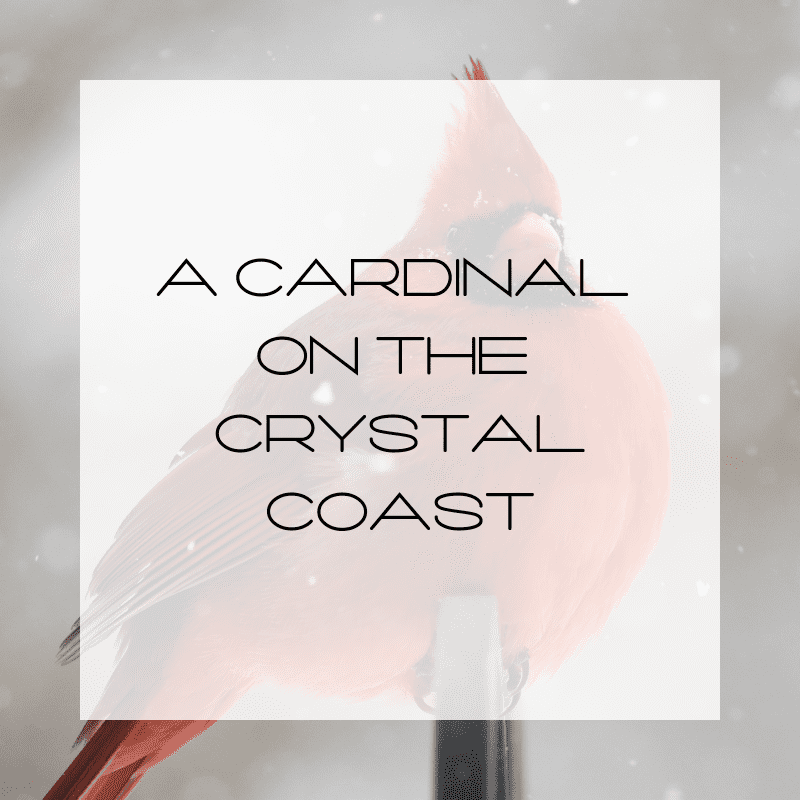 Moving to North Carolina's Crystal Coast has given the kids and I so many more opportunities to see a wide variety of wildlife, especially birds like the Cardinal. All along the Crystal Coast, there are great places for bird watching and if you have a bird feeder like we do, you already know this!
The Cardinal is One of Our Favorites
One of our local favorites is the Cardinal. It also happens to be North Carolina's state bird. Did you know they're also known as cardinal-grosbeaks and cardinal-buntings? The sexes usually have distinctive appearances with males being bright red, like the one above, and females being a rusty brown.
The kids' dad snapped the photo above on his phone from the window while he was in Swansboro. It was a brisk Winter morning but the birds don't seem to mind at all. Of course, we do notice a whole lot of activity at the feeders during the Winter, most likely because it's harder to find seeds and berries.
Have you ever wondered what a Cardinal sounds like? You can listen to a Cardinal's song right here. Enjoy!
Inviting Cardinals to Your Yard
If you'd like to encourage Cardinals to visit your backyard, you can help by supplying some of their favorites like seeds, insects (you can buy mealworms), and berries. That's what we do. Their diet is quite varied. Most home and garden stores will have a wide variety of seed selections perfect for Cardinals.
Our favorite place to shop for all things bird-related, including seed, is a sweet little shop in Atlantic Beach that acts as a dual purpose store. It's Kites Unlimited and Bird Stuff, etc. That's literally the name!
I love that store so much and so do my kids. We've been popping in there since we moved here in 2012 and we still enjoy stopping in whenever we're in Atlantic Beach. It's one of those stores where there's always something new to see and they're so knowledgable about birds.
Kites Unlimited and Bird Stuff, Etc.
1010 W Fort Macon Rd
Atlantic Beach, North Carolina 28512
(252) 247-7011
What's your favorite bird? Is it one that's local to you? Kick off the conversation in the comments.