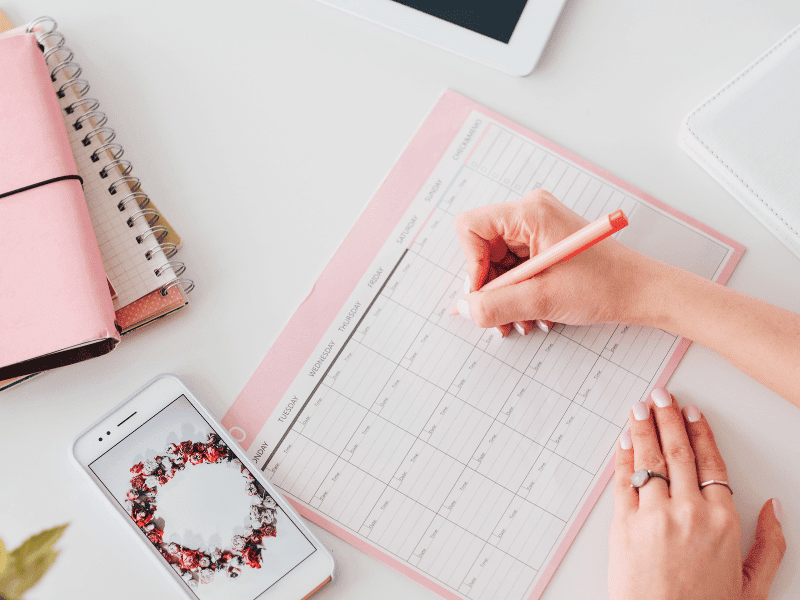 5 Easy Steps to Build an Editorial Calendar
An editorial calendar makes a difference in having a successful long-term plan and keeping your blogging momentum. You can't afford to start blogging, full of passion and purpose, only to sit down after a few months, twiddle your thumbs, and say, "I have nothing to blog about." Your blog, aka your business, will suffer.
Creating an editorial calendar, no matter what your business is or goals are, is easier than you think. And it can make or break you.
Here ARE 5 easy steps to Build an editorial calendar:
Pre-step (I realize you weren't prepared for a pre-step, but this is important): Watch the episode on How to Create an Editorial Calendar. It will get you started.
Step 1: Decide what your keywords are.
There are a slew of tools out there to help you come up with keywords. You need to start this entire blogging journey by deciding what your biggest words are, who your audience is, and what your ultimate goal is. Now write those things down: BIG, AT THE TOP of your paper!
Step 2: Brainstorm ALL your topic ideas and potential blog posts into one document.
I have a lot of tools and resources on the Internet I use to get me started, which we will share here later, but start to think of any and all things you could write or questions you could answer for your audience. Then write them down—Freeform in a stream of consciousness. Don't stop. You might be surprised how once you open the floodgates, you have more ideas than you realized. Allow this process to happen over a few days if you need to. But let yourself go. Nothing is too small or too silly.
If you need more structure to your brainstorming, the NCBN highly recommends NCBN-Member Melissa Culbertson's Content Brew class (affiliate link). Self-paced, do it as you can. This course is great for putting pen to paper or, er, letters on the screen.
Step 3: Determine how often you can blog and what kind of content you can create.
Do not commit yourself to blogging every day when it isn't necessary or something you can do. Select a sustainable model for yourself. Pick the right days, too. (Saturdays may be great for your industry, or they may not be, but pick a schedule that makes sense.)
Then decide what types of content you want to create and vary the media. Can you write long essays; can you interview people; will you post videos; do you have behind-the-scenes photos you can share? Think about the type of content you can create in addition to the blog topics you can cover.
Step 4: Select an actual calendar.
Everyone has a different model that works best for them. Decide what you want to use. Some options to track your editorial calendar include:
I recommend what I use, CoSchedule it has everything you need, including social media scheduling
Vertical Measures. This template is great for a multi-level business working with a team
WordPress Editorial Calendar Plugin. If you want everything in one place (your WP dashboard), then this is for you
An actual paper calendar. For those who are more tactile and think best away from a screen, there is nothing wrong with the non-technological option
Google Calendar. This is so easily shared and can be accessed instantly on your phone or tablet
Printables! Check out IHeart Organizing for some colorful blogger printables
Step 5: Start to place your blog posts from your brainstorming session on your calendar.
Keep holidays, industry and appropriate conferences and events, your vacations and personal plans, and seasons in mind. Start to sprinkle your ideas and your types of content around your calendar to get a range of diversity and types of content. Make sure your keywords track throughout your calendar. Take a good look at your long-term strategy to ensure that you meet it through your blog posts and not just sit on one topic or miss out on opportunities.
You do not have to do one full year at one swoop. Some industries and businesses move faster than that, too fast for that. Pick a time you know you can effectively plan for and do it.
Give yourself a chance to be surprised by how much content you can create and what fabulous ideas you have inside. Then put it all down into a plan that meets your goals, which makes you successful. You've got this!
About Allison
Allison Barrett Carter is a writer who shares how to live a traditional life and still have great family adventures on her website – The Family Trip Online.
Add your thoughts
Want to learn more about the editorial calendar I use? Check out the 2-minute tip on CoSchedule. Are you currently using an editorial calendar? Have you considered it? How do you keep track of and organize your posts? Kick off the conversation below.