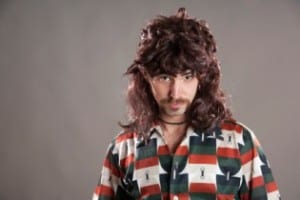 There are trends that come and go and there are classics that span the test of time.  When it comes to social media influence, your goal is to be the crisp button-down or the little black dress, not the Hammer pants and fanny pack.  {No offense MC Hammer!}
Calling Yourself A Guru
Calling yourself a social media guru is like sporting a fake Rolex. Everyone's eyeing it, knowing it's not the real deal, yet no one wants to tell you to your face. Let your work speak for itself. Flashy titles don't mean much. Great testimonials and referrals do.
Auto Replies and Spam
Members Only jackets used to be cool. Don't be the last member wearing one. Auto DMs are just like that. They're no longer cool. In fact, they're an abuse of trust.  If someone takes the time to follow you, don't spam them with an Auto-DM to visit your Facebook page or download your eBook. Instead, start a conversation and give them a follow back.
Begging for Follows
The mullet is one of those fashion don'ts – as in don't do it – ever. It's the social networking equivalent of begging for likes and buying followers. Though it might seem like a great idea, it ain't pretty.
Obsessing Over Numbers
You could step on the scene dressed to the nines, but unless you have style and grace it wouldn't mean much. The same is true when it comes to the number of followers you have on Twitter or Facebook or whatever your social network of choice happens to be. Though at first glance that might seem impressive, you've got to dig a little deeper. You can't deem someone an influencer based on sheer numbers: content and context must be considered as well.
De La Renta, Lauren, Chanel, and Dior all know it. It takes time to build influence, and doing so means producing consistent, quality content, time after time. There's no easy button. New fashions will emerge as well as ways people will suggest to value influence. Stick to the classics. The classics never go out of style.
Can you think of an additional social media (or fashion) faux pas I left out? What would you add? Let me know in the comments below!