We've got 3 Blu-ray/DVDs to giveaway for The Seventh Dwarf thanks to Shout! Factory and our friends at MammothNYC. Have you seen the movie yet?
If you missed The Seventh Dwarf in theathers this summer, now's your chance to snag a copy and join your favorite storybook characters in a hilarious mash-up of the most celebrated fairy tales.
How to Enter
Entering is easy. Just follow the directions below and have fun.
This giveaway is open to U.S. residents only and ends on 8/17/2015 at 12:00 AM. Please read the terms and conditions before entering.
About The Seventh Dwarf
The Seventh Dwarf, a CG-animated feature, boasts an exceptional voice cast of Peyton List (Disney Channel series Jessie, Diary of a Wimpy Kid), Norm MacDonald (The Middle, Saturday Night Live), internationally renowned singer and actress Nina Hagen along with newcomer Joshua Graham. Directed by Harald Siepermann (Tarzan, Enchanted) and Boris Aljinovic, The Seventh Dwarf is a wonderfully magical movie adventure packed with fantastical characters, non-stop laughs and toe-tapping songs that your whole family is sure to enjoy!
The The Seventh Dwarf Storyline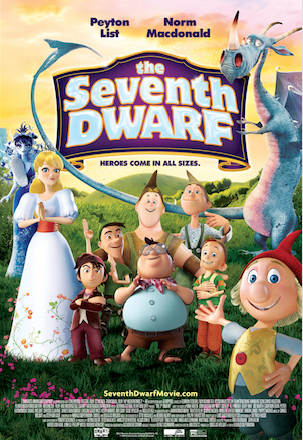 Join all seven dwarfs for an adventure as big as they are small! It's the eve of Princess Rose's 18th birthday. Everyone in the kingdom has come to Fantabularasa Castle to celebrate, including Snow White, the Seven Dwarfs, Cinderella and Red Riding Hood. But just before the stroke of midnight Bobo, the youngest dwarf, accidentally pricks the finger of Princess Rose (a.k.a. Sleeping Beauty) with a cursed needle and sends the kingdom into a century-long slumber! To find Rose's true love Jack to save her with a kiss, Bobo and the other six dwarfs must go on a treacherous journey, face a fiery dragon and outwit the jealous, scheming and evil witch, Dellamorta.
Love blogging, networking and connecting with other bloggers just like you, be sure to join NCBN!