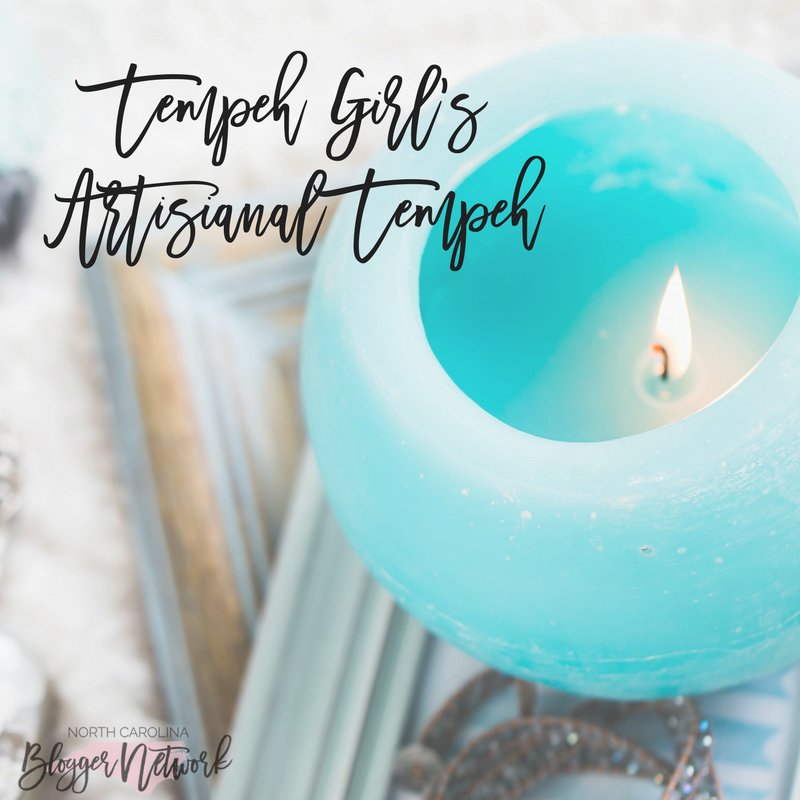 I have always liked tempeh, but never really loved it. It tastes great in a strong sauce or in a sandwich mixed with other bold flavors. Typically I steam it for about 10 minutes to remove that hint of bitterness that can be off-putting.
Last week I posted a Tempeh Stroganoff that was super simple to make and tasty. It was even tastier because it was made with Tempeh Girl's artisanal tempeh. Hers is ready to go right out of the package and no steaming is needed!
At my talk yesterday at Quail Ridge Books I also worked in a few words about my new-found love of this fermented soy food.
Tempeh Girl, aka Beth May, makes her tempeh in small batches using a traditional fermentation process and her special touch involves a different culture than many of the larger tempeh producers. This all works to create the prettier and more palatable tempeh that comes out of her business.
Most of the time I explain tempeh as being a grown-up version of soy because the tempeh you usually get in the store tends to have dark veins similar to blue cheese intertwined with the white.
As you can see above Beth's tempeh is free of those. While the color change doesn't indicate a change the taste, it is easier to introduce people to it the first time without having to explain that too.
Tempeh has a great texture that works great in chicken salad since it has a "meatier" bite than most versions of tofu. It also crumbles well and can be used in any recipe.
If you aren't keen to use Gardein or other commercially produced meat subs, try substituting tempeh instead.
Try substituting tempeh in these recipes and see what you think:
Tempeh Girl tempeh in made in Hillsborough and can be delivered to you if you live in the triangle area. She has tempeh bacon and smoked tempeh, as well as, the traditional kind.
You have to order a minimum of 5 pounds and it's $40 including delivery. Just email her at beth@tempehgirl.com or call 919-265-8497. Remember it freezes great, so don't worry about using it all up in a week or two.
Not ready to commit to 5 pounds before you get to sample it? Try Tempeh girl Tempeh at Vimala's Curry Blossom Cafe, The Pig, Ninth Street Bakery, The Spotted Dog, or at Spize Cafe. Read the rest of this post at Healthy Slow Cooking
---
About Kathy
healthyslowcooking.com
@geekypoet
I'm Kathy Hester and in addition to running Healthy Slow Cooking, I have published 4 vegan cookbooks with another one on its way next year! I'm most known for my vegan slow cooker books, though I have some mad skills with beans and oatmeal too.
I've been meatless since 1983 when requests for tofu or tempeh were met with blank stares at grocery stores. I have been eating vegan for a few years now and it's so much easier to find foods for a special diet.