Looking to make your photos pop without breaking the bank? I'm sharing some tips I picked up at Blog Life University to help you create stunning photos on a blogger's budget.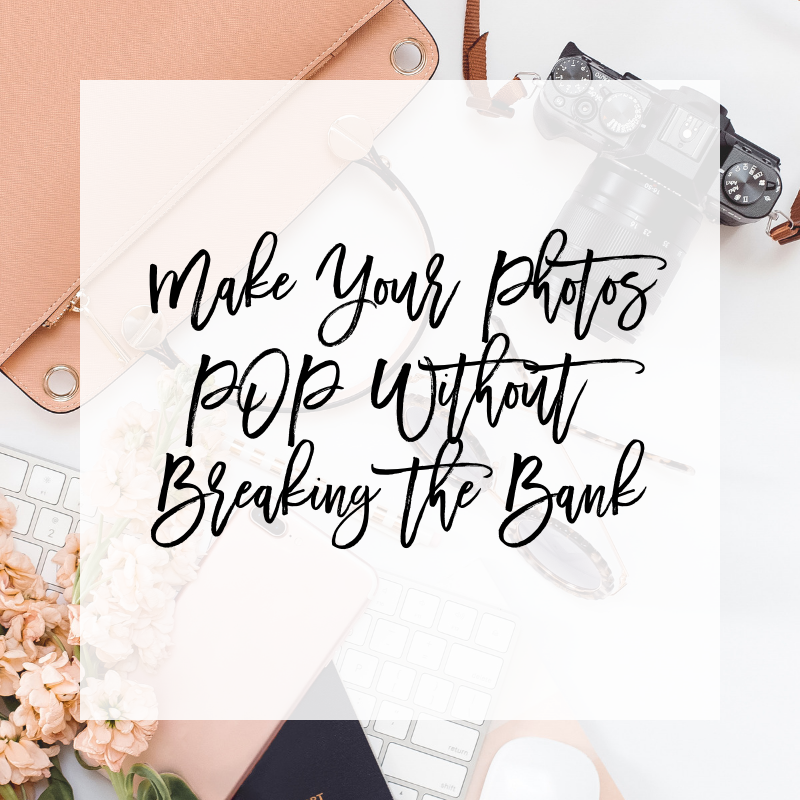 Disclaimer: I received a free virtual ticket to the Blog Life University 2017 Conference as a member of the NC Blogger Network in return for sharing my conference notes and key takeaways.
I was really excited about the session on Making Your Photos POP Without Breaking the Bank because I think my dream job would be to be a photographer. I'd love being behind the camera, whether it's shooting pictures of my kids or the wondrous beauty of NC. Spending hours behind the camera would be incredible, and I've been dreaming about a DSLR for a long time now.
As much as I enjoy photography, I'm still not great at it so I love to learn the tips and tricks that work for others. Tiffany Dahle, fellow NC Blogger Network member, from Peanut Blossom is great at photography, in fact, she's so great, that her talent landed her a cookbook contract. Photography and food? Two of my loves!
Here's what Tiffany had to say during her session about photography at Blog Life University –
Find the Best Light
The best light is not direct light. If you park your object right in front of the window, chances are the light is too harsh and will create areas of too much brightness and shadows.
In cases like this, Tiffany finds another spot where the lighting is more even and not in direct sun. Or she'd move the object she's photographing into an evenly lit area and put reflectors or use a whiteboard so that the light shines back on the subject.
If you're outside, Tiffany suggests finding open shade. She gave us an example where she was shooting in full sun, and the sun was casting brightness on one side of her daughters' faces and shadows on the other. Not liking the stark contrast in the picture, she noticed the barn in the background with a roof overhang.
The overhang provided the open shade she needed for her to get beautiful, even, lighting on her girls' faces. So if you're shooting pictures outside, find some open shade around building corners and under coverings or even a very full tree to get the best, even lighting on your subject.
You've  Got One Shot To Tell Your Story
Your photos help you tell a story. Whether it's a personal story, a craft tutorial or ingredients that come together to make a fabulous recipe, Tiffany says you have one shot to tell your story.
Figure out what elements of the story you want to tell. Make a shot list of all the pictures you want to take so you don't forget. For example, for a pie recipe using a sponsored ingredient (chocolate), Tiffany's shot list included:
Ingredients together
Chocolate in the package
Chocolate opened spilled onto the counter
Cream cheese being whipped with a hand mixer (from overhead)
Entire finished product
Slice of the finished product on the plate
Make Various Collages and Pins
From the various shots, Tiffany suggests making a variety of collages to pin for your blog posts. She also recommends making 8 different collages to share across 10 different Pinterest boards and voila! you have 80 pins directing traffic to one post. Now that's worth your time.
Create Your Own Stock Photography
Sure you can find various sites for stock photography, but Tiffany encourages us to create our own so we can use our photos at our discretion. For example, she was going out to exercise and took a few extra minutes to take a picture of her sneakers, headphones and water bottle on her wood floor before she left that would be perfect stock photos for health, fitness or exercising posts. On another trip to an apple orchard, she took various pictures of baskets of apples that would be perfect stock photos for fall posts. Take a look around next time you need a picture and see what you can snap and use yourself.
Find Fun and Frugal Props
Props and accessories add dimension to your photos and pops of color. Tiffany proposes using a color wheel to figure out what colors complement each other when choosing props for your photos. Some easy props she uses in her food photos:
Cardstock
Cutting boards
Napkins and placemats
Fat quarters, clearance fabric from a fabric store
In a very visual world, stellar photography is imperative in attracting readers to your site and drawing them in so they stick around to hear your story and take action. Photography doesn't have to be difficult, as Tiffany states "it's not about what gear you have, but how you use it." Just taking a few extra minutes to plan your shots and find the best light can make all the difference between photos that are just meh and ones that have readers wanting more.
Read "Blogging and Photography Tools Mentioned at Blog Life University 2017" for all of Tiffany's tools.
Loved These Tips? Check out 7 more helpful blog posts from Tiffany:
How can you improve your photography? What do you need help with? Can you create your own stock photos so you don't have to rely on others? Let's discuss in the comments!