My MailChimp Newsletter has definitely become one of the best ways I have to stay connected with my Readers and Followers outside of my site. I can send them updates, reminders and even exclusive content. I have fun each week customizing, writing, designing and selecting content – always trying to make the experience a bit different from the last. As a Vlogger this means including either my latest YouTube video or even a favorite from a fellow YouTuber I came across during the week through my YouTube Channel Hop. I want to show you how MailChimp has made doing it so easy!
How to Insert YouTube Videos into Your MailChimp Newsletter – Step 1
Click the Design Tab of your Newsletter Editor and from there on the right side of the screen, you will see the Content Boxes you can drag & drop into your Newsletter.
Select the Video Box
Drag & Drop it to the position you would like it to be within your Newsletter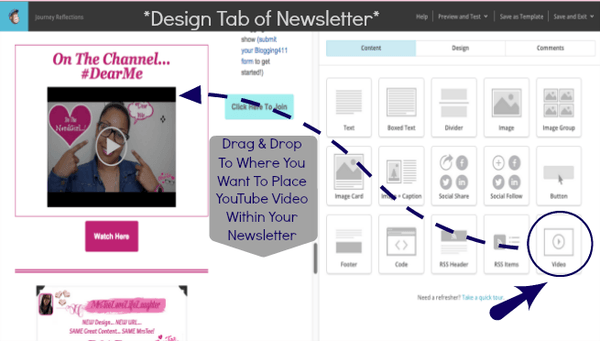 How to Insert YouTube Videos into Your MailChimp Newsletter – Step 2
Once you have dropped it in place you have the option to edit the box.
Insert the URL for the YouTube Video you wish to include.
MailChimp will generate a preview image from that URL based on the Thumbnail set for YouTube.
If you would like a different image you have the option to replace or edit the image.
It is here that you can also add a title to your Video Box… the font and style control are very similar to that of a WordPress Post.
Read the rest of the steps from Tiffany at Mrs Tee Love Life Laughter
---
About Tiffany
First thing is the 'Tee' in MrsTee stands for Tiffany. Wife…Momma…Blogger…Vlogger… Coffee Addict…New York Girl at Start North Carolina Girl At Heart.