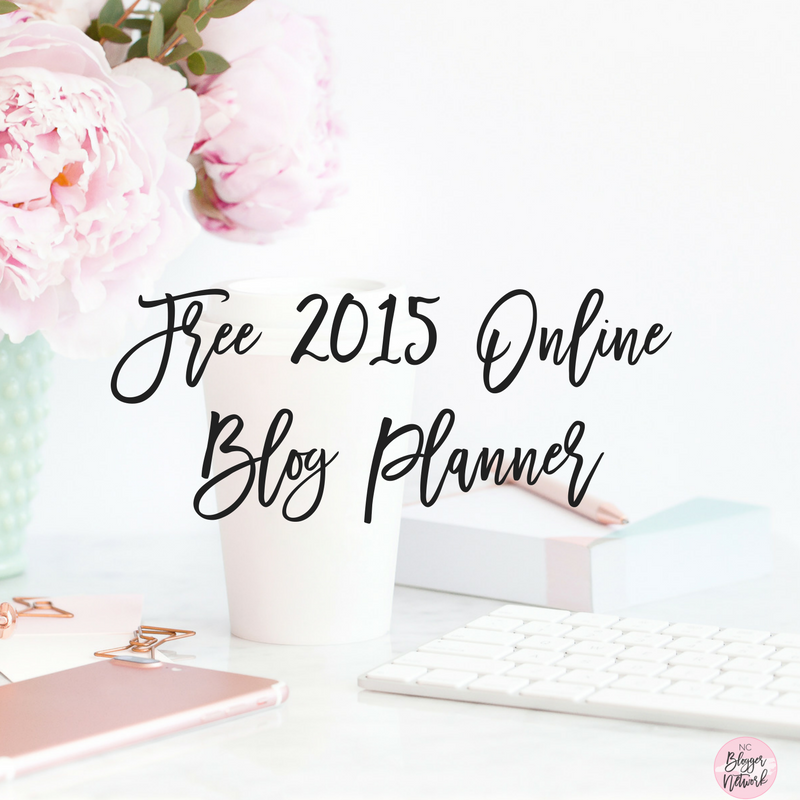 I must confess I am a bit of a planner addict. I love shopping for planners for my personal life and blog but am super picky about what I want the planner to have. It has to have room for everything because if I can't write it down, there is no doubt I will forget it. I have tried a couple different printable blog planners and I was always leaving it in my desk. I never had it with me when it was time to blog or needed it.
After doing NaBloPoMo in November, I realized I can do quite a bit of blogging on my smartphone when I get a few minutes and can't grab the laptop. I relied on the WordPress app and the Google Sheets app to jot down blog post ideas, figure out my editorial calendar and start drafting up blog posts on the go (it's amazing how much can get done in the carpool line). I always say "every little bit helps" and that is so true for blogging. There are many tasks that do not take a lot of time individually but when you add them up blogging can easily become a full-time endeavor.
I decided to create my own 2015 online blog planner in Google Sheets and share it for free with you. I got a great editorial calendar with the Content Brew Class from Blog Clarity that I took. I tweaked it and added sheets that I thought would be helpful to me and I hope to you too. Feel free to download it and customize it to suit your needs. The free online blog planner is printable if you choose to do so or you can access it in Google Sheets on Google Drive. If you have a smartphone, you can always have your blog planner with you when awesome ideas and the blogging mojo strikes.
Please note: I installed a fonts add-on in creating my online Google Sheets version as shown in the pictures. However, the Sheets app version and printable version will show a more basic font. The important thing is it works and is accessible.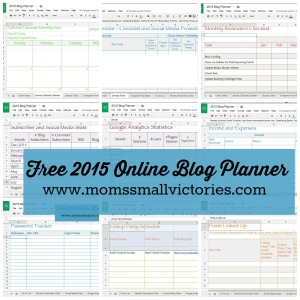 Peek Inside the Free Online Blog Planner
There are 33 spreadsheet tabs/pages in my free 2015 blog planner. Here's a breakdown:
1. 12 Editorial Calendars – Monthly View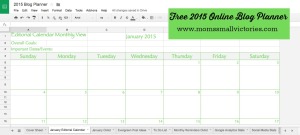 Type in your blog post idea for the respective day to see an overview of your blog content for the month. Can't write what you thought you would or had a better idea? Just copy and paste your idea to a different day. A separate tab for each month, January – December 2015.
2. 12 Editorial Calendars – Checklist and Social Media Promotion

This version of the editorial calendar allows you to keep track of post title, date, category, and status for each post. It's my pet peeve when I hit publish and then find I didn't set a no-follow link or featured image so I included additional columns of things to check before publishing a post. Since I am a book blogger, I included columns to cross-post my reviews to Goodreads, Amazon, and B&N too.
3. Evergreen Blog Post Ideas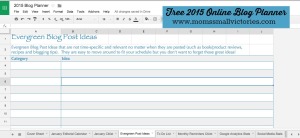 Evergreen blog posts are those posts that are not time specific and readers can search for anytime. Examples include book discussions, non-sponsored product reviews, recipes, home organization and blogging tips. I used to include an unscheduled draft in WordPress every time I came up with a blog post idea. The problem is if I didn't write the post relatively soon, the unscheduled draft was pushed down further and further until it falls off the main posts page. Out of sight, out of mind. Instead, by jotting down the idea in my Evergreen Blog Post Ideas Tracker, I can access it anytime I am ready to write and I don't lose the fabulous idea in the cemetery of forgotten drafts.
4. To Do List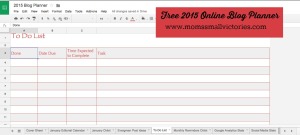 What would a planner be without a to-do list? Jot down those blog maintenance tasks and things you've been meaning to do. I sort mine by how long I think it will take me to complete so when I have a block of time to blog, I know just what tasks I can set out to accomplish.
5. Monthly Reminders Checklist

A checklist to remember important monthly maintenance like backing up your blog.
6. Google Analytics Statistics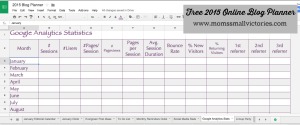 Taking some of the key elements from Google Analytics and putting it into a chart form to get a better understanding of how my readers find me and what they enjoyed reading during the month.
7. Subscriber and Social Media Stats

Track number of blog and comment subscribers and followers on various social media platforms. I'm a numbers gal, I like to see how my readership is impacted by the content, linkups, and events I share.
8. Income and Expenses Tracker

Track blog income and expenses in one place and get a general idea of your blogging net income/loss. You still should hold onto your paperwork to substantiate your income and expenses but this tracker gives you a simple overview for hobby bloggers.
9. Password Tracker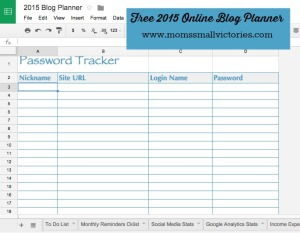 I made this primarily to be printed. While much of my blogging information I am ok with being on Google Drive, I do not want my passwords on any sort of cloud. Still, the tracker is here to print because it's near impossible for me to remember all my passwords.
10. Linkup Party Schedule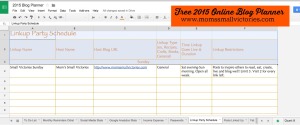 Are you a linkup fanatic like I am? Linkups are great ways to get new readers to your blog and share your content with a new audience. Jot down the info regarding your favorite linkups including host URL, type of linkup (ex. recipes, books, general), the time the linkup goes live & duration and any restrictions or requirements to complete. I have taken the liberty (aka shameless plug) of adding the Small Victories Sunday and Throwback Thursday linkups I host as examples because I would love to have you link up with us!
11. Posts Linked Up

Do you forget what post you linked up where? Or when a post earned a Featured Blogger spot? Use this tracker to indicate which posts you've linked up with which parties and when Featured Blogger awards are earned.
{Interested in this FREE planner? Make sure to check out Tanya's blog to gain access!}