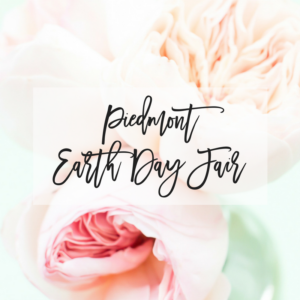 The Piedmont Earth Day Fair is the largest Earth Day celebration and one-day environmental education event in the region – more than ten thousand people are expected to attend! Thanks to the support of sponsors and community partners, the Piedmont Earth Day Fair is a FREE event including free parking, free admission, free activities, and free entertainment throughout the day. Program partners will provide workshops and demonstrations throughout the day, and many activities will be geared toward inspiring and engaging children in learning about sustainability.
We're teaming up with the Piedmont Environmental Alliance to invite you out to their annual Piedmont Earth Day Fair on April 23! They're looking for bloggers with a passion for food, agriculture, education, and environment. The Piedmont Environmental Alliance is a relatively new non-profit organization, so though they don't have an advertising or marketing budget, we felt it was important to support their efforts and the cause.
The theme of the 2016 Piedmont Earth Day Fair is "Eat. Drink. Think." aimed at educating the public on the importance of supporting sustainable food systems. Some of the Earth Day events include a high school debate about small-scale organic farming vs. industrial, and Energy Explorers, an interactive hands-on program that teaches students about how energy is created, its impact on the environment, and the importance of conservation.
If these are topics you, or your kids are passionate about, you'll enjoy attending these events. If you're interested in heading out to the Piedmont Environmental Alliance's upcoming events, please reach out to us if you'd like to attend! What a great cause!
When: Saturday, April 23, 2016
Where: Winston-Salem Fairgrounds, 10 am – 5 pm
Cool Things You Can Expect to See at The 2016 Piedmont Earth Day Fair:
Create your own seedling cup
Vegetable cup sculpture building
Create origami art from recycled products
Face painting
Hands-on demonstrations and discussions about things such as food preservation and protecting pollinators
Live debates between local high schools and Wake Forest University students on important environmental issues
Tons of delicious, local food vendors such as Angie's Italian Ice, du Mexique, Foothills Brewing, River Ridge Taphouse, and many more
Live music courtesy of Barrie Howard, Doug Davis, Love and Valor, and more
Over 100 earth-friendly exhibitors to keep you entertained all day long
It's going to be a day filled with learning and fun, so set the date and make plans to attend the 2016 Piedmont Earth Day Fair! If you're interested in attending the fair and blogging about it, please contact us for more details on how you can help spread the word.
"With more than 100 earth-friendly exhibitors, great music, delicious food, and engaging programs, we hope the Piedmont Earth Day Fair will inspire people to take action for a more sustainable community this Earth Day."