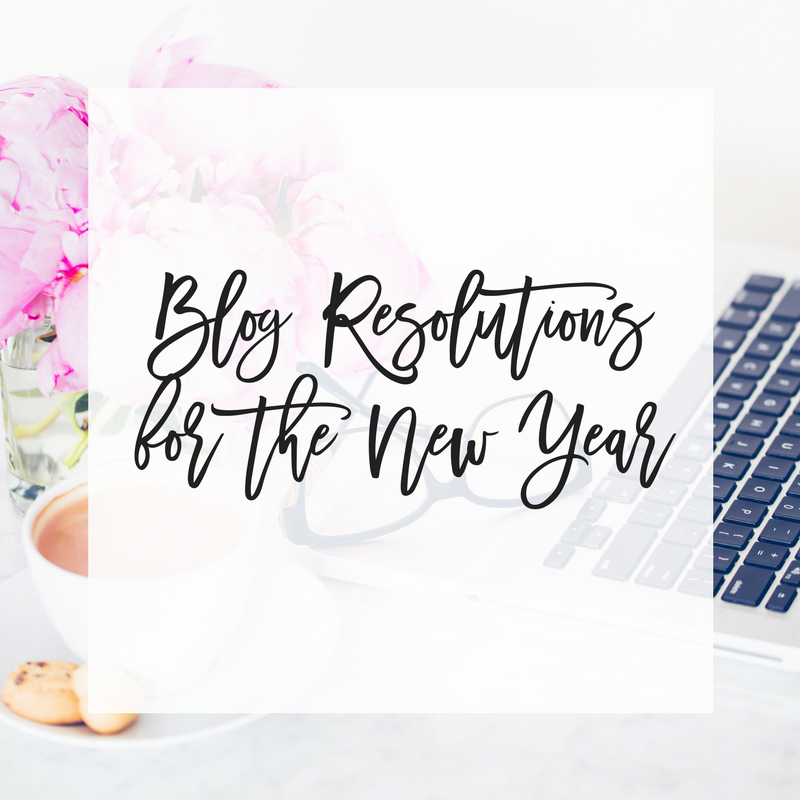 The end of December is almost upon us and it is time to start thinking about the new year, including what that means for your blog.
What do you want to accomplish for your blog in the new year?  What are some blog resolutions to make?
When it comes to blogging, there are so many different directions to go and so many different reasons why bloggers take to tapping the keys and setting up a site.  Determining your ultimate goals for your blog can determine what you need to focus on in the coming year.
There are some really great reasons to blog and some wonderful resolutions to make.  But, like all new year's resolutions, you have to get specific to be successful.  You have to make an action plan for yourself.  For example, the biggest resolution failures are the ones that are simply to, "Lose weight."  The better way is to say, "I will go to the gym 3 times a week."  See?  Actionable items that ultimately lead to the desired goal.
So let's apply that now to your blog.
Here are some blog resolutions and some actionable items you can take
1. Monetize my blog.
This is a GREAT goal and the goal of many, many bloggers.  After all, we share our talents and tears and late nights and time away from our families all for our sites.  We should be paid for that, right?  So let's talk what actionable items that might mean…
Find an ad network and join.  We are working with an agency to bring our members something special in the new year, so stay tuned, but you can look into ad networks.  It is so important, though, that you get the right one that you can exercise some control over.  We'll be back in the new year with more on this topic.
Join an affiliate network and "shop" your site.  If you are genuinely recommending products that you love, you should get some payback for that, right?  Set up an Amazon Affiliate account for yourself and then remember that every single time you recommend a product you should include your Amazon Affiliate link.  If you have a business you work with a lot, approach them about becoming an affiliate directly with them.  Being an affiliate doesn't cost the person purchasing any extra cents of any kind – it just means you get a little reward.  Just remember, of course, to disclose in big, loud letters that your visitors are clicking on an affiliate link.  It is FTC rules.  (For more on bloggers & the law, head to our Members Educational Resources page and download your Legal Resources and Takeaways document.)
If you find you are posting a lot of affiliate links, set up a shop on your blog.  This can be an integrated, fancy eCommerce, shopping cart site.  Or think easy and simple for getting started.  Create a page on your blog where you list all the products you have recommended, linked to the post where you recommended the item and populated with your affiliate link.
Get a Media Kit.  These don't have the same dynamic power they once had but you still need one.  Don't know where to start?  In our Members Resources Portal, you can find a course to create a media kit easily along with a discount for the services of Grace & Vine, who will help you develop and design a unique media kit if you prefer to have someone do it for you.
Approach organizations about working together.  Got a company you love that you talk about all the time?  A creative, well-crafted and well-placed contact to them could yield some results.  Of course, as we talked about at our ProBlogging MiniCon this year, it has to be done right.  Don't spam companies, but be bold and brave if you really think you can make it.
2. Grow my audience.
This is another great blog resolution that we love.  Yes, bigger audience means more page hits and potentially more followers and potentially more sponsored opportunities.  That is good news for you.  But what will it take to make this happen?
Consider guest posting on other blogs in your field and industry.  Make some fruitful partnerships with other bloggers who tackle the same topics.  Attend conferences or even speak at a local event.  Get unique with your content and encourage others to share you.  Put in good call-to-action items in your posts.  Make sure your email list is worth subscribing to, highlighted, and offers something unique.
3. Learn more!
This is my favorite blog resolution and some component of this should always be on every blogger's resolution list at some point throughout the year.  The blogging world is constantly evolving and changing.  Social media platforms are always being modified and algorithms changed; new social media platforms pop up.  It is important to stay on top of things in order to grow as a blogger.
Conferences are HUGE for this, as in HUGE.  And to help you with this resolution, the NCBN proudly partnered with the amazing team at Blogging Concentrated.  You can read about Blogging Concentrated coming to Raleigh and Charlotte in March 2015 with our really phenomenal members' discount. We're also going to be bringing other great, intimate learning opportunities all around the state, so stay tuned.
4. Engage my community.
Blogging is, truly, about community.  Of course, being a member of the NC Blogger Network is going to help this goal immensely.  With sharing, Facebook-groups for Members Only, Pinterest boards for Members, networking events, and sponsorship opportunities, we are here for you.  BUT we aren't the only thing you should invest in if this is your blog resolution.
You need to comment on other blogger's posts.  You need to get into communities such as Triberr or Facebook groups or Forums and commit to commenting and creating sustained relationships.  You need to respond to comments on your blog (reward good behavior!).
Your most loyal readers will be your biggest advocates and market for you, you just need to figure out how to keep them engaged.  Don't worry about a super-huge number of "Likes" on Facebook if only 2 of your followers are actually talking to you and engaging with you.  Start to ask more questions, encourage more dialogue, offer incentives, and create a sense of community around your blog.
Some other blog resolutions we like:
Get organized
Get rid of some WP Plugins
Write more
Clean up my categories and tags
Take better pictures
Set my blog goals
Not obsess about my Google Analytics numbers
Pick one social media platform to get better at this year
Back up my blog
Have better site security
Again, take things that are real and that you can accomplish.  Instead of writing, "Become a YouTube sensation and create a viral video," just commit to doing a vlog two times a month.  As that grows, as you tackle that and get better, maybe at some point one of your new vlogs will be featured on HuffPo.
Here are some blog resolutions and goals from some of our members that we love:
"To figure out how I want to monetize a strictly local blog. Several questions to figure out answers to first. (Rates, package offers for business profiles,etc)."
– Ashley Shaffer, Today's NC

"To continue growing my blog, to work towards blogging consistently, but most of all to keep growing my community & connections and attend conferences to keep learning!"
– Sarah Potts, Joyfully Organized

"I want to write an ebook in 2015. (I just put it out there, so I have to make it happen, right??)"
– Jaime McKee, Love, Jaime

"I have so many blogging goals for the new year. For starters, moving from WP.com to WP.org and then going through a major redesign. I have some exciting collaborations coming up with brands that really interest me and I think our readers will love, so I am looking forward to keeping up with those relationships and always looking out for new ones. I'm also super excited to be a part of this group and look forward to meeting some local Wilmington bloggers!"
-JoAnna Carpentier, Thrifting & Bitching
So we've shared ours.  Tell us, what are YOUR blog resolutions?  Anything in here we missed?  We may have missed something…