DayngrZone Media provides social media marketing, management, strategy, coaching and consulting services for businesses, brands and individuals.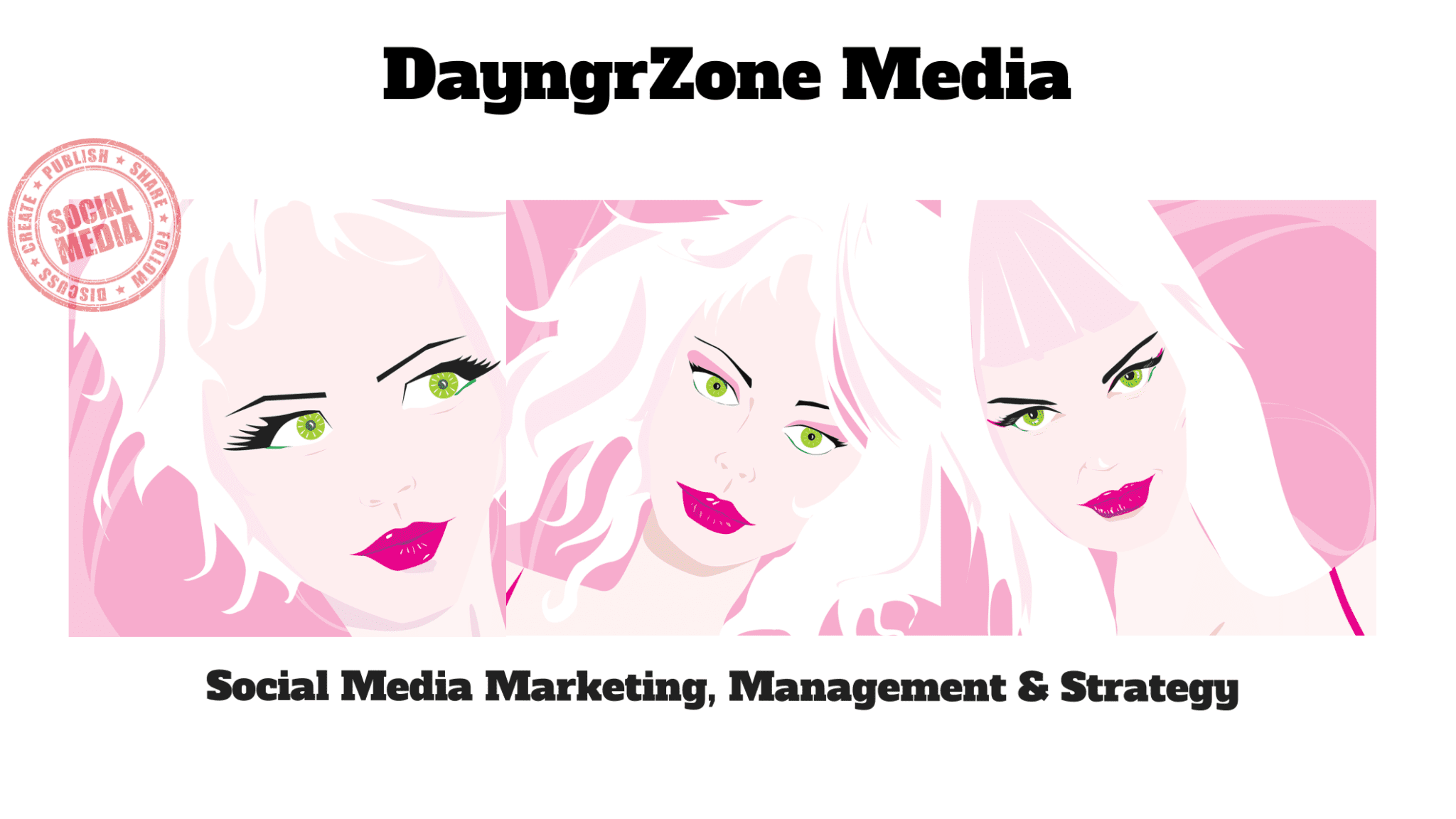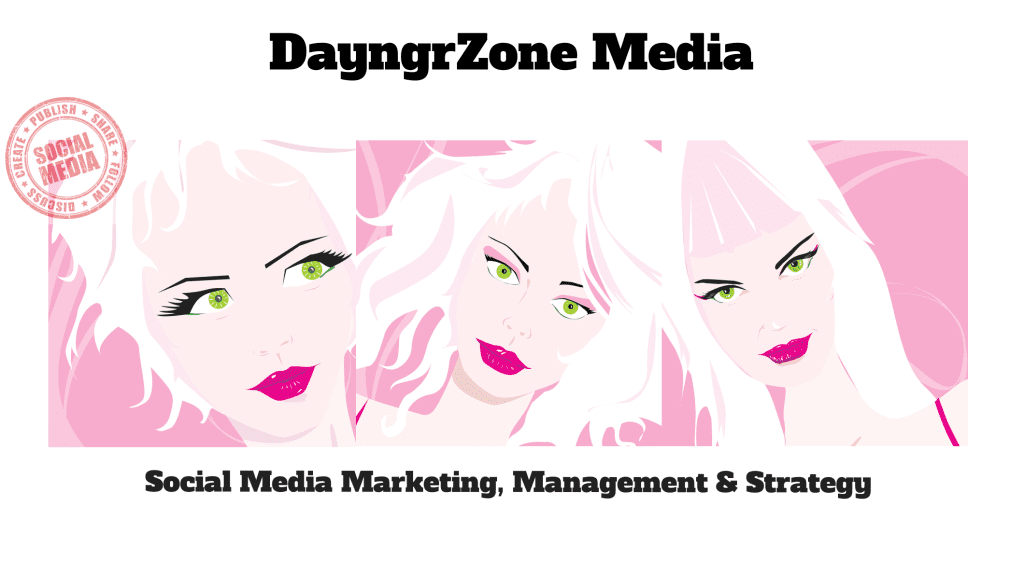 Social Media is Here to Stay
Still thinking Social Media is a fad? 72% of all internet users are now active on social media. It's here to stay, and it should be a vital part of your marketing strategy. Your customers and prospects are online, and participating on social networks. You should be there, too. Still not sure if your business should get involved? These  facts and figures should encourage you to take a closer look at the power of social business –
78% of small businesses attract new customers through social media. (Relevanza)
85% of all businesses with a dedicated social media platform reported an increase in their market exposure.
The top 3 benefits of social media marketing are increased exposure (89%), increased website traffic (75%), and access to marketplace insights (69%) per small and medium business marketers (SMB). (eMarketer)
87% of buyers say online content impacts their vendor preference and selection. (B2B Marketing Insider)
Social Media Comparison Infographic
Feel free to share the Infographic or download the printable PDF.
Did you know these facts about Facebook:
In an average week, there are over 645 million views of, and 13 million comments on, local business Facebook Pages.
757 million daily active users on average in December 2013.
1.23 billion monthly active users as of December 31, 2013.
Over 1 billion mobile monthly active users as of March 2014.
Users share 2.5 billion pieces of content each day
Approximately 81% of their daily active users are outside the U.S. and Canada.
20% of all internet page views come from Facebook. (iMedia Connection)
77% of B2C companies and 43% of B2B vendors have acquired customers from Facebook (University of Florida)
95% of all social media-referred traffic to B2C websites is generated from just five social networks: Facebook, Twitter, Reddit, StumbleUpon, and YouTube.
75% of that comes from Facebook alone. (Eloqua)
Did you know these facts about Twitter:
560 million active users.
241 million monthly active users.
500 million Tweets are sent per day.
5,700 tweets happen every second
76% of Twitter active users are on mobile.
77% of accounts are outside the U.S.
Twitter supports 35+ languages.
Vine: More than 40 million users.
34% of marketers say they have generated leads from Twitter. (University of Florida)
77% of Fortune's Global 100 are on Twitter. (University of Florida)
Did you know these facts about Pinterest:
70 million active users.
Users are 20% male and 80% female. (University of Florida)
50% of Pinterest users have children.
1/3 of U.S. Women use Pinterest (Mashable)
69% of online  consumers have found an item they've bought or wanted to buy on Pinterest.
25% of Fortune Global 100 companies have Pinterest accounts.
Largest opportunities are in decor, babies, recipes, wedding, and fashion.
Did you know these facts about Instagram:
150 million active users.
Social sharing site all around pictures and now 15 second videos.
Many brands are participating through the use of hashtags and posting pictures consumers can relate to.
Most followed brand is MTV.
Did you know these facts about Google+:
500 million registered users.
48% of Fortune Global 100 companies are now on Google+.
400 million active users.
Social network built by Google that allows for brands and users to build circles.
Not as many brands active but the ones that are tend to be a good fit with a great following.
Growing rapidly with 925,000 new users every day.
Did you know these facts about LinkedIn:
300 million registered users. (Mashable)
100 million registered users in the U.S. (Mashable)
Brands that are participating are corporate brands giving potential and current associates a place to network and connect.
79% of users are 35 or older.
Want to Learn More?  Let's Connect
If you're interested in learning more about how you can use social media to meet and exceed your business goals, let's connect to discuss how DayngrZone Media can help your business and brand today. Whether we work together or not, I hope my site and my experience are valuable resources for you. I look forward to hearing from you and getting to know you better.
Social Media Education and Skill-set
Platforms like Facebook, Twitter, LinkedIn, Pinterest and Google+ are constantly changing and because of that, Social Media is always evolving.  Just like you, I'm always adding to my knowledge base. This helps me provide my clients with the most up-to-date information. Here's some of the social media conferences, courses and webinars I've recently attended –
Why You Need to Rethink Your Social Media Marketing – Jay Baer
How to Improve Your Facebook Marketing: 7 Power Techniques – Mari Smith
How to Use Twitter to Grow Your Traffic and Sales – Kim Garst
How to Grow Your Social Media Influence – Mark Schaefer
How to Simplify Your Social Media Marketing With Free Tools – Ian Cleary
How to Build a Facebook Community in 10 Minutes a Day – Andrea Vahl
How to Integrate Social Media Marketing With All of Your Online Marketing Efforts – Lee Odden
How to Leverage SlideShare Marketing for More Exposure and Revenue – Todd Wheatland
How to Succeed on Instagram – Kathleen Ngo (Sony) and Bryce Kristensen (E! Online)
How to Rapidly Grow Your Email List With Facebook – Amy Porterfield
How to Unlock Facebook's Most Powerful Yet Underused Advertising Tools – Jon Loomer
How to Succeed With Google+: Five Google+ Success Stories – Jesse Stay
How to Make Your Blog Stand Out in a Noisy World – Marcus Sheridan
How to Create Blog Posts People Love to Share – Jeff Bullas
How to Optimize Your Blog for Search – Rich Brooks
How to Use Social Media to Boost Your Video Views – James Wedmore
How to Use Online Video to Generate Leads – David Siteman Garland
How to Use Online Video to Get Big Brand Results – Paul Colligan with Jim Louderback (Discovery Communications)
How to Run Successful Pinterest Contests – Melanie Duncan
How to Use Pinterest for More Traffic, Leads and Sales – Cynthia Sanchez
How Big Businesses Do Pinterest Marketing – Beth Hayden with Michael Bepko (Whole Foods) and Angela Thompson (Target)
How to Use LinkedIn for Corporations – Neal Schaffer
How to Use LinkedIn for Prospecting – Viveka von Rosen
How to Maximize Your LinkedIn Influence – Stephanie Sammons
How to Thrive With Content Marketing: 10 Forgotten Strategies – Joe Pulizzi
How to Measure Your Social Media Return on Investment – Nichole Kelly
How to Turn Tweets to Dollars: Lessons from Top Brands – Neal Schaffer with Jennifer Lashua (Intel) and Alicia Picciotti (American Express)
How to Grow Your Business With Podcasting: Tips from the Pros – Michael Stelzner, Michael Hyatt and Chris Brogan
How to Create a Podcast Your Listeners Will Love and Share – Cliff Ravenscraft
How to Conduct a Killer Podcast Interview – Pat Flynn
How to Reach Your Customers on Their Smartphones With Social Media – Jamie Turner
How to Get Started With Mobile Marketing – Greg Hickman
How to Get Big Brand Results From Facebook – Rick Mulready with Chad Mitchell (Walmart) and Jason Townsend (NASA)
How to Generate Leads with B2B Social Media – Lauren Vaccarello
How to Create Successful Twitter Ad Campaigns – Michael Lazerow
Transforming Your Small Business into a Content Powerhouse – C.C. Chapman
The 7 Essential Stages of Building a Total Online Presence – John Jantsch
Top 7 B2B Marketing Confessions – John J. Wall
7 Sure Signs Your Social Media Strategy Will Fail – Rohit Bhargava
7 Strategies for LinkedIn Marketing Results – Brian Carter
How Higher Education Can Make an Impact with Social Media – Clemson University
Marketing Basics for the Social Media Marketer – Chris Penn
Social Media Crisis Management – Shel Holtz
Newsjacking: How to Inject your Ideas into a Breaking News Story – David Meerman Scott
How to Amplify Earned Media's Impact – Todd Defren
The FTC Disclosure Guidelines: Are You Safe? – Andy Sernovitz
Turning Listening into an Organizational Advantage – Chuck Hemann
Get the Picture: Visual B2B Marketing – Todd Wheatland
How to Effectively Engage Your Customers on Facebook – Ekaterina Walter
Measuring What Matters in Social Media – Eric Swayne
The State of Social Ads – Peter Goodman
Why Real-time Marketing Isn't Fast Enough for the Internet of Everything – Charlie Treadwell