You're Invited, Sassy City Chicks Take Miami!
Love the hottest fashions, great music, and sexy rides? Then this is an event you won't want to miss and have I got a treat for you! The first 25 local readers who enter DAYNGRMIA at checkout get in for FREE plus receive a FREE SWAG BAG filled with a bevy of lingerie, make-up, skincare products and more from all of the generous sponsors, complimentary cocktails & spa services plus your entry to the event.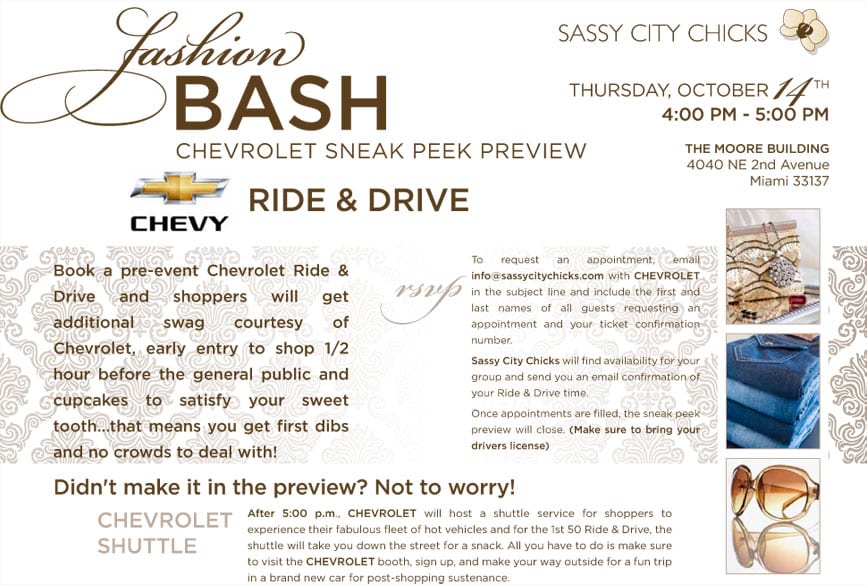 More Info
There'll be a full cocktail bar offering some of the most decadent drinks like Smirnoff and Dirty Blonde Cocktails, a spa lounge, great gift bags filled with free swag, and of course the most amazing retail vendors offering fabulous clothing, handbags, and accessories at unbeatable prices! (Click to snag your tickets and sassy tote bag to the Sassy City Chicks Take Miami event – don't forget to enter DAYNGRMIAcoupon code at checkout!)
WHO
The Sassy City Chicks First-Ever Miami Fashion Bash
WHAT
Fabulous designer clothing at discounted prices free spa services, fantastic gift bags, and fast cars! Event participant Chevrolet will be in attendance with trunk shows being featured out of specialty Chevrolet vehicles.
WHEN
Thursday, October 14, 2010, 5-10 PM
WHERE
The Moore Building
4040 NE 2nd Avenue
Miami, FL 33137
All the Deets
October 14, 2010- Miami, Florida – Haute Life PR is pleased to announce that the Sassy City Chicks are off to Miami to host the city's first Fashion Bash! The Sunshine State's fashion elite will be welcomed at the Moore Building on October 14th for a night of shopping, sipping, and socializing. Established designer brands and up-and-coming labels alike will feature hot fall trends at 30-80% off retail prices. In addition, numerous local boutiques and online stores will be busy selling this season's top selections.
Event participant Chevrolet will pair fast cars with high fashion, bringing a few of its latest models to add some oomph to the show floor for a special designer "Trunk Show." For pre-registered attendees, Chevy will also hold its celebrated "Ride & Drive" program before the event begins, allowing savvy shoppers to test drive their sleek new vehicles in style. Once the event is underway, Chevy will then kick things into high gear by shuttling attendees to grab some local grub.
If the excitement of the first Fashion Bash begins to wear on our Miami guests, shoppers can also head over to one of our Spa Lounges to receive complimentary spa services and relax.
Along with shopping and spa services, our ultimate girls' night out will also feature one of Miami's hottest DJ's spinning a custom dance mix throughout the evening, VIP swag in cute reusable tote bags, as well as Frederick's of Hollywood and other sponsored giveaways.
"We are thrilled to take our fabulous Fashion Bash to Miami! I'm anticipating an excellent turnout, and we're looking forward to meeting new Sassy shoppers," says President and Founder of Sassy City Chicks, Isela Blair. "This is a city known for its colorful nightlife and sexy, "beach chic" fashion trends- what better place to introduce the Sassy City Chicks than Miami?!"
About Sassy City Chicks – Sassy City Chicks have been producing sample sales for over 9 years in the Southern California area. They can be found at venues in Los Angeles, New York City, Las Vegas, San Francisco, San Diego and now Miami throughout the year. Sassy City Chicks combines the hottest trends at the lowest possible prices so that there is something for every Fashionista! For tickets and more information, please visit www.SassyCityChicks.com or call 310-318-1672