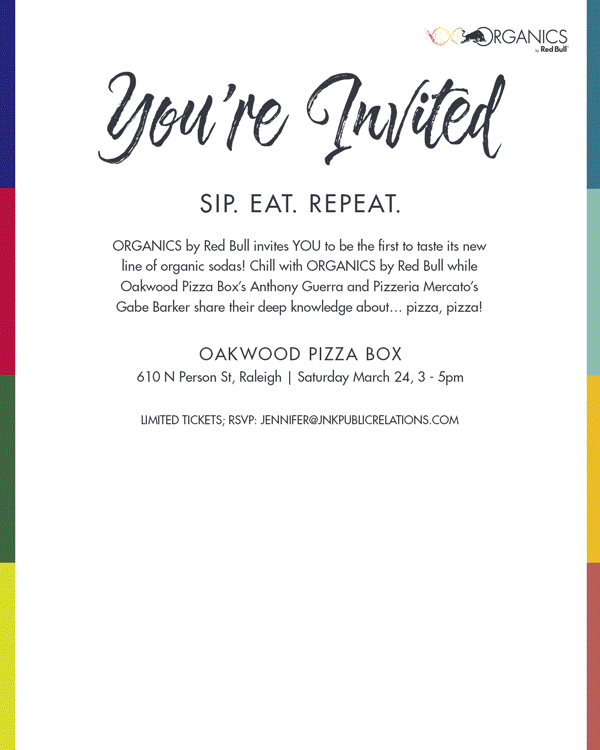 Hey NC Bloggers, you're invited to be the first to taste Red Bull's new organic sodas, Organics by Red Bull. Made from plant extracts, Organics by Red Bull are not energy drinks. Red Bull is only launching this new product line in NC (and San Diego, near HQ's), and it's very exciting that, as influencers, you will be the first to taste and share this nationally!
Organics by Red Bull
You're invited to an exclusive demo and tasting event on March 24th at Oakwood Pizza Box with Anthony Guerra and Pizzeria Mercato's Gabe Barker. Get to know them and their pizza styles and sip the new Organics by Red Bull. You can try Organics by Red Bull on their own, and in Italian style cocktails and we'd love for you to be there!
There is limited seating for this event. Sorry, but there won't be any room for plus ones.
Save the Date
Save the date! On April 10th from 6-9, Organics by Red Bull will host Sam Jones for a free whole hog BBQ event. In addition to delicious BBQ, you'll be sipping on cocktails from the Cocktail Bandits featuring the Organics by Red Bull sodas – and tasty sides by PoshNosh Catering. The event will be open to all, at Whitaker and Atlantic.
Please RSVP if you're interested in attending either one of these events.