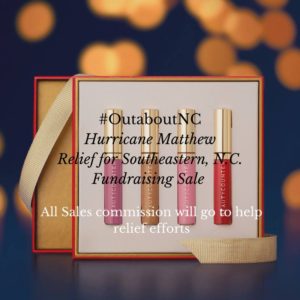 For those who don't know, I covered Columbus County, Robeson County, Bladen County and other Southeastern N.C counties for many years prior to moving to Raleigh. I have met so many people in these areas that I call friends and this area shaped me into who I am today.
Because of my partnership with Beautycounter, I do have the power to give back to these communities and with a social media presence of 10K myself and many many close blogger friends, I think I can make a difference. I have set up a Beautycounter fundraising Hurricane Matthew Relief effort for a fellow Scout mom Kandice Hyatt van Beerschoten who is from Robeson County. My longtime friend Gaynelle Andrews Patterson is from this area. These people are in need. I don't have a bank account where I can just write a check, but I can donate any sales that I make from Beautycounter to this cause and I've decided to do it.
Please join the Facebook group and consider buying a Beautycounter product to help in some way. By switching to safer lipsticks, skincare, and cosmetics, you are doing yourself a favor. We ban 1500 ingredients from our products known to cause health risks. The U.S. only bans 11 ingredients known to cause health risks…and we're talking hormone disruption, allergies, cancer, and endocrine disruption. Our mission at Beautycounter is to get to safer products sold in all stores so as a consumer you do not have to worry about this. Buying one lotion or sunscreen today will help someone who needs our help because I'm committed to giving back for this. Share this. Share this. Share this.
Hurricane Matthew Relief and where you can help –
Here's the direct link to the shop where proceeds will be donated: http://www.beautycounter.com/leighhines/social/136655-OutaboutNC+Hurricane+Matthew+Relief+for+Southeastern+N.C 
Join the Facebook group: https://www.facebook.com/groups/1201864366540247/
---
About the NC Blogger Network
NC Blogger Network is North Carolina's premier community for bloggers. We bring bloggers together for events, education, networking and paid opportunities working with relevant brands. Join today!