Tonight! Girls on the go, movers & shakers, ladies in the know Girl On Top is here in Miami. This evening Oct. 23, 2009 from 6 – 9 PM! It's the social event of the season & everyone who is anyone will be there.
Bring your copy of Girl On Top, the book that turns dating rules into career strategies, and get it signed by Nicole Williams. Naturally, I've been invited and you can come too! (Pssst, free drinks & goodies should be more than enough to motivate you right?)
The Where
It's at The Limited @ Dadeland Mall – 7535 Kendall Drive, Miami.
Get Registered as a VIP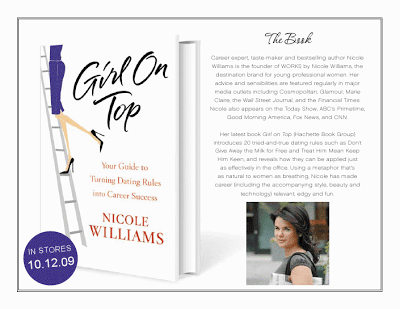 The first 30 Dayngrous readers and friends to register for the Girl On Top LIVE events get a VIP pass and the following:
A gift bad valued at over $500 full of goodies you'll actually use
An evening of chatting up the women in Miami you MUST have on speed dial
An exclusive 40% discount on The Limited's brand new business-chic attire
Career advice from Nicole Williams (people pay big bucks for her words of wisdom, you know)
Free-flowing Girl On Top Cocktails (if nothing else, you'll at least get your drink on)
Will you be there? Be sure to snatch the 30 spots I've got exclusively for YOU! Don't forget your cameras.
Not in Miami?
Don't fret, the Girl On Top tour may be coming to a city near you:
10/23 Miami – 7535 Kendall Drive, Miami
10/26 Nashville – 1800 Galleria Boulevard, Franklin
10/28 Dallas – 8687 Northcentral Expressway, Dallas
10/29 Dallas – 13350 Dallas Parkway, Dallas
10/30 Houston – 5085 Westheimer, Houston
11/04 San Francisco – 2855 Steven's Creek Boulevard, Santa Clara
11/06 Seattle – 315 S. Center, Seattle
11/09 Vancouver – 788 Robson St., Vancouver
11/11 Minneapolis – 60 West Broadway, Bloomington
11/13 Chicago – 5 Woodfield Mall, Schaumburg
11/17 Boston – 1245 Worcester Road, Natick
11/18 Boston – 250 Granite St., Braintree
11/20 Cherry Hill – 502 Cherry Hill Mall, Cherry Hill
11/23 Washington DC – 1100 South Hayes St., Arlington