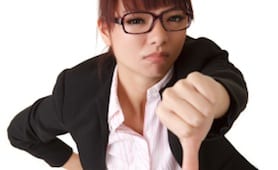 Social media influence is hotly debated topic. Everyone is talking about how to get it, who has it, how to harness it, and whether or not it can be measured.
If you're looking to be the authority in your area of expertise, here are 18 mistakes guaranteed to destroy your online credibility –
Take yourself way too seriously
Never share anything valuable or helpful
Ignore your followers, friends, fans
Never follow anyone back
Share nothing but links to your own content
Write posts that offer no value
Spam blog comments with links back to your website
Criticize and judge everyone and everything harshly
Never connect
Never have conversations
Blog infrequently
Slam, bash and constantly spew negativity
Talk down to your community
Inject your opinion on subjects where you have no experience
Never participate in offline networking events
Keep using auto responders
Behave petulantly when someone gives you constructive criticism
Make it impossible to take you seriously
Geoff Livingston says "Real influencers are awarded their position for doing great things" and he's right. To truly be influential, you've got to do great things. One way to start is to have an impressive body of work around a particular subject. Here are three ways to get started today –
Create
Share your knowledge by creating content that is informative and educational. Your ultimate goal should be to provide the most valuable content covering your topic of expertise. It doesn't have to be an ebook, it could be a blog post, an infographic or even a video. Use the format that feels the most comfortable to you.
Curate
Are you reading great blogs? Share them. Do you have your own set of influencers? Interview them. Connecting this way, with those you consider to be thought leaders, is a wonderful way to provide great resources. Invite them to guest blog on your site. Share content and link to articles that you feel your peers would appreciate and find helpful. Have a resource library that would make a librarian drool and make it easily accessible.
Congregate
Keep the social in social media. Make your social real estate the place to be. It should be a no-brainer for anyone interested in your area of expertise to participate and connect with you. Encourage a sense of community by communicating with your site's visitors and engaging with them across social networks. Invite comments, and differing opinions by asking thought-provoking questions.
Steer clear of those 18 social media fails, focus on the tips above and you'll be well on your way to creating an impressive body of work that others will take note of referencing.
Does online influence matter to you? What social fails would you add to this list? What suggestions would you have for someone looking to up the ante on their social media influence? Which social media influencers, if any, are influencing you?